Toyota Hilux capitalises on cashed up tradies that need somewhere to spend their dosh and in many cases, it's on their ute.  That's why you see so many fully accessorised one tonne fourbies parked at job sites during the week.
On weekends, they're hooked up to jet skis, motorcycle trailers and other fun focussed appliances.
We totally get it and so do car makers who are rising to the challenge with fully featured one tonne utes available straight off the show room floor.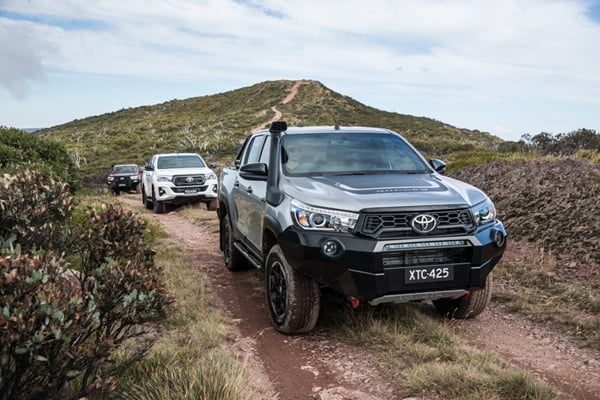 If you needed more proof that there's a seismic shift upscale in ute-land look no further than Toyota's new high end Hilux trio; the Rogue, Rugged and Rugged X, due out next week.
They're Toyota's response to Ford's highly popular Ranger Wildtrack, three versions of VW's Amarok V6 and the arrival of Mercedes-Benz's X-Class ute.
Holden is following the trend upscale with a high spec' Colorado Sports Cat.
Until now the `best' Hilux you could buy was the SR5 auto dual cab 4×4 (accounting for ¼ of all Hilux sales) but now the bar has been lifted in price and specification levels with the `three amigos,' Rogue, Rugged and Rugged X all with features formerly on the options list or sourced from outside accessory suppliers.
Toyota surveyed its vast Hilux owners group and filtered out what were the most popular accessories, adding them to the Hilux SR5 in the case of the Rogue and Rugged X and to the SR in the Rugged, to come up with these new models.
Toyota says the Rogue is designed to appeal more to urban adventurers while the two Ruggeds are more off road biased.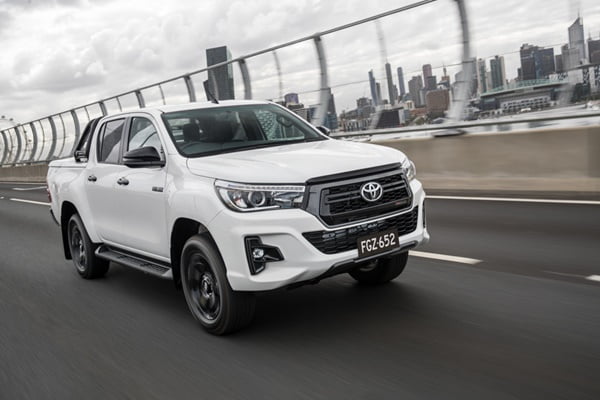 HILUX ROGUE
To that end Rogue scores a prettier face with a trapezoid shaped grille and a more vertical front compared to other Hilux models. That grille looks a lot like a scaled down Ford Ranger grille but transforms the Hilux Rogue's frontal appearance to something much easier on the eye than other models.
It's the global look Toyota is adopting for many of its trucks and is likely to be the face of all Hilux models in future. That's a good thing.
Rogue also gets integrated metal bumpers front and rear in black together with new lights at the front.
There's a functional sports bar in the carpeted tub that has a hard tonneau cover.
Inside is to Hilux SR5 standard with leather upholstery, piano black fascia and a redesigned instrument cluster with orange highlights.
The Rogue rolls on 18-inch alloys, comes towing ready and has black or dark grey body hardware highlights.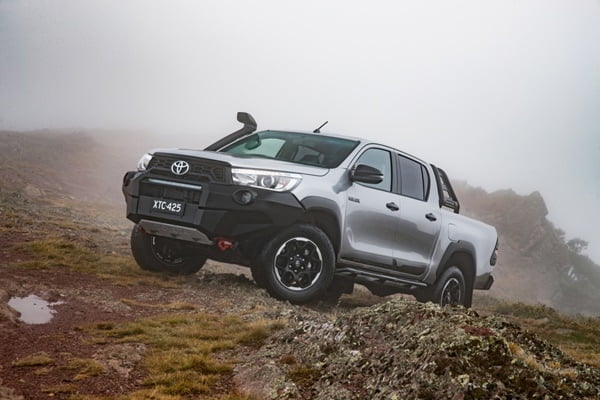 HILUX RUGGED X
Rugged X is also based on the SR5 in spec ' terms but is a completely different animal compared to the Rogue as it has heavy duty off road driving in its sights.
To that end, Rugged X scores a host of off road protective features including a front aluminium bash plate and winch compatible Frontline supplied steel bull bar that incorporates a powerful light bar recessed into the middle.
Ancillary driving lights are positioned at the sides.
Frontal styling is new but different to Rogue and there's a metal mesh grille under the bull bar to protect various critical components.
Rugged X gets a snorkel, 17-inch alloys, super strong side rock rails and robust recovery hooks front and rear while the new rear bumper bar incorporates a tow bar.
The tub is protected by a plastic moulded liner under the functional sports bar with load hooks.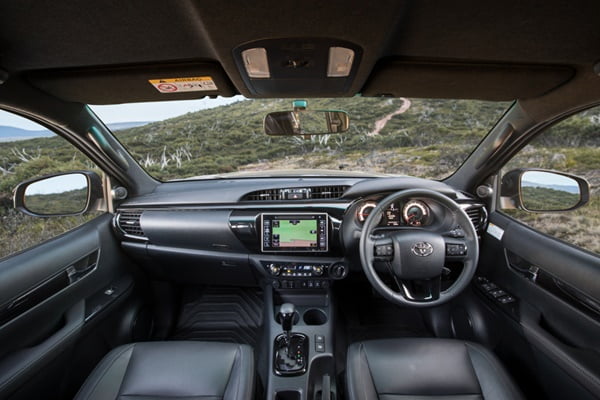 Inside Rugged X is virtually the same as Rogue… up to SR5 standard with leather upholstery and the revised instruments.
HILUX RUGGED
This model is based on the lower level Hilux SR so it has cloth upholstery and a more work oriented look along with a lower price.
However, Rugged is no wimp when it comes to off road driving particularly if you prefer a traditional style steel bull bar instead of the sexier integrated unit on Rugged X
Rolling on the same 17-inch alloys as Rugged X, Rugged also has a snorkel, the redesigned grille with steel mesh, side rock rails, the sports bar with load hooks, heavy duty steel rear bumper and four heavy duty recovery hooks.
It's towing ready, has black side body mouldings and other body hardware in black.
All three new Hiluxs have satnav, digital radio and all weather floor mats front and rear.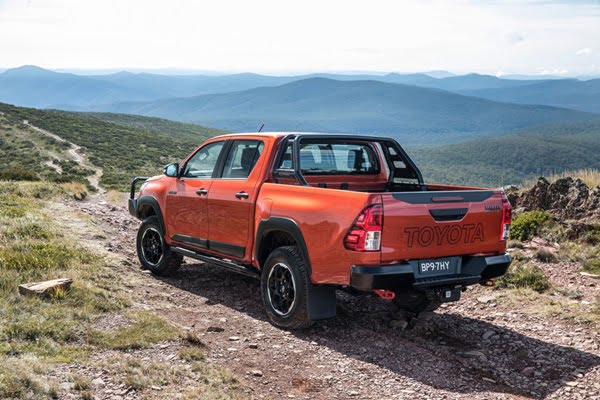 POWERTRAIN
There's nothing to report here because the engines and transmissions are carried over from all other Hilux models meaning a 2.8-litre, turbo diesel, four cylinder engine with 130kW and 450Nm on the six speed auto, 420Nm on the 6-speed manual.
And yes, a manual transmission is available on Rugged and Rugged X, not on Rogue.
The drive system is selectable 4WD with shift on the fly 2WD, 4WD High and 4WD Low range.
Some payload is lost due to the extra weight of new components added to the three new models in the case of the Rugged X, more than 200kg is lost.
However, the two off road oriented models have imposing credentials including a 28 degree approach angle and 21 degrees at the rear. Ground clearance e is up to 253mm on the Rugged, a little less for the Rugged X
Rogue rates 216mm
Braked towing capacity is 3500kg for the manual, 3200kg for the auto.
SAFETY
While the Hilux scores a five star ANCAP rating based on testing from 2015, it doesn't have any advanced driver assist technology and wouldn't score five stars if tested today. Rear drum brakes seem outdated in 2018.
Fuel consumption is up a tad over standard Hilux with the best being Rugged manual at 7.9 litres/100km. Tank capacity is 80 litres.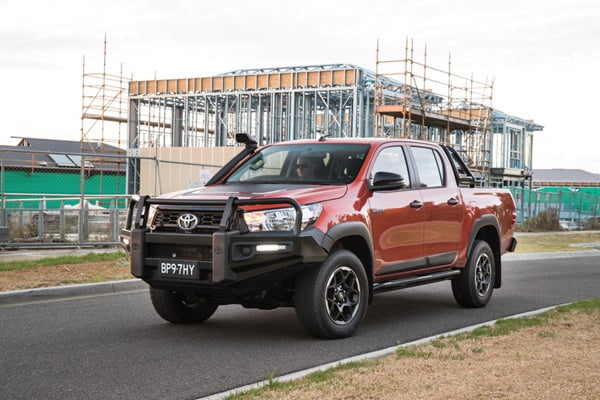 ON THE ROAD
From behind the wheel, there isn't much difference between say a Hilux SR5 and any of these three newcomers.
Engine performance is good and it's smooth and relatively quiet with generous torque available at low revs.
On the road, you can cruise at high speed with ease and impressive economy.
Stiffer front springs are fitted to the Rugged and Rugged X due to the additional weight of the front bars.
But it makes little difference to the ride or feel of the vehicle.
Rear leaf springs are the only thing to have in a one tonne commercial vehicle with the limitations they bring unladen.
Off road all three new models are like tanks – unstoppable in practically every off road environment. We flogged them through parts of the Flinders Ranges and didn't even get into low range.
Ride comfort is acceptable off road, better with a load in the tub.
It's tractable and steerable over even the roughest tracks.
SUMMARY
The new Hilux variants offer almost unrivalled practicality on and off road. That's one of the reasons why Hilux is the bestselling vehicle in Australia.
It feels robust and would seem to be capable of living up to the `unbreakable' tag earned over 50 years and about eight generations of the model.
Yep, we would have one in a blink with a preference for the Rugged model – the toughest of the bunch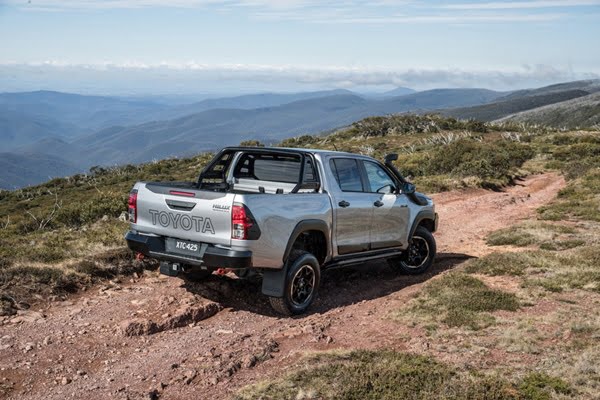 PRICES
Rogue $61,690 (auto only)
Rugged $$54,990(m) Auto + $2000
Rugged X $61,690 (m) Auto + $2000
FACTS AND FIGURES
2018 Toyota Hilux Rogue, Rugged and Rugged X 4×4 dual cab utility.
Engine:  2.8-litre, VGT turbo diesel with 130kW and 450Nm (a), 420Nm (m)
Transmission:  6mt, 6at
Suspension:  Double wishbone front, leaf springs rear
Brakes:  Disc front, drum rear
Safety:  5-star ANCAP
Fuel consumption:  7.9-litres/100km Rugged manual
Weight:  2174kg – 2252kg
Payload : Approximately 750kg
Towing:  3500kg braked (m), 3200kg (a)
Tank:  80 litres
Rating 4.0/5.0
Toyota Hilux Upmarket Trio
Summary
The new Hilux variants offer almost unrivalled practicality on and off road. That's one of the reasons why Hilux is the bestselling vehicle in Australia.