Isuzu D-Max Ute is a quiet achiever in the Australian automotive landscape. Here is a company with a long heritage overseas, and in Australia under different names. But only started themselves in 2008.
Think back to the previous Holden Jackeroo or Rodeo. These were Isuzu's rebranded and both were renowned as reliable robust 4X4 vehicles. In Thailand, the largest Ute market in the world, Isuzu D-Max has gained the no 1 position, outselling Toyota Hilux.
Isuzu came to Australia in 2008 with one vehicle. The D-Max. Their sales in 2008 were 273 vehicles. That's right only 273 Utes were sold, admittedly in about two months at the end of the year.
What followed is a sales success story probably only rivalled by Subaru in terms of year on year growth.
Isuzu has grown by about 10% each year in sales. In 2014 they introduced the excellent MU-X as a 7 seat wagon based on the D-Max Ute.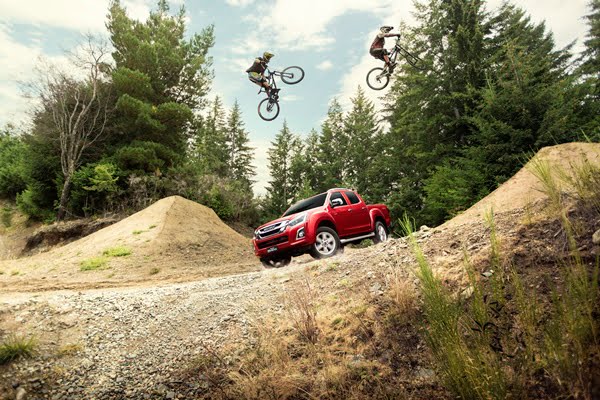 In 2017 IUA sold 25,804 vehicles. Let's put that into perspective.
In term of total sales they were ranked number 13 just behind Mercedes Benz that has a vehicle model line-up of thousands.
They outsold both BMW and Audi, again both of whom have multiple models in their line-up.
They also outsold Suzuki and Land Rover and sold about as many cars as Renault, Lexus and Jeep combined.
In the Ute segment Isuzu ranks number 5 with a 9.1% share, behind Hilux, Ranger, Triton and Colorado, outselling Navara, BT-50 and Amarok
In the Large SUV segment the MU-X ranks 6th behind Prado, Kluger, Outback, Captiva and CX-9. The MU-X has a 7.0% market share.
Compared to other Ute based wagons like the Toyota Fortuner, Ford Everest, Holden Trailblazer and Pajero Sport etc. Isuzu MU-X is the no 1 selling vehicle.
Since the MU-X was introduced it has won the 7 seat 4WD wagon segment at the OzRoamer COTY awards 4 out of 5 times it was represented.
Not bad for a two vehicle company. However those two segments account for over 55% of the Australian market in 2017.
What you may not know is that Isuzu is is now the world's largest manufacturer of trucks and diesel engines.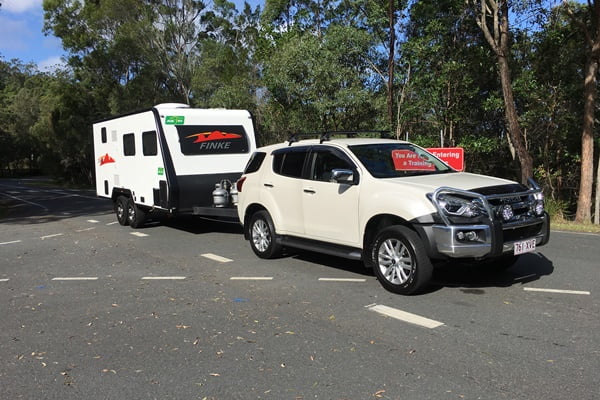 Which brings me to the real purpose of this article. I just spent a day with Isuzu as they launched a few upgrades on the MY18 D-Max. These are essentially:
D-MAX LS-T 4×2 and 4×4 joins the official range
Refreshed D-MAX interior
Increased D-MAX GVM: 2,950kg on 4×2 and 3,050kg on 4×4
Suspension upgrades
Safety upgrades including Trailer Sway Control and Rear View Camera
Extended service intervals across range
Fresh new colours
There really isn't much in this in terms of major changes, but those that have come are significant.
Isuzu D-Max LST
While the D-Max LST has been a special edition for a while, customer feedback has led to it being introduced as a permanent fixture at the head of the model line-up.
Following on from a number of major-upgrades in 2017, the 18MY D-MAX range is now headlined by the flagship LS-T, featuring many of the standout features and amenities as found on the MU-X LS-T;
18" wheels with Highway-Terrain (HT) tyres,
Sat Nav,
roof rails and a
Passive Entry and Start System (PESS) on 4×4 LS-T only.
Just like the rest of the range the 18MY D-MAX LS-T is powered by Isuzu's exclusive 3-litre turbo diesel 4JJ1-TC engine — generating 130kW and 430Nm — paired with the smooth Aisin-built AWR6B45 6-Speed Automatic Transmission.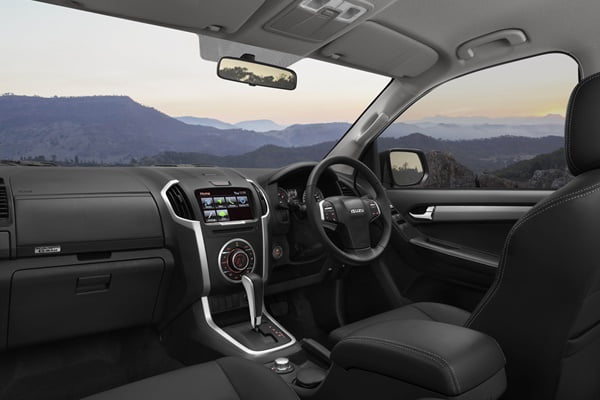 Given the recent trend towards 2WD Utes, the LS-T is available in two drivetrains; two-wheel drive or through Isuzu's "Terrain Command" 4WD Select System.
Borrowing styling cues from the MU-X LS-T, the 18MY D-MAX LS-T has been tastefully refined with the additions of a new premium leather accented interior, featuring rich genuine perforated leather (on body contact areas) which is proven to breathe better than non-perforated — plus additional accents of polyurethane leatherette on the hard wearing bolsters and rests.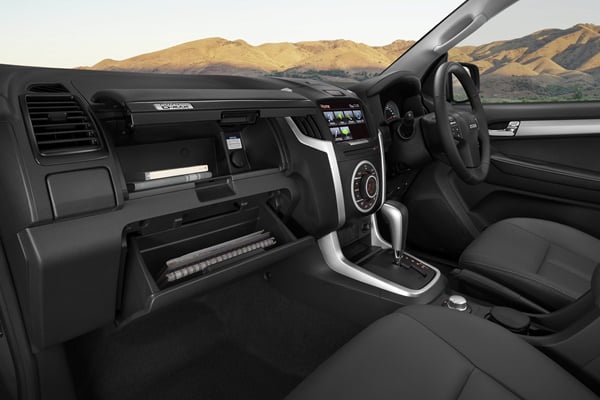 The dash, glovebox and armrest are trimmed in soft touch leatherette, door handles finished in chrome and the air vents and window switches finished in gloss black for a premium look — these soft-touch refinements can also be found inside the D-MAX LS-M and LS-U variants.
Another interior update for the D-MAX 18MY LS-M, LS-U and LS-T variants is the addition of two 2.1-Amp USB charge points; one in the dash, and one in the rear console. This update is fuelled by customer feedback on charging personal mobile devices whilst on the road, and can also be found across the entire MU-X range.
The overall feel is now more comfortable than before. The trend in range topping Utes is now for more luxury and comfort.
While the LST has made great strides in improving comfort, it still sits in the middle of the pack with features though. I would dearly love to see it with reach adjustable steering wheel, air conditioned seats, rear diff lock as standard, auto headlights, auto wipers, increased safety features, Apple Car Play and Android Auto, and the screen resolution for the Sat Nav in daylight with the lights on is atrocious.
This is where the Ute segment is heading and hopefully the next gen D-Max will be a segment leader.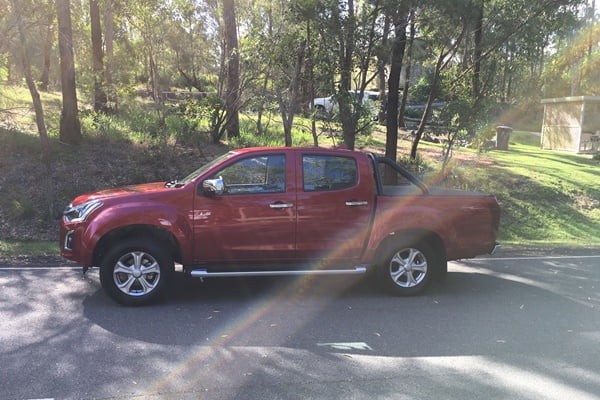 Isuzu D-Max Comfort Suspension
One criticism of Utes is the suspension. They are either too harsh unladen or too soft loaded, they bounce everywhere or sag when towing.
Suspension on Utes, more than any other vehicle needs to accommodate a number of polar opposite demands.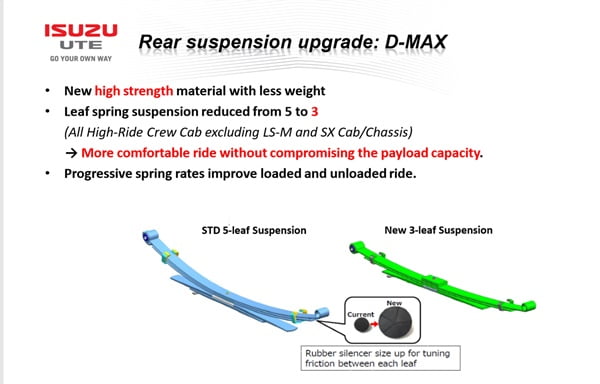 With more and more families turning towards Utes for their daily drive, Isuzu engineers have developed a new 3-span leaf spring setup for SX, LS-U and LS-T Crew Cab Ute variants — a suspension tune developed with Australian customer feedback in mind.
Through the use of stronger and lighter materials this new setup not only improves the ride, comfort and handling — the setup has proven to not compromise the payload capacity versus the 17MY 5 leaf spring setup.
Having driven the new suspension system over a few different road and track conditions, the first impressions were very favourable. It seemed to be more compliant with progressive damping and reduced the Ute bounce so often associated with empty Utes.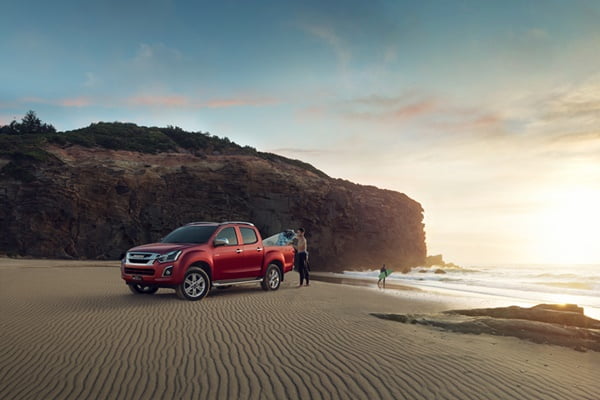 Increased D-MAX GVM
Along with the 18MY suspension upgrade for Crew Cab ute variants, Isuzu Engineers have reassessed the Gross Vehicle Mass (GVM) capacity of the entire 18MY D-MAX range — increasing the GVM on 4×2 models to 2,950kg and the GVM on 4×4 models to 3,050kg.
This improvement increases the payload capacity of all models by 100kg in comparison to 17MY models.
This upgrade gives the D-MAX 4×2 low-ride SX Single Cab Chassis class-leading payload capacity of 1,349kg.
There is no change to the towing capacity.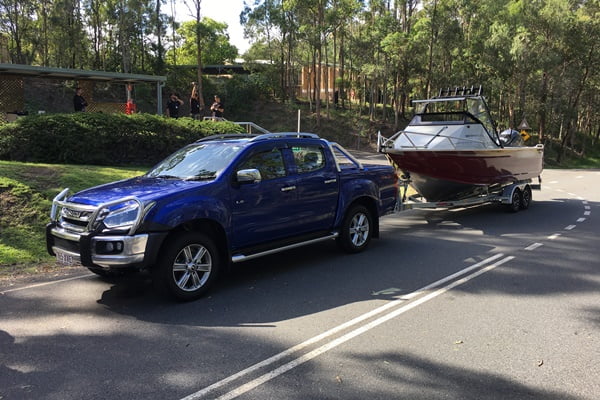 Isuzu Safety Upgrades
If you have read anything we have written about Isuzu before you will realise that they make excellent towing vehicles, a fact reinforced by almost half of the purchasers. Economy is excellent, ride and handling was great and is better now that they have improved the rear leaf suspension.
To top off the towing experience Isuzu has introduced Trailer Sway Control (TSC) across all 18MY models (excluding the D-MAX 4×2 low-ride SX Single Cab Chassis manual), improving on the active safety system offerings.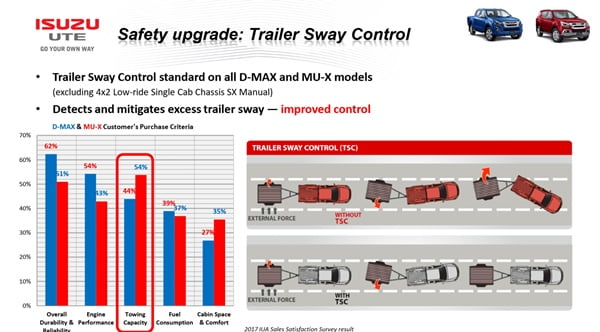 Stemming from the vehicle's Electronic Stability Control (ESC) system, the TSC system monitors trailer movement through the ESC sensors and modulates throttle and brake inputs to individual wheels — bringing the towed trailer under control if unsolicited sway is detected.
On the launch I towed an 1800kg boat and a van between 1900 – 2000 kg. Both simply followed without issue. The low flat torque curve simply pulling away without any complaint.
Previously I have towed caravans, car trailers, boats, furniture trailers and much more with either of the Isuzu variants.
I have to say that I have towed heaps with both Isuzu's and never experienced an ounce of trouble, but the TSC is an added peace of mind addition.
Previously reserved for LS variants, all 18MY D-MAX Ute models now feature a rear bumper to improve occupant collision protection, along with a reversing camera as standard for increased safety and visibility — however both remain optional on cab chassis models due to the nature of the tray.
Isuzu Extended Service Intervals across range
Every Isuzu vehicle is backed by the Isuzu UTE Australia Service Plus Program which includes:
5 year warranty,
5 years Roadside Assistance and
5 year/75,000 kilometre Capped Price Servicing program.
The 75,000km is a little on the light side considering these are vehicles that are meant to be used and that may be passed in two or three years easily.
The Capped Price Servicing Program for 18MY – onwards vehicles, features a 12 month or 15,000 kilometre interval. In fact, over the course of 60 months the cost of ownership is one of the most economical within the 1-tonne Ute and ute-based SUV class.
Isuzu UTE Capped Price Servicing costs (18MY-onwards)
| | | | | | | |
| --- | --- | --- | --- | --- | --- | --- |
| Interval Months / Km | 12/15,000 | 24/30,000 | 36/45,000 | 48/60,000 | 60/75,000 | Total Cost |
| Inc. GST | $350.00 | $450.00 | $500.00 | $450.00 | $340.00 | $2,090.00 |
 Fresh new colours
Driven directly from feedback, Isuzu UTE has refined the 18MY range with bold new colours across the D-MAX and MU-X range. The 18MY D-MAX range is headlined with the addition of a three new colours; Magnetic Red Mica, Cobalt Blue Mica and Graphite Grey Metallic. The 18MY MU-X is also now available in the new Magnetic Red Mica.
The 18MY Isuzu D-MAX and MU-X range will go on sale nationally from the 1st of May.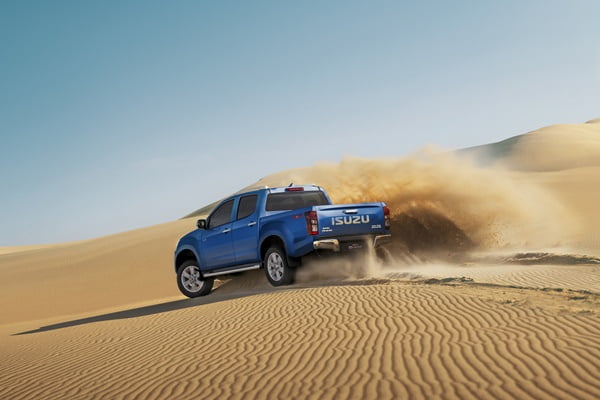 Isuzu D-Max and MU-X pricing
18MY Isuzu D-MAX
Recommended Retail Price (RRP)
Grade
Transmission
RRP inc.GST
4 x 2
SINGLE CAB CHASSIS
SX
man
 $28,600
4 x 2
SINGLE CAB CHASSIS
SX
auto
 $31,900
4 x 2
CREW CAB CHASSIS
SX
auto
 $37,500
4 x 2
SPACE CAB UTE
SX
auto
 $36,300
4 x 2
CREW CAB UTE
SX
auto
 $38,700
4 x 2
CREW CAB UTE
LS-U
auto
 $44,100
4 x 2
CREW CAB UTE
LS-T
auto
 $46,900
4 x 4
SINGLE CAB CHASSIS
EX
man
 $35,000
4 x 4
SINGLE CAB CHASSIS
SX
man
 $38,200
4 x 4
SINGLE CAB CHASSIS
SX
auto
 $40,300
4 x 4
SPACE CAB UTE
SX
man
 $41,000
4 x 4
SPACE CAB UTE
SX
auto
 $43,100
4 x 4
CREW CAB CHASSIS
SX
man
 $43,400
4 x 4
CREW CAB CHASSIS
SX
auto
 $45,500
4 x 4
CREW CAB UTE
SX
man
 $44,600
4 x 4
CREW CAB UTE
SX
auto
 $46,700
4 x 4
CREW CAB UTE
LS-M
man
 $46,900
4 x 4
CREW CAB UTE
LS-M
auto
 $49,000
4 x 4
SPACE CAB UTE
LS-U
man
 $46,600
4 x 4
SPACE CAB UTE
LS-U
auto
 $48,700
4 x 4
CREW CAB UTE
LS-U
man
 $48,800
4 x 4
CREW CAB UTE
LS-U
auto
 $50,900
4 x 4
CREW CAB UTE
LS-T
auto
 $54,700
18MY Isuzu MU-X
Recommended Retail Price (RRP)
Grade
Transmission
RRP inc. GST
4 x 2
7-Seat SUV
LS-M
auto
$42,900
4 x 2
7-Seat SUV
LS-U
auto
$45,200
4 x 2
7-Seat SUV
LS-T
auto
$48,900
4 x 4
7-Seat SUV
LS-M
auto
$50,200
4 x 4
7-Seat SUV
LS-U
man
$50,400
4 x 4
7-Seat SUV
LS-U
auto
$52,500
4 x 4
7-Seat SUV
LS-T
auto
$56,200
2018 Isuzu D-Max and MU-X Update
Summary
Isuzu has upgraded the D-Max and MU-X range with more safety features, making the LS-T a permanent feature of the D-Max range, revised suspension that provides a more compliant ride while maintaining increasing payload and other comfort features.