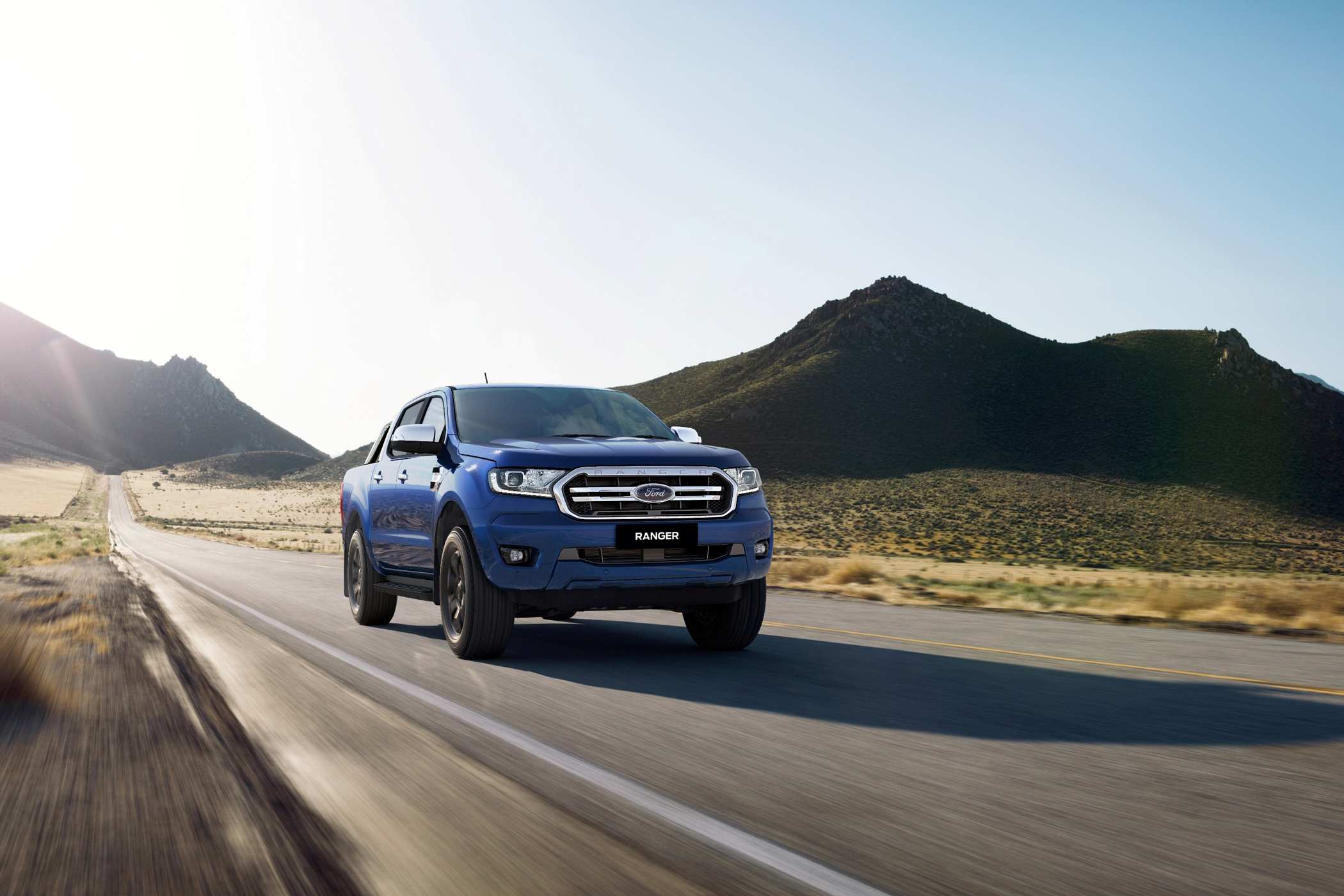 Ford Ranger customers now have access to an even harder-working heavy-duty line-up, with greater capability, options and driveaway offers for updated models arriving in showrooms across Australia from this month.
Ford Ranger line-up bolstered for Australian customers with new Ranger XL Special Edition and Ranger XLT Fully Loaded joined by Heavy-Duty option packages, giving customers greater choice and personalisation
Ranger XL Special Edition brings a Genuine Ford Factory Bull Bar, LED light bar and fixed-mount snorkel to the highly capable Ranger XL 4×4 Cab Chassis, which together delivering greater capability and tough looks in a single, simplified package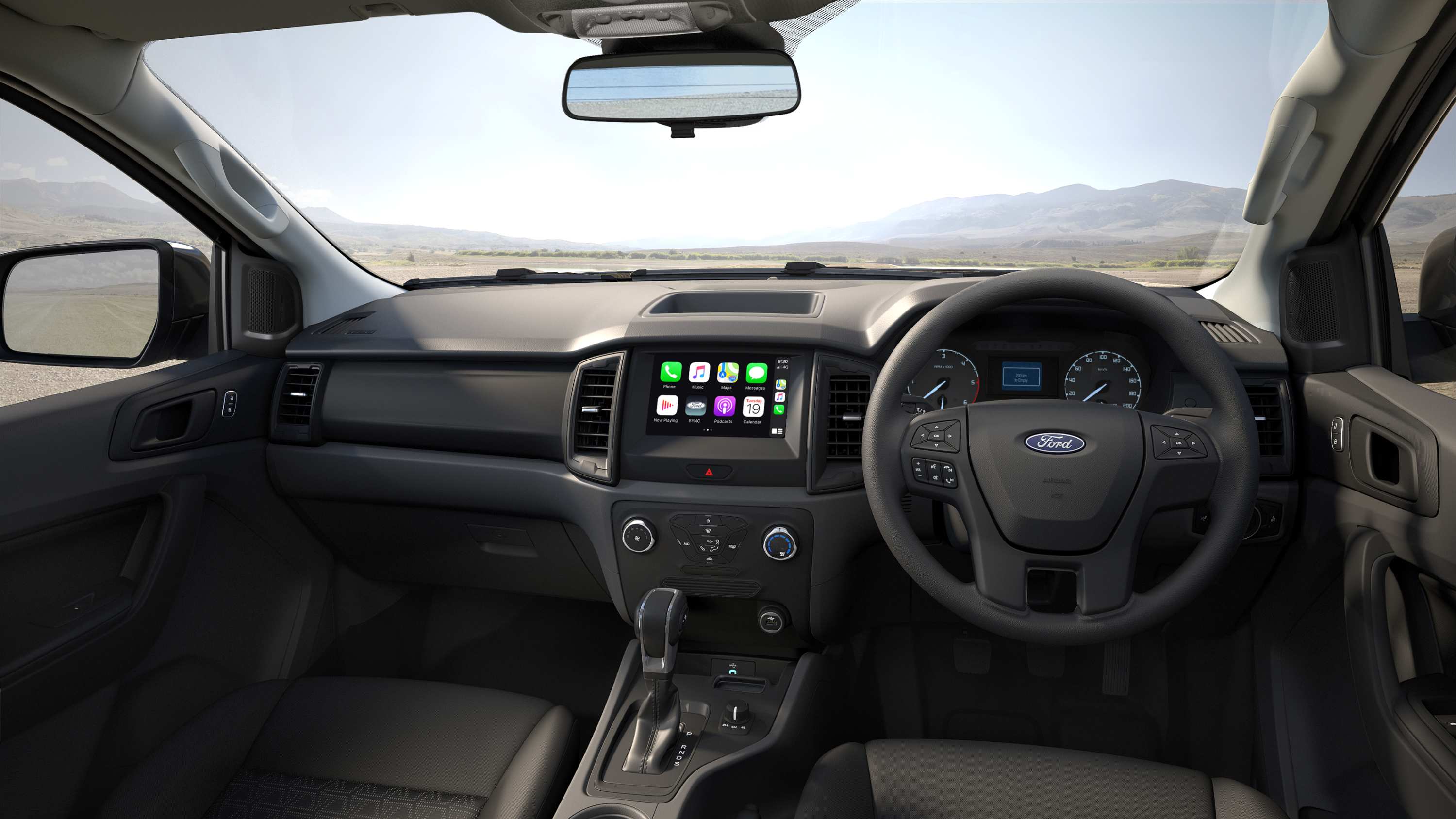 Ranger XLT Fully Loaded brings the popular XLT model a unique look, with standard tech including Semi-Auto Parking, Adaptive Cruise Control, 18-inch Black Alloy Wheels and leather-accented seating, with a choice of powertrains
Ford Ranger now comes standard with FordPass Connect, on top of already standard Autonomous Emergency Braking (AEB), six airbags and a five-star ANCAP rating, backed by a five-year unlimited kilometre warranty
The upgrades include a new all-terrain tyre option for Ranger XL 4×4, a new Heavy-Duty Pack on selected XL 4×4 Models, a Tough Bed Spray-in Bedliner option and a new 17-inch black alloy wheel option for Ranger XLS.
The changes, which help to maximise Ranger 4×4's award-winning on-road and off-road capability, are joined by the return of the Ranger XLT Fully Loaded pack to deliver customers tough looks with comfort, tech and refinement.
"Ranger has been designed and engineered in Australia, and our harsh continent is an ideal place to develop, test and test again to ensure Ranger meets the Tough Done Smarter mantra," said Andrew Birkic, President and CEO of Ford Australia and New Zealand. "We're working hard to ensure that tradies and their teams across the country, and businesses pushing to get back on their feet, have the right equipment and support to get on with what matters to them most."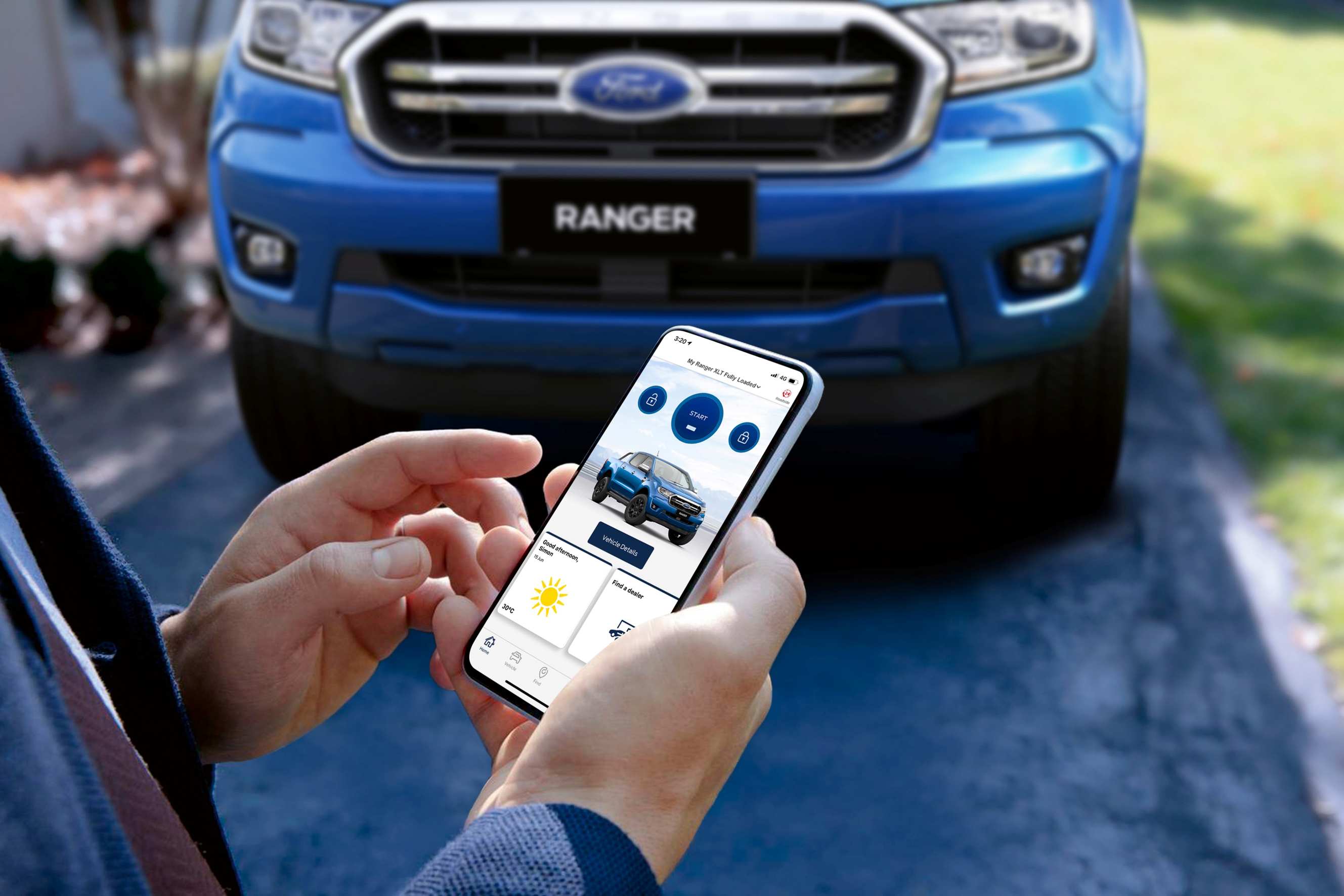 Ranger Update Overview
The Ford Ranger continues to offer outstanding payload, towing and water wading capabilities.
In addition to SYNC 3 with Apple CarPlay/Android Auto smartphone compatibility, as well as Autonomous Emergency Braking, standard on every new Ford Ranger is the FordPass Connect embedded modem. When paired with the FordPass App, FordPass Connect unlocks a range of new connected services including remote locking/unlocking, remote vehicle start and vehicle status updates.
This can be particularly handy on the worksite, allowing customers to remotely start the vehicle and warm the cabin prior to a coffee on a winter's morning, for example. The FordPass App is now available for download for Apple and Android devices.
The Ranger line-up has a five-star ANCAP safety rating, as well as a five-year, unlimited kilometre warranty, with further peace of mind for Ranger owners through the Ford Service Benefits program. For the first four years/60,000km (whichever comes first), eligible customers will be able to service their Ranger for a maximum recommended price of $299 (incl. GST) per A or B logbook service for eligible customers at participating dealerships.
This further demonstrates the strength of Ford Service Benefits, which include the added value of a Service Loan Car, Auto Club membership (including Roadside Assistance), Sat-nav updates, Vehicle Report Card, and the peace of mind of experienced Factory Trained Technicians when customers service at participating Dealers.
Ford Ranger XL: Work Ready Daily Driver
The Ranger XL brings high capability, practicality and affordability to a premium workhorse. Already standard with Autonomous Emergency Braking (AEB), Apple CarPlay/Android Auto and FordPass Connect, the Ranger XL Special Edition comes alongside new optional packages to enable Australian customers to choose the features they need to make their Ranger work its hardest.

Ranger XL 4×4 Special Edition
Based on the Ranger 4×4 XL Double Cab Chassis 3.2L Auto, the XL Special Edition brings Australians additional features in a value-package with three core additions to enhance its usefulness and dependability. The package, which is launching with a $49,990 recommended drive-away offer, is designed to deliver greater value for money and convenience for customers with the factory fitment of popular accessories to the vehicle.
Three key accessories have been matched to the Ranger XL 4×4 Double Cab Chassis to create XL Special Edition:
A factory-fitted steel bull bar, covered by Ranger's five-year, unlimited kilometre warranty. The Genuine Ford Steel Bull Bar meets Ford's stringent engineering and safety standards and has been crash-tested for compatibility with vehicle safety systems, which on XL includes AEB with Pedestrian detection.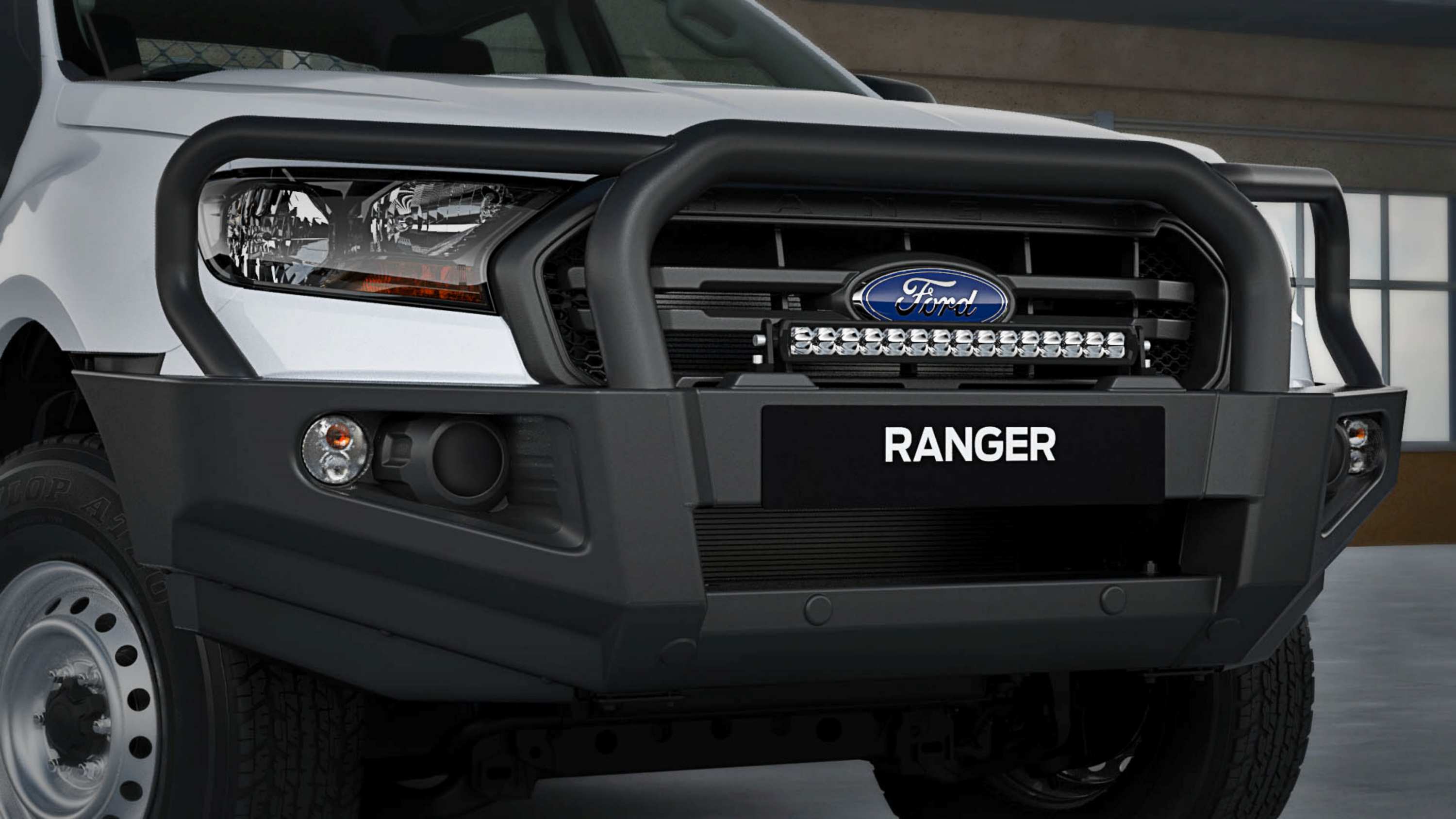 The bull bar also features integrated mounting points for lamps and UHF antennas, with the Ranger XL Special Edition including an LED light bar. The Light Bar brings greater visibility, as well as adding to Ranger XL's practicality on the work site, camp site or weekend adventure.

 

A Ford Genuine fixed-head snorkel tops off Ranger XL Special Edition's upgrades. The snorkel provides a higher air intake position to assist in conditions such as dusty roads, drawing in air from roof level providing cooler and cleaner air to its engine.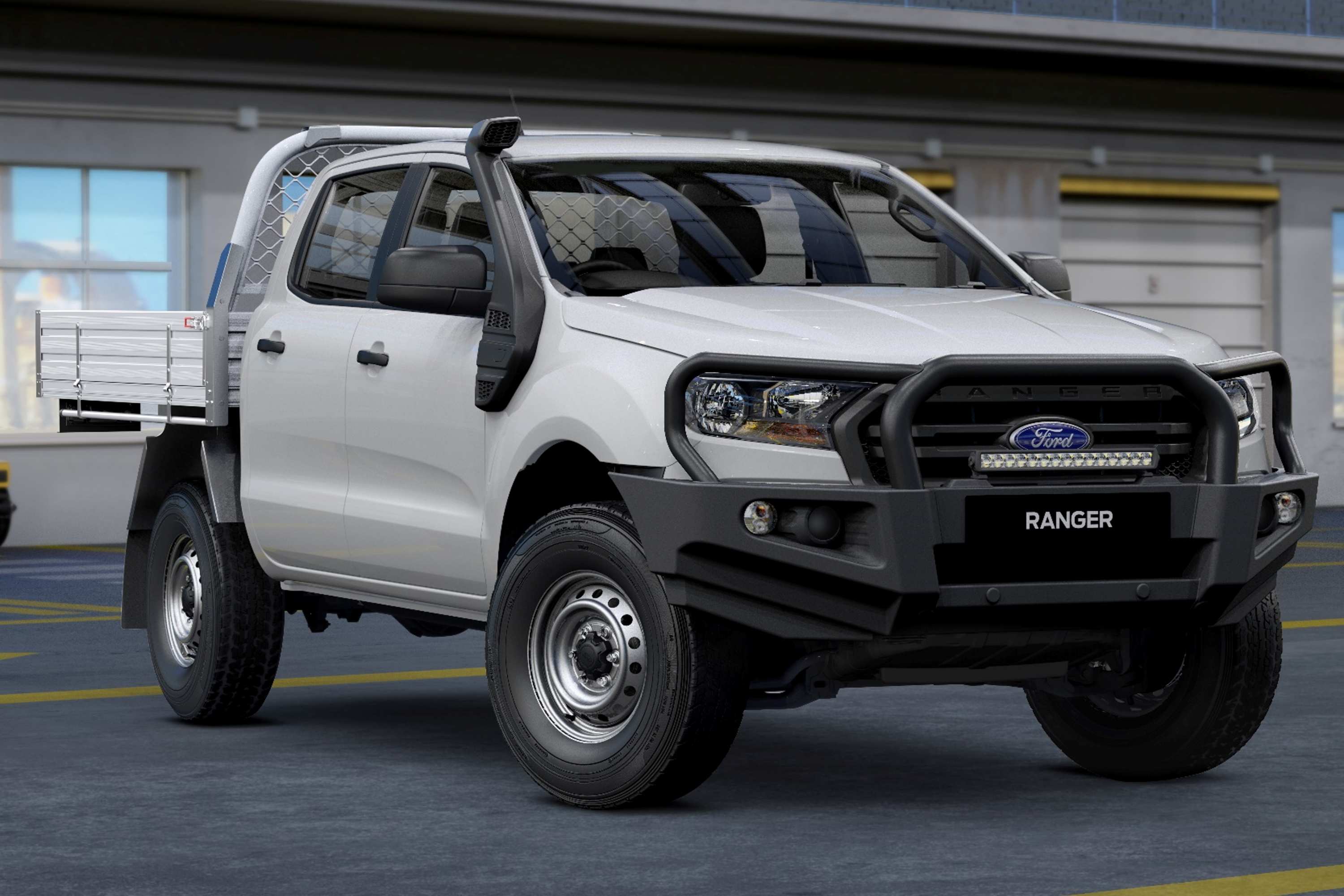 Ranger XL: Fresh Options for Greater Versatility
In response to continued feedback from customers, Ranger XL 4×4 buyers can now choose an optional All-Terrain (A/T) tyre that is better suited to off-road applications. The Continental ContCrossContact All-Terrain tyre is fitted to larger 17 x 7.5-inch steel wheels in place of the standard 16-inch wheels, further enhancing off-road capability, presentation and value.
With a recommended MLP of $500, the optional Continental A/T tyres make choosing an all-terrain tyre a simpler, easier process with the convenience of being factory fitted and bypassing the need to shop and fit A/T tyres post-purchase. The tyres have also been tested against Ford's tough Trustmark handling requirements, including compatibility with the vehicle's stability control systems, ensuring maximum capability, safety and performance.
Heavy-Duty Pack Option
Building on Ranger's Tough Done Smarter mantra, the Ranger XL 4×4 is now offered with an even more capable Heavy-Duty Pack that combines Heavy Duty Suspension and All-terrain tyre options with subtle but important equipment updates.
The Heavy-Duty Pack is available across a range of Single Cab, Super Cab and Double Cab body configurations in both Cab Chassis and Pick-Up, with a cost of between $1,600-2,000 (including G.S.T.) depending on the specific variant. The pack includes:
Heavy-Duty suspension
17 x 7.5-inch black-painted steel wheels
17-inch Continental ContiCrossContact A/T tyres
Solid wheel nuts
Black side steps (excluding Single Cab Chassis)
Rear view camera kit (Cab-Chassis models only. Already standard on Pick-Up models)
The Heavy-Duty Pack brings enhanced work capability to Ranger XL 4×4 without impacting on the convenience of ownership. Ford Service Benefits to bring a maximum service price for Ranger of $299 for each 'A' and 'B' service for four years, while a five-year, unlimited kilometre warranty further adds peace of mind.
Tough Bed Spray-in Bedliner
New for Ranger is an optional factory-applied Tough Bed Spray-in Bedliner for greater durability, strength and usability when compared to a 'drop in' or aftermarket bed liner.
Optional on all XL, XLS, XLT Double Cab Pick-Up models, the Tough Bed Spray-in Bedliner brings customers: 
Industrial-strength, two-part coating for long-lasting protection
Factory-applied with automated precision to ensure a smooth, even coat
Uniform, high-grip textured surface helps minimise load slippage, gouging and scratching
Restricts moisture between the liner and the bed
Meets rigorous Ford engineering specifications, including impact testing
Retains Ford's standard five-year, unlimited kilometre warranty
Ranger XLS
In addition to the Tough Bed Spray-in Bedliner, the Ranger XLS 4×4 now offers greater personalisation with a choice of black-finish 17-inch alloy wheels that provide an increase in size over the standard 16-inch Ranger XLS alloy wheels, providing a smart look consistent with higher-spec Rangers such as the XLT, FX4 and Ranger Wildtrak.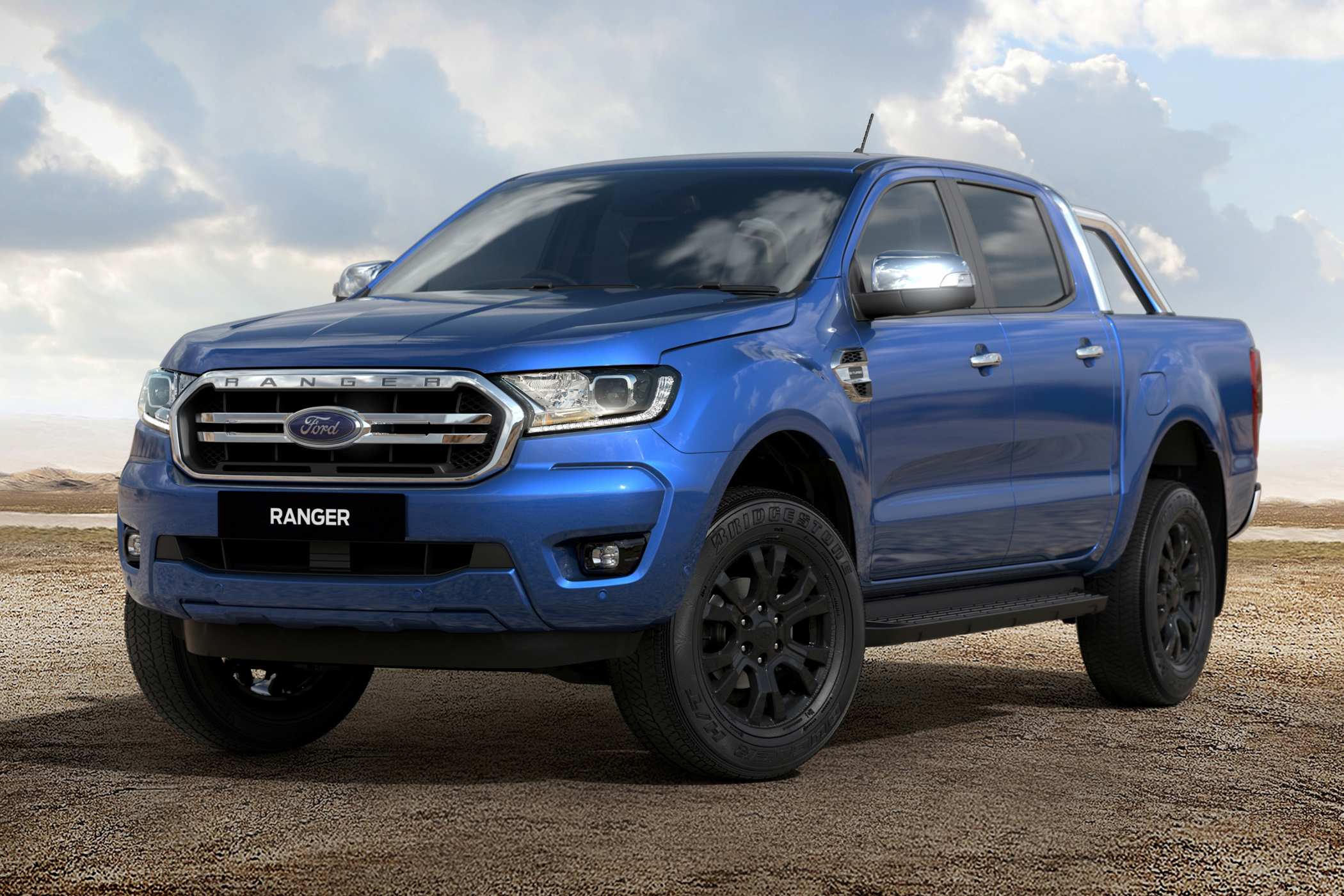 Ranger XLT Fully Loaded
The 2020 Ranger XLT 4×4 Fully Loaded double-cab arrives in showrooms in September and brings a suite of optional design, technology and convenience options into a single package for greater value for customers. Offered exclusively as an option for the popular XLT 4×4 double-cab, the Fully Loaded brings not only higher equipment levels to Ranger's already strong cost-of-ownership proposition, but the convenience of a suite of options bundled into a single package.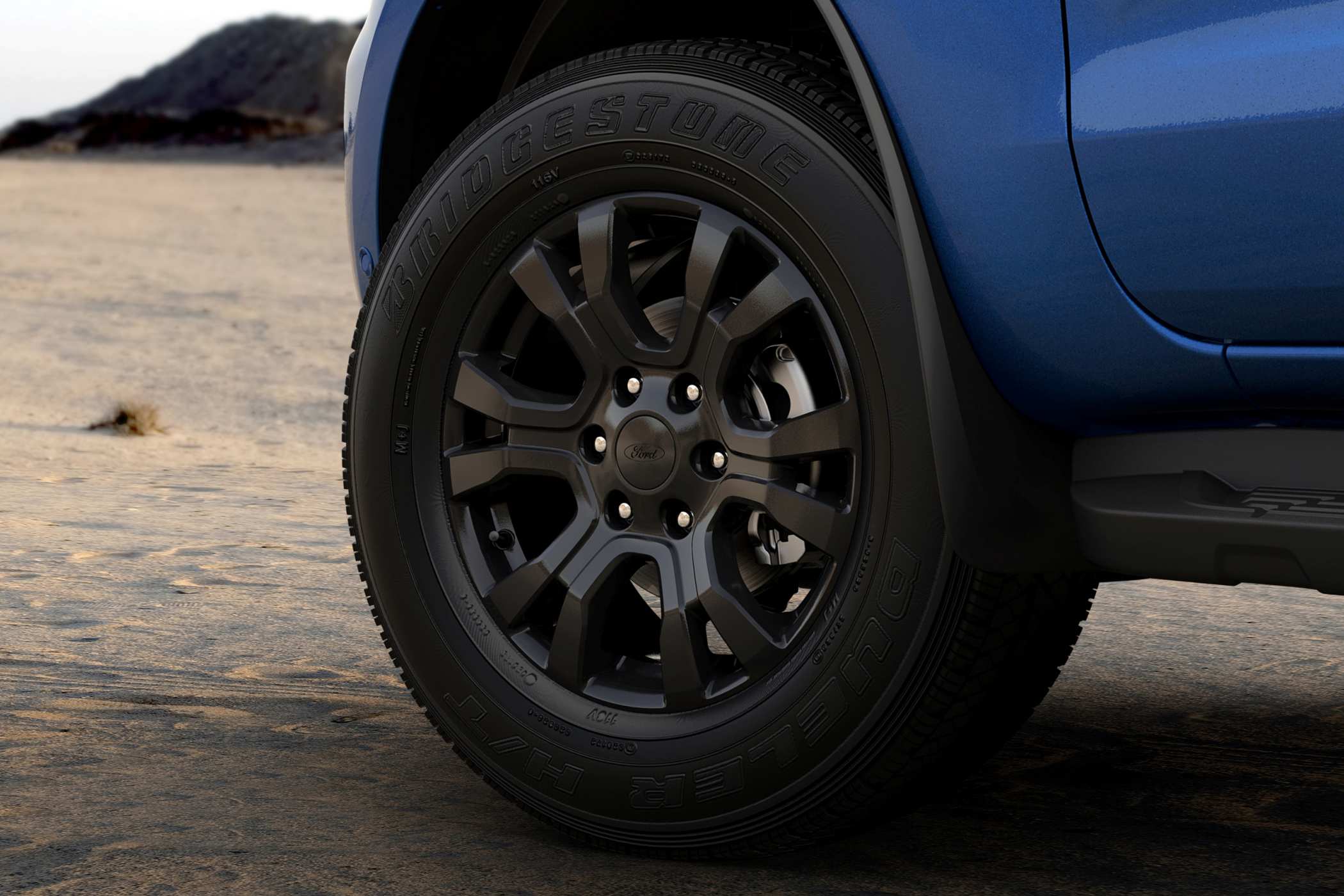 Leading with Ranger XLT's standout, rugged exterior, Ranger XLT Fully Loaded features:
Larger 18-inch alloy wheels finished in gloss black
Adaptive Cruise Control
Leather-Accented Seat Trim
Semi-Automatic Parallel Parking
Available in both the 3.2L automatic and Bi-Turbo 10-speed powertrains, the 4×4 Ranger XLT Fully Loaded is available with a recommended drive-away offer $1,500 over the equivalent XLT double-cab – a saving of more than 50 percent compared to the regular price of the included options when purchased separately.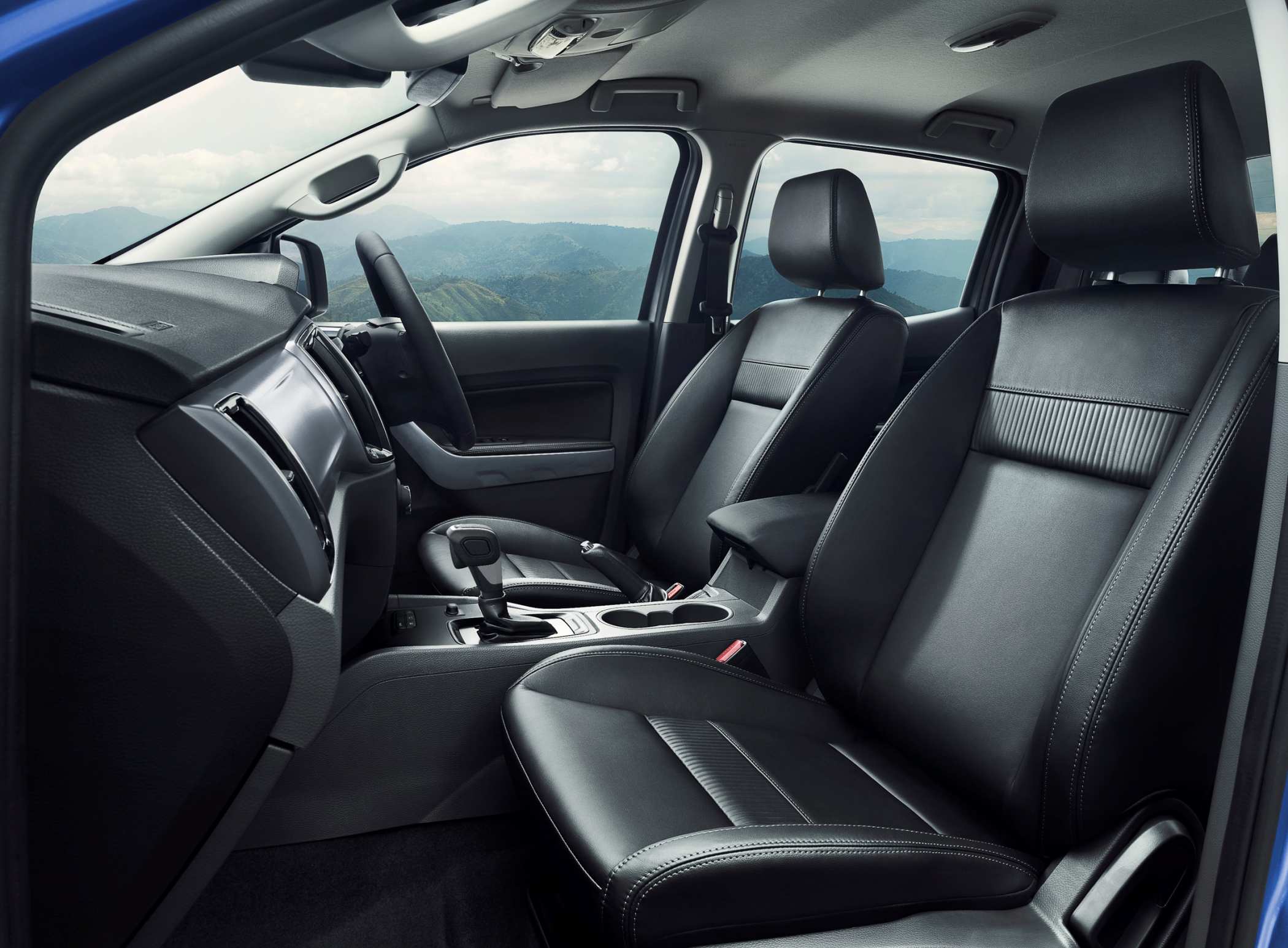 Ford Ranger Support for Business
To further support getting back to business, Ranger customers can access up to three-years of free scheduled servicing on key Ranger models, while compelling drive-away offers are also available on selected models.
For ABN holders, compelling drive-away offers include 4×4 Ranger XLS Double-cab Auto starting at $46,490 drive-away, with 4×4 Ranger Sport Auto from $49,480 and 4×4 Ranger XLT Double-cab $54,990 for ABN holders.
Customers can view the latest drive-away offers via Ford.com.au/offers or contact their local Ford dealer for further details.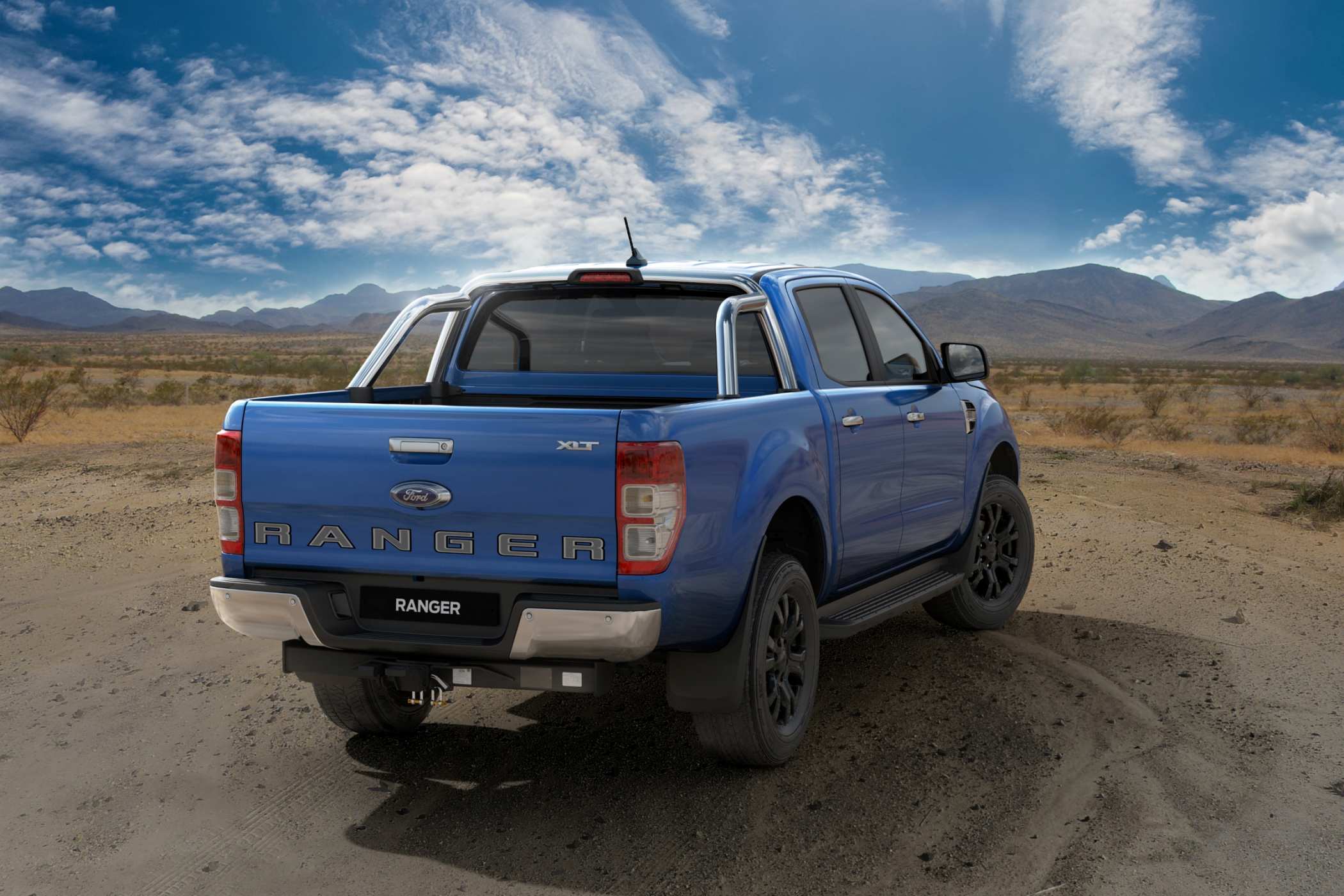 Ford Ranger Pricing
Recommended Manufacturer List Prices (MLP)* for Ford Ranger and available options:
Ranger 4×2

MLP

4×2 XL Single C/C 2.2L Low Rider MT

$29,190

4×2 XL Single C/C 2.2L Hi-Rider AT

$34,890

4×2 XL Super C/C 2.2L Hi-Rider AT

$37,390

4×2 XL Double C/C 2.2L Hi-Rider AT

$39,390

4×2 XL Double P/up 2.2L Hi-Rider AT

$40,790

4×2 XLT Double P/up 3.2L Hi-Rider AT

$51,540

4×2 XLT Double P/up 2.0L Bi-Turbo Hi-Rider AT

$53,040

Ranger 4×4

4×4 XL Single C/C 3.2L MT

$43,090

4×4 XL Single C/C 3.2L AT

$45,290

4×4 XL Super C/C 3.2L MT

$45,590

4×4 XL Super C/C 3.2L AT

$47,790

4×4 XL Super P/up 3.2L AT

$49,190

4×4 XL Double C/C 2.2L AT

$47,290

4×4 XL Double P/up 2.2L AT

$48,690

4×4 XL Double C/C 3.2L MT

$47,590

4×4 XL Double C/C 3.2L AT

$49,790

4×4 XL Double P/up 3.2L MT

$48,990

4×4 XL Double P/up 3.2L AT

$51,190

4×4 XLS Double P/up 3.2L MT

$50,290

4×4 XLS Double P/up 3.2L AT

$52,490

4×4 Sport Double P/up 3.2L MT

$53,540

4×4 Sport Double P/up 3.2L AT

$55,740

4×4 XLT Super P/up 3.2L AT

$57,440

4×4 XLT Super P/up Bi-Turbo AT

$58,940

4×4 XLT Double P/up 3.2L MT

$57,240

4×4 XLT Double P/up 3.2L AT

$59,440

4×4 XLT Double P/up Bi-Turbo AT

$60,940

Ranger XL/XLS/XLT Options

  Prestige Paint

$650

  Tough Bed Spray-in Bedliner (XL / XLS – Double Cab P/U only) (new)

$800

  XL Heavy-Duty Suspension

$500

  XL 4×4 17-inch Continental A/T Tyres (new)

$500

  XL 4×4 Single Cab Chassis Heavy-Duty Pack: (new)

Heavy Duty Suspension
17-inch black finish steel wheels
Continental A/T Tyres
Solid wheel nuts
Rear camera accessory

$1,600

  XL 4×4 Super Cab/Double Cab Chassis Heavy-Duty Pack: (new)

Heavy Duty Suspension
17-inch black finish steel wheels, solid wheel nuts
Continental A/T Tyres
Black side steps
Rear camera accessory

$2,000

  XL 4×4 Double Cab Pick-up Heavy-Duty Pack: (new)

Heavy Duty Suspension
17-inch black finish steel wheels, solid wheel nuts
Continental A/T Tyres
Black side steps
(N.B. Rear camera already standard)

$1,600

  XLS Premium Pack

Chrome grille and door handles
SYNC 3 with built-in satellite navigation
DAB+ Digital Radio
Dual-zone Climate Control
Smart Keyless Entry with Push-button start
Dual 4.2-inch instrument cluster

$1,500

  17-inch black finish Alloy Wheels for Ranger XLS (new)

$750

  Tough Bed Spray-in Bedliner (Sport/XLT – Double Cab P/U only) (new)

$300

  XLT Tech Pack

Adaptive Cruise Control
Semi-automatic Park Assist

$800

  XLT Leather-Accented Seats

$1,500

  18-inch Black alloy wheels for XLT

$750
*This is the manufacturer's list price for the vehicle or listed component only. A number of other components, including a dealer delivery fee, stamp duty, registration, compulsory third-party insurance and other statutory charges may be payable by a customer in relation to the purchase of this vehicle. The final transaction price for the vehicle will be as negotiated by the customer with their chosen Ford Deale