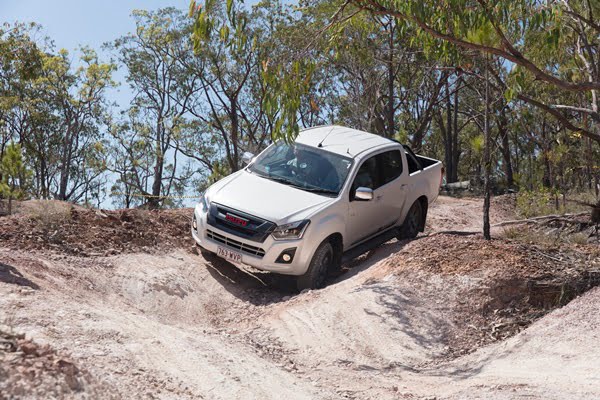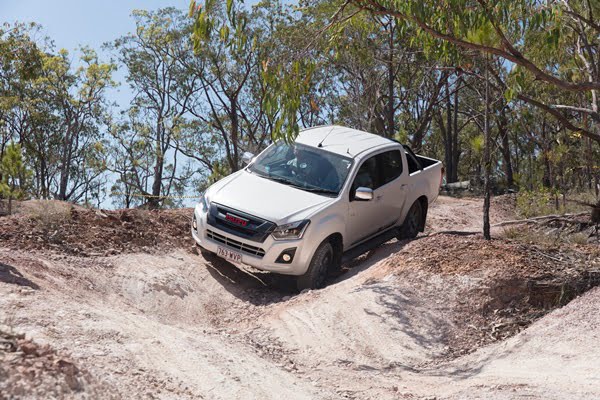 Isuzu continues to challenge the top Utes with the 2017 Euro 5 compliant upgrade earlier this month. The Isuzu D MAX has been gifted a raft of improvements to assist it with continued sales success.
Amongst the top 5 or six Utes on the Australian market, Isuzu holds a special place. It heralds a cost effective, hardworking, robust Ute that is as equally at home on the road, working for tradies or on the farm and on Australia's outback roads towing something adventurous behind.  From the first time I drove an Isuzu Ute I was impressed with their honest approach. Here was one tough Ute. In fact my best mate asked me what Ute to buy. I gave him a choice of two and he chose the Isuzu.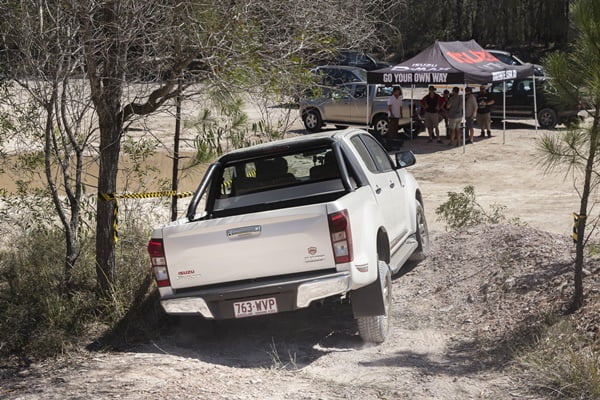 However while it was at the forefront of design when it was launched some 5 or 6 years ago, it has started to lag a little behind the aggressive competition. So this upgrade was long awaited and well received but noticeable for a few things that weren't included.
Let's have a quick look at what is included. There is a new Euro5 compliant 3.0 litre turbo-diesel engine (world first for Isuzu) pumping out an improved 430Nm of torque. To assist with transferring the higher torque to the road there is a new 6-speed auto or manual transmission. Given that Utes are now expected to be all things to most people, they are more car like and the Isuzu now has improved cabin comfort (NVH) and safety features. To complement these improvements there is a newer sleek front end and a special limited edition D-MAX X-RUNNER.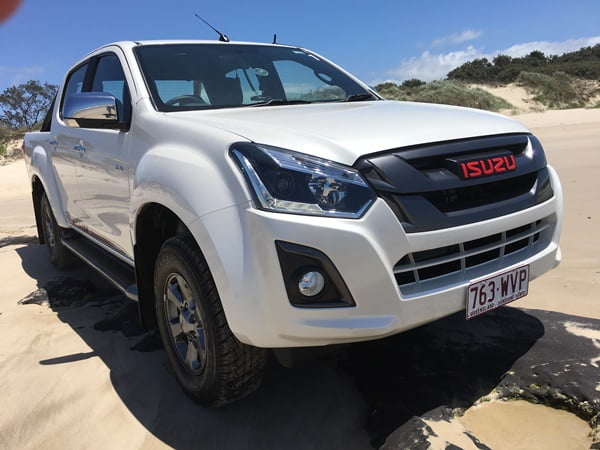 What is noticeable by its absence is the reversing camera across the range, rear diff lock, some safety features and reach adjustable steering wheel.
Underneath all the changes remains the same reliable Isuzu D MAX. The story here is mainly about the new Euro 5 compliant diesel engine and Aisin transmission.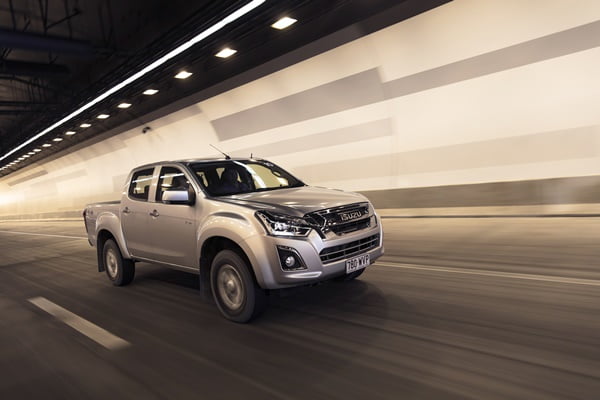 We had the opportunity to drive the new D MAX  over a range of different conditions, ranging from city peak hour, highway driving, secondary back roads, beach driving and a relatively simple 4WD track. I have always liked the way the Isuzu's drive, they are now better.
The main feature of the upgrade is introduction of a Euro5 emission compliant 3.0 litre 4JJ1-TC Hi-Power turbo-diesel engine. This new engine is a world first for Isuzu. It was developed exclusively for the Australian market after exhaustive research and testing into the use and demands of existing Isuzu owners, and no other Isuzu D-MAX market currently features an Isuzu 3.0 litre Euro5 compliant engine.
Thankfully the Australian team resisted the easy option to insert a smaller 2.5l already existing engine that was compliant, but unsuitable for Australian conditions.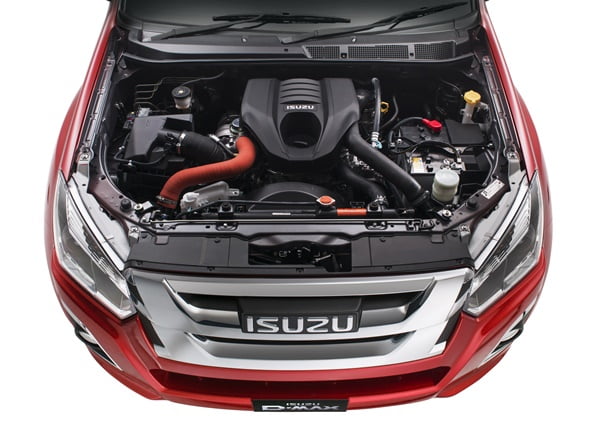 While its delivery was always punching above its weight the previous engines 380 Nm of torque was lacking compared to serious competitors! Thankfully now Isuzu have bumped that headline maximum torque figure to 430Nm. However, being Isuzu and having all that truck experience they understand that a shallow peak torque figure, while sounding good, often translates poorly to the real world use. So compared to the previous engine, 380Nm of torque (previous maximum) is now on tap from 1,700 – 3,500 rpm – which is 100 rpm lower and continues 700 rpm higher – meaning the same engine rpm provides more power and the same torque can be generated at lower engine rpm.
By producing more power at lower engine rpm, and more torque, the new "Pumped Up" D-MAX is more fuel efficient and produce less toxic exhaust emissions – but still deliver Isuzu's famous "tree-stump-pulling grunt", that's fit for the biggest of jobs.
Having towed lots of trailers behind an Isuzu with anything from an old Nissan Patrol through furniture trailer, loads of hay and camper trailers, caravans. I can attest to the real world usability and economy of the previous engine again the new engine is better. Much better.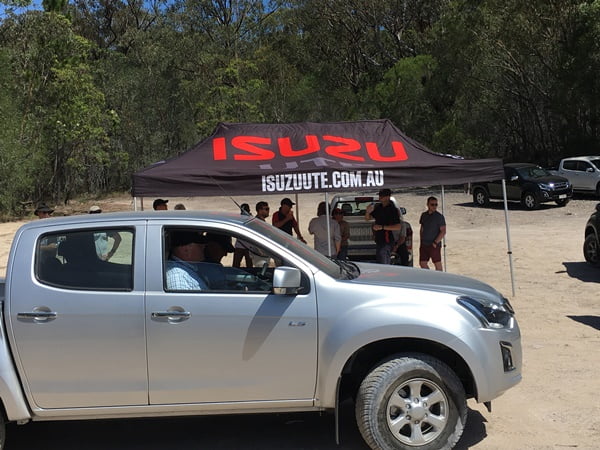 As I have mentioned previously I have little interest in what makes my vehicles go, more what they can do for me. However on this occasion I actually listened when they were espousing all the engineering changes that took place. It was absolutely apparent that the improvements are a jigsaw puzzle of little and big changes throughout a myriad of areas to achieve the result.
Revealing the excellence of Isuzu's diesel technology know-how, the 17MY D-MAX  4JJ1-TC Hi-Power Euro5 turbo-diesel engine has a number of new features including: New design pistons, New design fuel injectors, New design fuel supply pump, VGS turbo-charger, Larger Exhaust Gas Recirculation (EGR) cooler, New design EGR bypass valve, Ceramic glow plugs, Intelligent Battery Sensor (IBS) and Diesel Particulate Diffuser (DPD)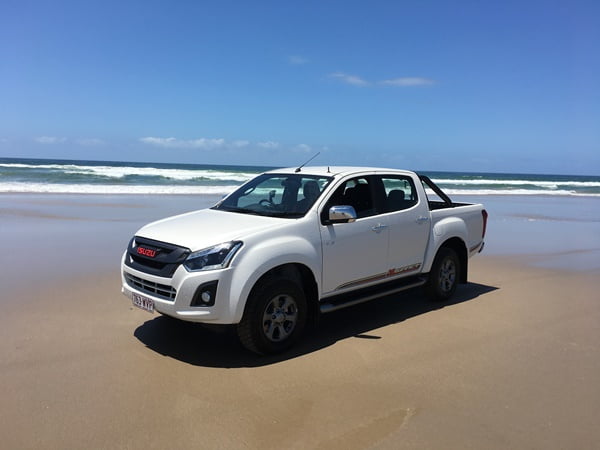 All these new features culminate in a more fuel efficient and low emission turbo-diesel engine. Additionally to these engine improvements there is a new variable geometry turbocharger with intercooler, and ultra-high pressure common rail fuel injection ensures precise and efficient fuel delivery, and a newly designed differential has also been introduced to handle the increase in engine torque and ensure that Isuzu's legendary durability and reliability lives on.
The second main story here is the new Aisin AWR6B45 6-Speed Automatic Transmission with "lock-up" torque converter. There was absolutely nothing wrong with the previous transmission, this one is simply better.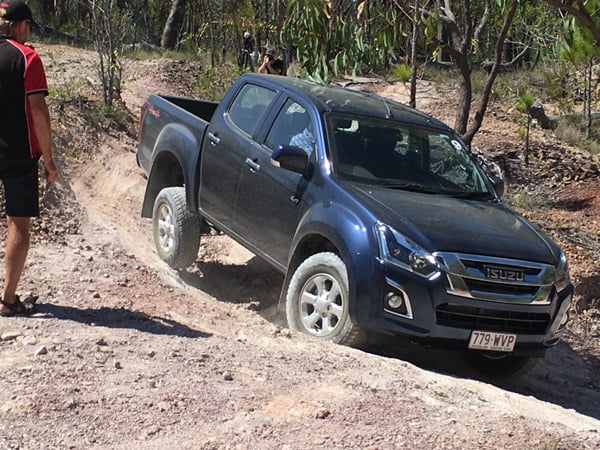 Drivers of the D-MAX are provided the most efficient gear selection to suit a wide variety of driving conditions – further improving fuel efficiency and lowering CO2 emissions. This automatic transmission features an "adaptive learning" function, improving both driveability and fuel efficiency. A sequential shift mode allows the driver to select gears on demand, giving the driver the same level of control as in a manual transmission, which is extremely beneficial in off-road environments.
The new Aisin AWR6B45 6-Speed Automatic Transmission also incorporates the Slip Control System Lock-up Clutch (Lock-up Torque Converter) which raises transmission efficiency in the 2nd to 6th gears (all gears except 1st and reverse) when a certain speed is reached, and improves fuel efficiency. The lock-up clutch will be released when the accelerator pedal is pressed forcefully. This system provides increased transmission efficiency and fuel economy, and automatically operates to reduce torque converter slip loss during moderate acceleration at low speed. It also increases the efficiency effects of engine fuel-cut when coasting.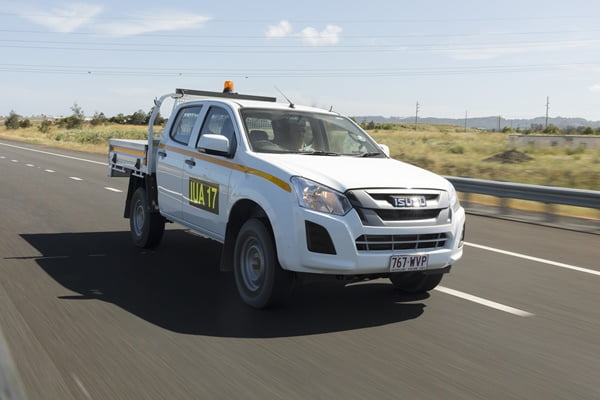 Also on offer is a new 6-Speed manual transmission designed exclusively by Isuzu. It features "close ratio" gears and "triple cone" synchronizers to provide easier gear selection and long service life. The new 6speed manual transmission is also linked to a Gear-Shift Indicator on the driver's instrument panel which intelligently displays the recommended gear position for optimum fuel efficiency. It drives smoothly and is well mated to the new engine.
There have been a few design modifications to the external appearance of the Isuzu. A newly designed engine hood and bold grille gives the D-MAX a bolder yet sleeker appearance. The Isuzu marketing blurb has a different view. It seems there are two schools of thought for Ute design. The truck like appearance of the Ranger and Colorado, or the more subtle sleek look of the Isuzu and Mitsubishi Triton.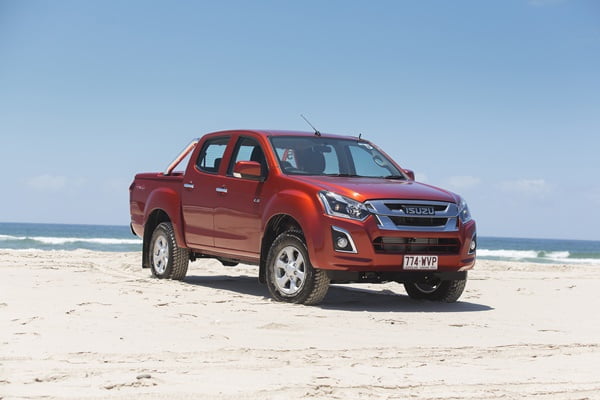 As part of the front end redesign there is a new headlamp design that accentuates the flowing lines of the front facia and bumper includes projector headlamps with LED Daytime Running Lamps for all LS models, with redesigned front fog lamps providing excellent driver visibility at night, or during inclement weather. EX and SX models also receive a new look halogen head lamp assembly. The LS-T variant 17MY D-MAX also receives new design alloy wheels. These are 18 inch wheels, that while they look great they aren't the best for finding true off road tyres to fit.
The D-MAX's aerodynamic wedge shape and roof design provides one of the lowest coefficient of drag (Cd) in its class. Extensively tested in various wind tunnel test facilities around the world – including the Japan Railway Research Institute and wind tunnel facilities in Europe – the Cd of the 17MY D-MAX is 0.4% better than the previous model.
As mentioned before the once humble Ute now occupies multiple uses for the family. One pleasing aspect of that change is a renewed focus on safety upgrades.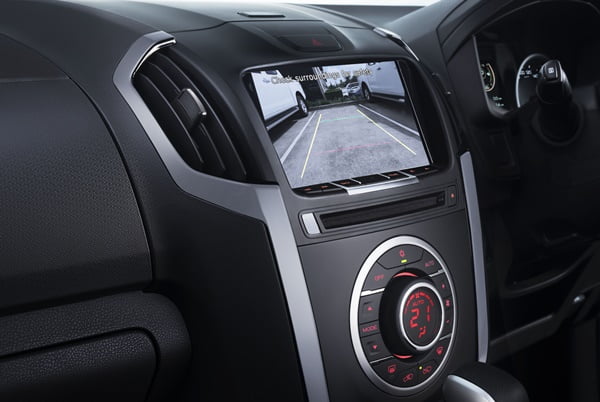 All LS variants of the D-MAX now receive a reverse camera, and SX and EX D-MAX variants now have an optional accessory reverse camera available.  Personally I believe that the reverse camera should be standard and measured as part of the ANCAP safety ratings. What gets measured gets done!
D Max offers an extensive and impressive level of occupant protection, including, six airbags (dual front, side and full-length curtain), 4-channel 4-sensor Anti-skid Brake System (ABS) with Electronic Brakeforce Distribution (EBD), Electronic Stability Control (ESC), Traction Control System (TCS) and Brake Assist (BA), as well as Hill Start Assist (HAS) and Hill Decent Control (HDC) for both 4X4 and 4X2 vehicles, plus dual pre-tensioners with load limiters for the front seatbelts.
However some of the competition has taken safety features even further with features like Forward Collision Alert, Blind Spot Indicators, Trailer Sway Control, and Lane Departure Warning. So while the upgraded Isuzu is certainly better than previous model it still is lagging a little.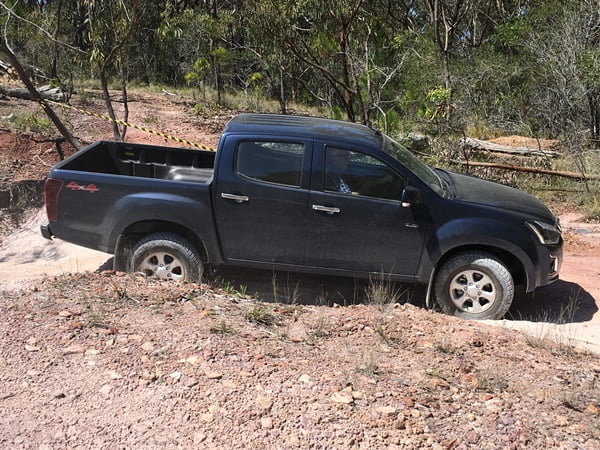 There are height adjustable head restraints for all occupants (excluding Space Cab variants), along with ISOFIX child restraint points in both models.
Both the D-MAX and MU-X cabins are constructed from High Tensile Steel for outstanding strength and rigidity to create a resilient passenger safety cell. To further enhance this design criteria, Isuzu engineers have made use of "Tailor-welding Blank" construction techniques in those areas that warrant additional strength for increased occupant protection, including anti-intrusion door beams.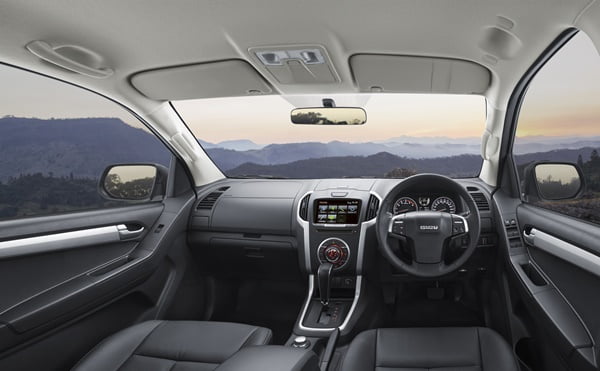 Internally the D-MAX has received significant improvements to cabin comfort with the addition of new sound and vibration insulation that provides a more composed driving experience for all occupants. They certainly are quieter inside.
17MY D-MAX SX and LS-M variants now introduce a 7-inch touch screen display audio system, while  LS-U and LS-T variants incorporate an 8-inch touch screen display audio system with in-built Sat Nav.
In addition, 17MY D-MAX Crew SX and LS-M models now receive eight speakers delivering audio for all occupants: two roof mounted speakers in addition to the two front door mounted speakers, two dash mounted tweeters and two rear door mounted speakers.
USB ports now number three in all LS spec variants of the D-MAX. Two are located in the front dash and one in the rear, providing convenient charge points for mobile phones and other portable devices with USB charge ports.
Every Isuzu vehicle is backed by the Isuzu UTE Australia 555 Service Plus Program which includes a 5 year warranty, 5 year Roadside Assistance and 5 year/50,000 kilometre Capped Price Servicing program. The capped price service kilometre is a little low I believe but better than before.
A couple of other thoughts. I am pleased that Isuzu have kept the immensely practical pull out cup holders on the dash, after Holden inexplicably removed them, even as Toyota introduced them on the Fortuner and Hilux. Also following a general trend Isuzu has available a wide range of OME accessories like snorkel, canopy etc. Not as many as Holden Colorado but the range has increased. Finally, even though NVH has reduced you can still hear enough of the diesel rumble to provide comfort to the ears at idle.
So to sum up, the upgraded Isuzu D MAX has received a much needed and awaited engine that boosts not only the headline torque figure but also the spread of delivery. They have a new Aisin 6 speed transmission in both manual and auto format. They have both external and internal design changes that improves comfort and reduces NVH. They are priced at excellent value. Overall Isuzu deserves a number of big ticks for the upgrade.
Australia is the no 1 export market in the world for Isuzu and in Thailand they sell equal to the Toyota Hilux. Since they started in Australia in 2008 they have sold 100,000 vehicles, a pretty impressive result from a standing start.
It has always been my belief that Isuzu's are one of the toughest Utes on the market and they don't make enough noise about the small truck connection with their engines. These engines are plain bullet proof. If you want an honest, robust, tough, economical, value for money and comfortable (I have run out of superlatives) Ute or Ute based 4WD wagon do not overlook either of the upgraded Isuzu's.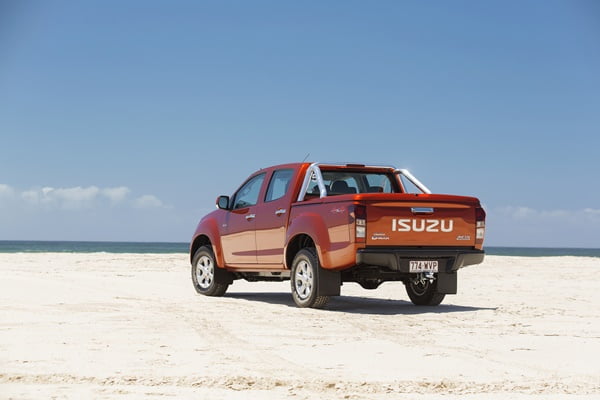 Model Price List
17MY Isuzu D-MAX RRP Price List
Trans RRP inc.GST  List Price ex.GST
4 x 2 SINGLE C/C SX man $28,500 $25,909
4 x 2 SINGLE C/C Hi-Ride SX auto $31,700 $28,818
4 x 2 CREW C/C Hi-Ride SX auto $37,300 $33,909
4 x 2 SPACE Ute Hi-Ride SX auto $35,500 $32,273
4 x 2 CREW Ute SX man $34,500 $31,364
4 x 2 CREW Ute Hi-Ride SX auto $38,000 $34,545
4 x 2 CREW Ute Hi-Ride LS-U auto $43,600 $39,636
4 x 4 SINGLE C/C Hi-Ride EX man $34,800 $31,636
4 x 4 SINGLE C/C Hi-Ride SX man $38,000 $34,545
4 x 4 SINGLE C/C Hi-Ride SX auto $40,100 $36,455
4 x 4 SPACE C/C Hi-Ride SX man $40,700 $37,000
4 x 4 SPACE C/C Hi-Ride SX auto $42,800 $38,909
4 x 4 CREW C/C Hi-Ride SX man $43,200 $39,273
4 x 4 CREW C/C Hi-Ride SX auto $45,300 $41,182
4 x 4 CREW Ute Hi-Ride SX man $43,900 $39,909
4 x 4 CREW Ute Hi-Ride SX auto $46,000 $41,818
4 x 4 CREW Ute Hi-Ride LS-M man $46,400 $42,182
4 x 4 CREW Ute Hi-Ride LS-M auto $48,500 $44,091
4 x 4 SPACE Ute Hi-Ride LS-U man $46,200 $42,000
4 x 4 SPACE Ute Hi-Ride LS-U auto $48,300 $43,909
4 x 4 CREW Ute Hi-Ride LS-U man $48,300 $43,909
4 x 4 CREW Ute Hi-Ride LS-U auto $50,400 $45,818
4 x 4 CREW Ute Hi-Ride LS-T auto $54,200 $49,273