Toyota has updated its rugged and reliable HiLux pick-up and Fortuner family SUV with a variety of new comfort and safety features including fitting Toyota Connected Services as standard on all grades.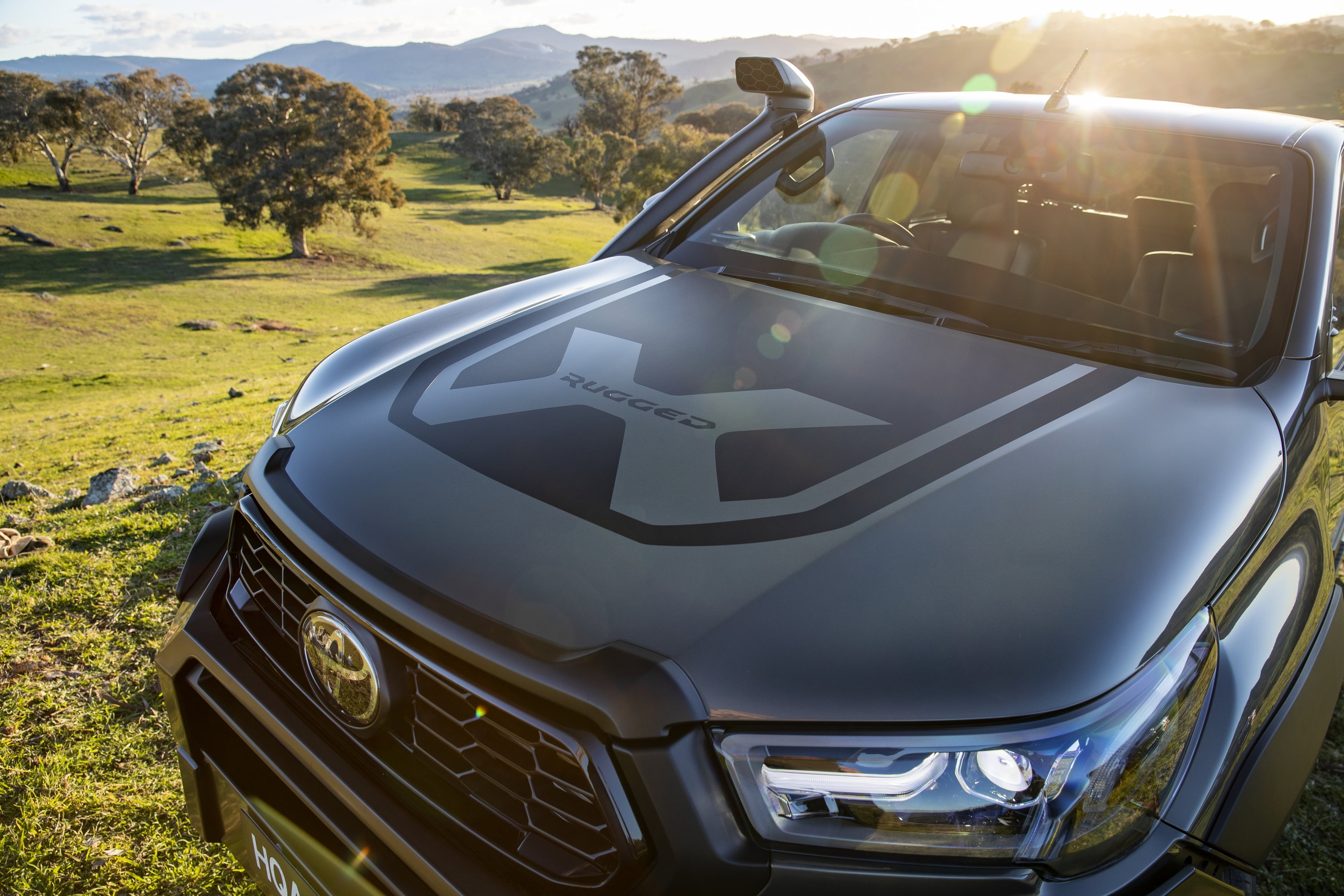 The addition of Toyota Connected Services provides increased peace of mind for owners, offering vital assistance in the event of a collision or if the vehicle is stolen.
New interior comfort and convenience features have also been added to the HiLux range, while the Fortuner is now safer for the whole family with the addition of more active safety features as standard.
Toyota Australia Vice President Sales, Marketing and Franchise Operations Sean Hanley said the upgrades for HiLux and Fortuner demonstrated Toyota's commitment to always continuing to improve its vehicles for the benefit of customers.
"It's no secret that Australians love the HiLux, with its rugged reliability, incredible utility and performance on and off the road," Mr Hanley said.
"Likewise, the Fortuner's towing capacity, capability in the rough stuff and seating for seven means no campsite is too hard to reach.
"These key upgrades bring valuable new features to both ranges, ensuring owners, no matter where they travel, will be able to do it with high levels of safety, comfort and convenience," he said.
The addition of Toyota Connected Services affords greater peace of mind for HiLux and Fortuner owners with the system able to automatically generate an emergency call to Toyota's 24/7 Emergency Call Centre and relay the location of the vehicle in the event of a collision that requires intervention, or if an airbag deploys.
Occupants can also manually trigger an emergency call to the call centre via an SOS button3, allowing them to determine the vehicle's location and coordinate with emergency services.
If the vehicle is reported stolen, Toyota Connected Services can assist authorities to help track the vehicle's location via the stolen vehicle tracking (SVT) service.
For greater comfort and convenience, the high-profile roof-mounted antenna on HiLux has been replaced by a more sophisticated sharkfin antenna on all models to help reduce the potential for damage, while SR5 variants now feature an upgraded front dual-zone climate control system, replacing single-zone climate control.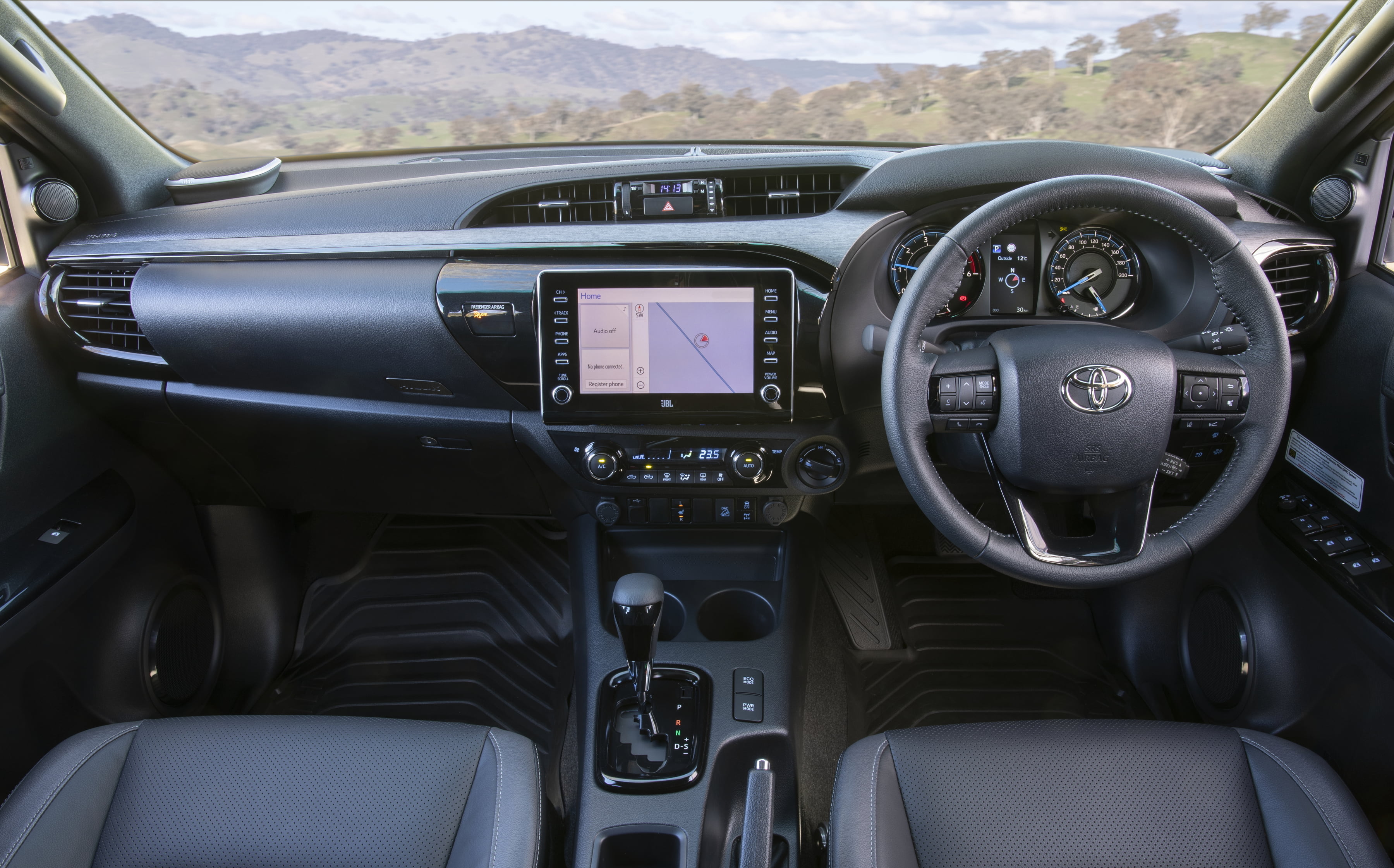 The flagship HiLux Rogue also gains a panoramic view monitor as standard, making navigating tight spaces, on or off the road, that little bit easier.
Improving cabin comfort, convenience and safety was also on the agenda for Fortuner models with the GX variant now offering control of the instrument cluster illumination, GXL and Crusade versions gaining the new front dual-zone climate control system, and the flagship Crusade featuring a panoramic view monitor.
To further enhance active safety, blind spot monitor and rear cross-traffic alert have also been added to Crusade variants, bolstering the already impressive Toyota Safety Sense suite of driver assistance technologies.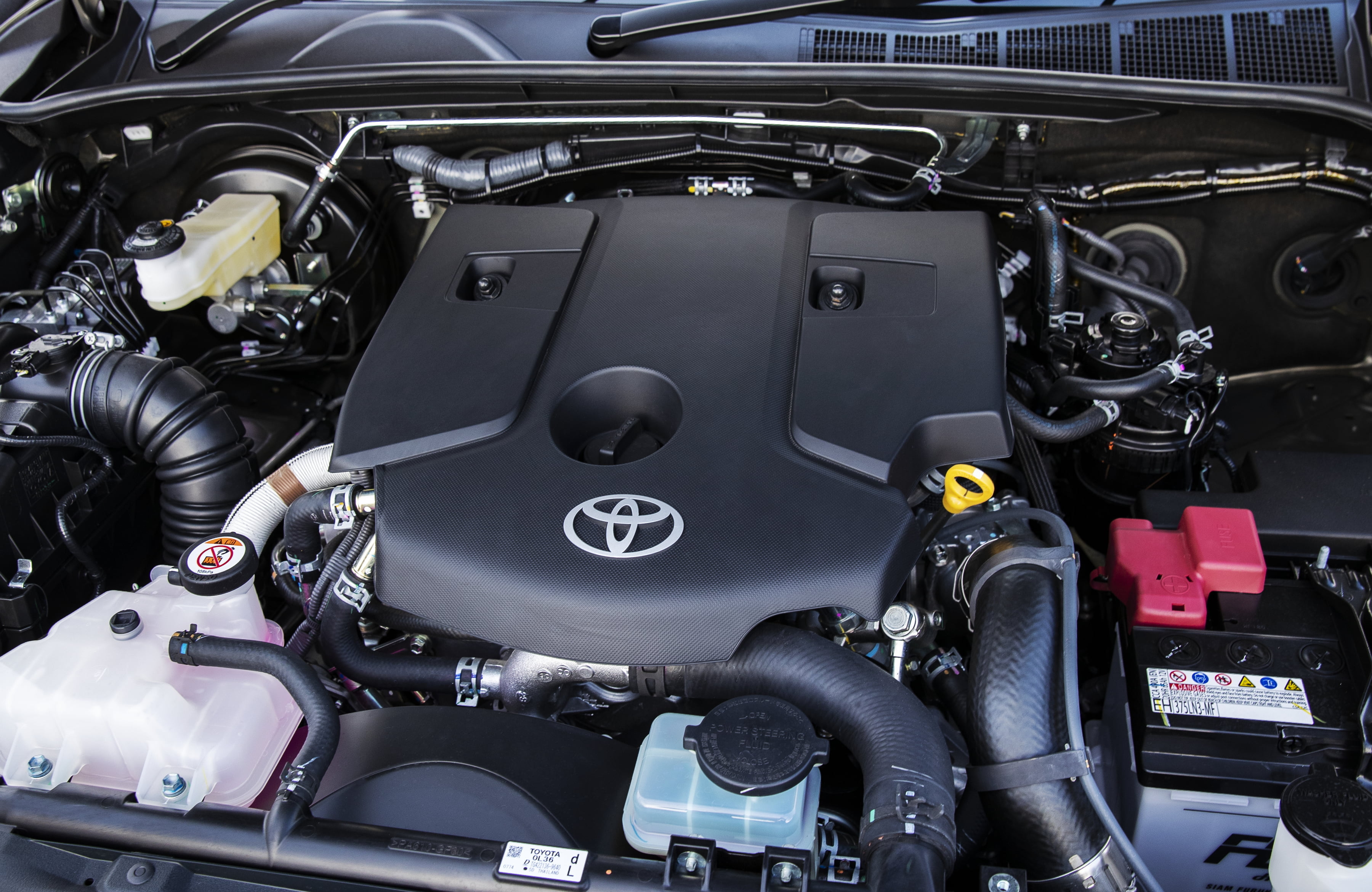 The HiLux is offered with the choice of three engines headlined by the strong and durable 2.8-litre turbo-diesel four-cylinder engine, shared with the Fortuner, and developing a strong 150kW of power and 500Nm of torque when teamed to the six-speed automatic transmission.
4×2 HiLux grades can also be had with a 110kW/400Nm 2.4-litre turbo-diesel engine or 2.7-litre petrol four-cylinder that offers maximum outputs of 122kW and 245Nm.
All 4×4 grades feature a low-range transfer case for enhanced off-road ability, while all Fortuner grades and HiLux SR, SR5, Rogue and Rugged X variants also incorporate a rear differential lock as standard.
Maximum braked towing capacity is rated at an industry-leading 3500kg on HiLux and 3100kg on Fortuner.
Both HiLux and Fortuner are covered by the five-year Toyota Warranty Advantage and seven-year Toyota Warranty Advantage Extended Engine and Driveline.
Toyota HiLux pricing
4X2 Single Cab (cab chassis)
Workmate, 2.7 P, 5M
$24,225
Workmate, 2.7 P, 6A
$26,225
Workmate Hi-Rider, 2.4 TD, 6M
$29,465
4×2 Extra Cab (pick-up)
SR Hi-Rider, 2.8 TD, 6A
$44,845
4×2 Double Cab (pick-up)
Workmate, 2.7 P, 5M
$33,705
Workmate, 2.7 P, 6A
$35,705
Workmate Hi-Rider, 2.4 TD, 6M
$40,795
Workmate Hi-Rider, 2.4 TD, 6A
$42,795
SR Hi-Rider, 2.8 TD, 6M
$43,865
SR Hi-Rider, 2.8 TD, 6A
$45,865
SR5 Hi-Rider, 2.8 TD, 6A
$54,450
4×4 Single Cab (cab chassis)
Workmate, 2.4 TD, 6M
$40,155
SR, 2.8 TD, 6M
$43,225
SR, 2.8 TD, 6A
$45,225
4×4 Extra Cab (cab chassis)
Workmate, 2.4 TD, 6A
$45,855
SR, 2.8 TD, 6M
$46,885
SR, 2.8 TD, 6A
$48,885
4×4 Extra Cab (pick-up)
SR5, 2.8 TD, 6A
$59,160
4×4 Double Cab (cab chassis)
Workmate, 2.4 TD, 6A
$47,925
SR, 2.8 TD, 6M
$49,145
SR, 2.8 TD, 6A
$51,295
SR5, 2.8 TD, 6A
$59,180
SR5+, 2.8 TD, 6A
$61,680
4×4 Double Cab (pick-up)
Workmate, 2.4 TD, 6M
$47,425
Workmate, 2.4 TD, 6A
$49,425
SR, 2.8 TD, 6M
$50,645
SR, 2.8 TD, 6A
$52,795
SR5, 2.8 TD, 6M
$58,680
SR5+, 2.8 TD, 6M
$61,180
SR5, 2.8 TD, 6A
$60,680
SR5+, 2.8 TD, 6A
$63,180
Rogue, 2.8 TD, 6A
$70,200
Rugged X, 2.8 TD, 6A
$70,750
Options:
Premium paint: $675
Toyota Fortuner pricing
| | |
| --- | --- |
| GX, 2.8 TD, 6A | $49,715 |
| GXL, 2.8 TD, 6A | $55,085 |
| Crusade, 2.8 TD, 6A | $62,945 |