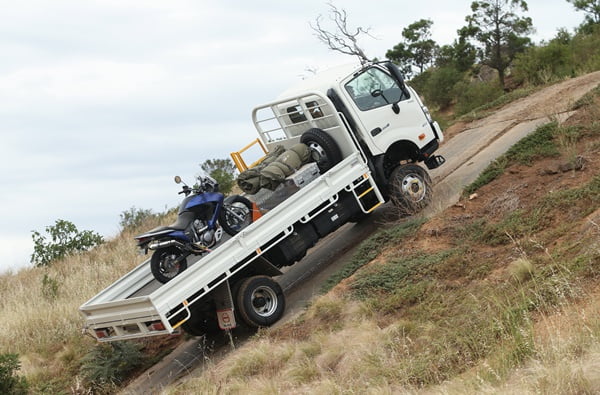 Question: What Ute comes in either single cab or dual cab styles, has a payload over 2T, will tow 3.5T, has exceptional off road capability, will carry up to 7.5T over tough 4wd tracks and is a hell of a lot of fun to boot.
Answer: The recently launched Hino 300 Series 817 4X4 Truck Ute.
If you expand your thinking about Utes beyond the Colorado vs Ranger vs Hilux scenario, you quickly realise that there are many other options out there that just may prove more versatile, more practical or even better suited to your needs.
This was driven home (sorry about the pun) to me on the recent Global launch of the Hino 300 Series 817 4×4 truck.
The world of light duty truck Ute and even heavy USA style Pickup truck Utes is mostly uncharted territory for Australian recreational 4WD drivers. We have reviewed a few and will be  testing more next year.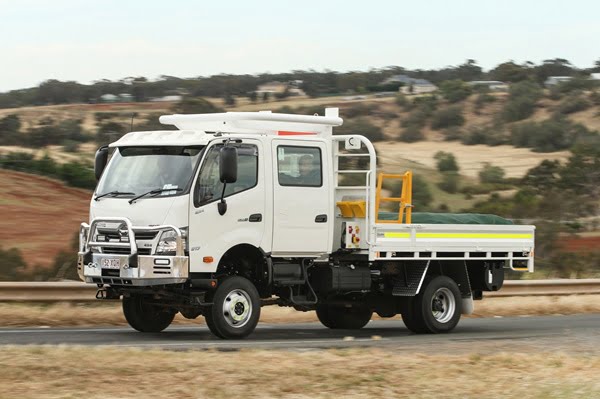 Tradies have known about them and in fact utilised them for years.
On the launch we drove both single cab and dual cab Truck Utes over a variety of roads and tracks, including some purpose built 4WD tracks at the Werribee 4WD centre in Victoria. I was mostly impressed!
Internally, while there are concessions to driver and passenger comfort, the Hino is vastly different to top spec Dual Cab Utes from Holden or Toyota etc.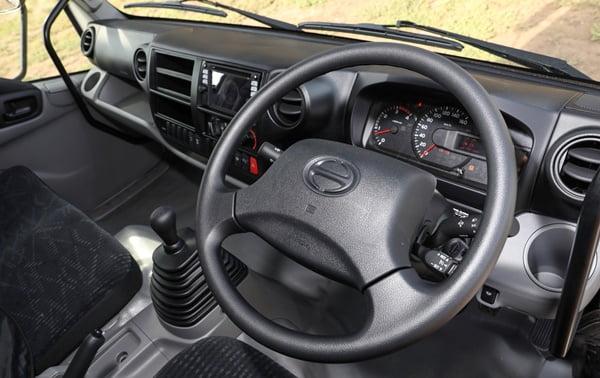 The drivers magnetic suspension seat is comfortable enough as is the front passenger, but if you opt for the dual cab version and lump the kids in the back, they will be complaining before the first hour. Better to individualise the rear seats and set the area up for them, they will love it.
You obviously climb up into the cab and you are right there. The cab forward design means that you pretty much look straight down. This can be a benefit off road in tight tracks. It's also scary as shit going over steep slopes.
While the Hino 300 Series 817 4wd has a theoretical top speed of 120+ kmh it is electronically limited to 100kmh so that does prove frustrating on the open road when you are used to cruising at speeds above that. There is no auto transmission version available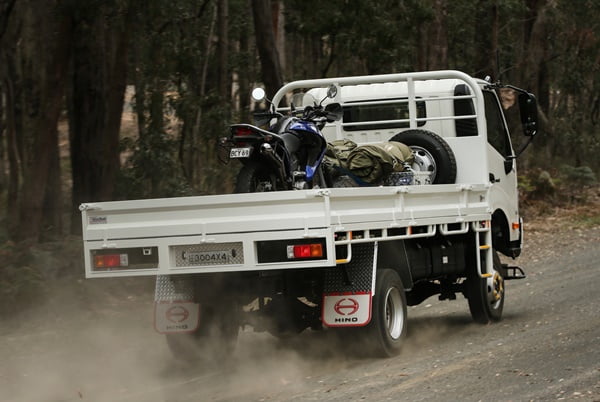 It also drives like a truck, meaning leisurely acceleration, heavier on fuel than you are used to, it bounces around even with a load on, the cab over style means that you are steering through corners before turning and the width is more than normal Utes. These are obvious differences.
However let's look at some of the distinct advantages over normal 4WD Utes.
The GVM is up to 7500kg and GCM up to 11,000kg
Has a payload of 2T plus
Tray length can be a bit over 3 or 4 metres plus depending on cab style
Will carry up to 6 people
You sit up much higher and have a better view of the road and track
Has a super low crawl gear of 2.2:1 for steep inclines and declines.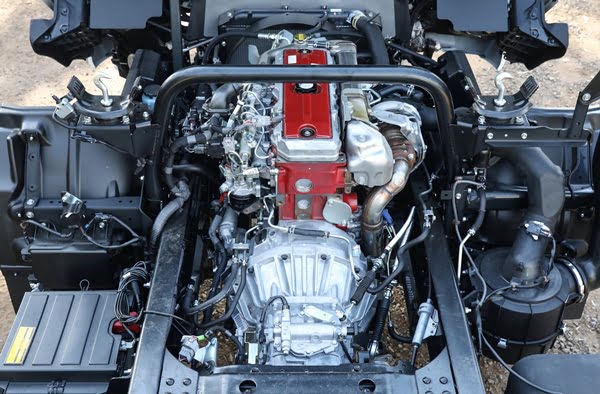 Powered by a 4.0L Turbo Euro 5 compliant diesel engine that produces 121kW @ 2500rpm of power and 464Nm @ 1400 – 2400 rpm of torque, the Hino 300 817 4×4 behaves differently to normal dual cab utes.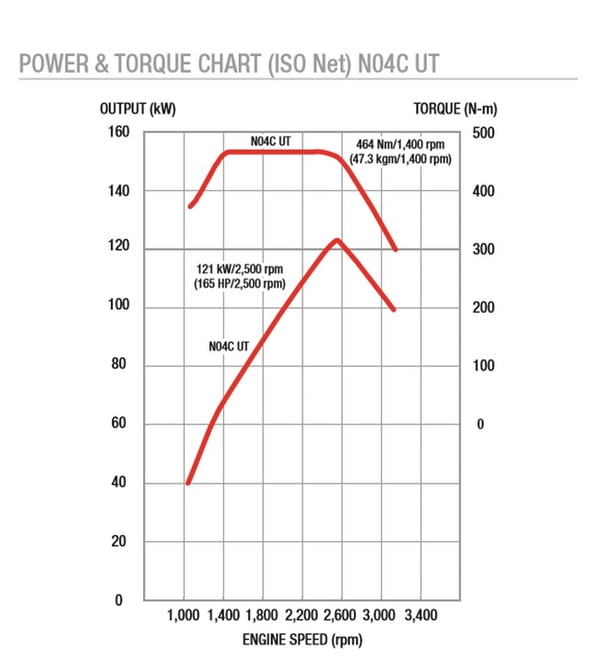 This was clearly evidenced on the 4WD track when sitting in the back with a novice driver that was attempting to drive up a 35 degree slope. He was in low range first gear and was driving with too low revs, at the suggestion to increase revs to between 1500 and 2000 he dutifully pressed harder on the accelerator and the engine responded.
The Hino simply climbed the slope without fuss or mishap.
My initial thought was that the engine performed pretty well. After a few moments processing (I am a little slow) I realised that we were close on 7.3T all up.
That was outstanding!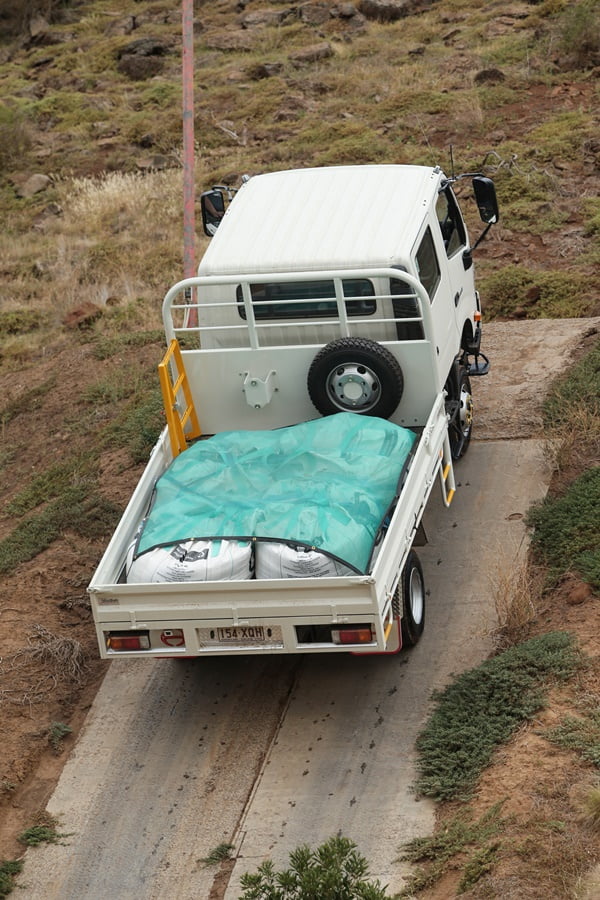 The characteristics of the Hino 4X4 system and the super low crawl gear were reinforced again and again around the track to the point where I found myself thinking, why aren't all 4WD Utes like this?
I was also thinking that this would make an outstanding Ute for the farm.
The Hino has some impressive 4WD credentials. Water fording, courtesy of the high air intake is outstanding, approach angle is 34°,  rampover angle is 159° and departure angle is 30° (depending on the tray). The ground clearance is 205mm which is a little low but the underpinnings are bullet proof.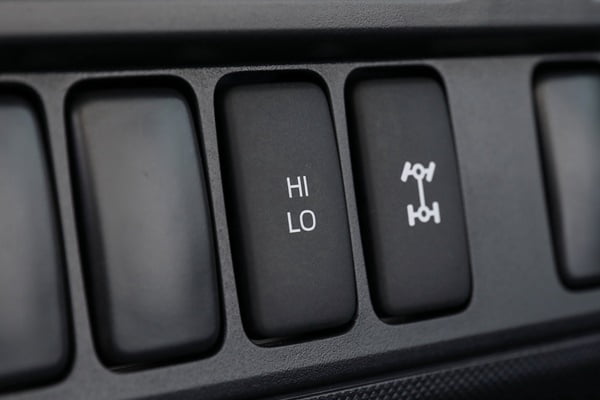 You do have to remember to lock the hubs before engaging 4WD, reminiscent of a previous life, however once they are locked you can switch between ratios with the push of a button.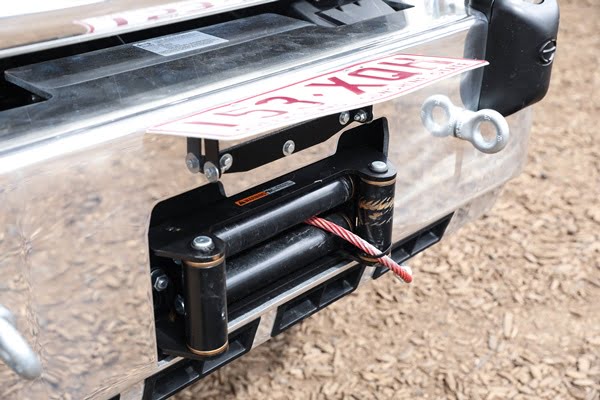 For recreational users the dealers can offer single rear wheel options, diff locks, GPS Sat Nav with 4WD tracks, additional reversing cameras, LED Headlights, bull bar and winch options.
The Hino will also tow 3.5 T so taking the boat behind isn't a problem. The waterproof reversing camera is excellent for assisting with hooking up the trailer as well.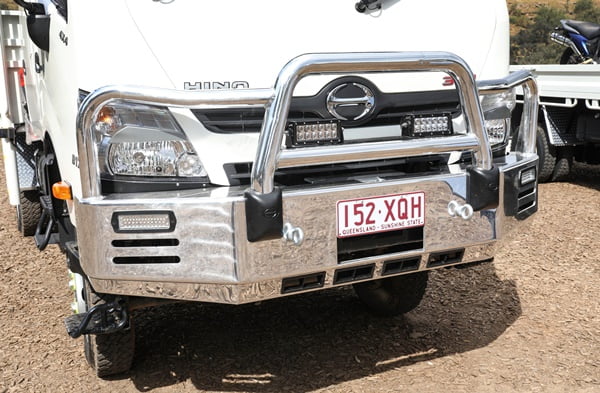 Safety is a big feature on the Hino 300. The Hino 300 Series 4×4 is brought to a stop by four-wheel ventilated disc brakes, combined with the standard fitment of Anti-lock Braking System (ABS), Electronic Brake-force Distribution (EBD) and Power Assisted Braking (PAB).
The braking performance of the 300 Series 4×4 takes the 7,500kg 4×4 truck segment to another level of safety with the standard inclusion of Vehicle Stability Control (VSC).
Put simply, VSC helps prevent the truck potentially skidding out of control by monitoring wheel rotation speed, steering angle, yaw rate, lateral G forces and braking.
The VSC can autonomously take the appropriate action required such as reducing engine power and/or applying individual brakes with the intent of keeping the vehicle upright and safely negotiating the corner.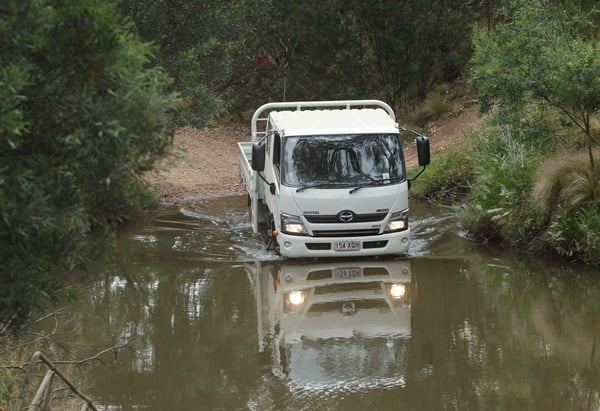 "Driver comfort is related to fatigue, both of which are very much at the forefront of our minds because it's a potential workplace health and safety issue for our customers," Mr Petrovski said.
"Hino has focussed on not only great performance but making this truck as safe, comfortable, quiet and easy-to-use as possible in as many circumstances, for as many applications as possible.
Having driven literally hundreds of 4WD Utes over the years, I have a reasonable feel for how they perform. It's not often I walk away from a test drive with a new perspective for what is achievable.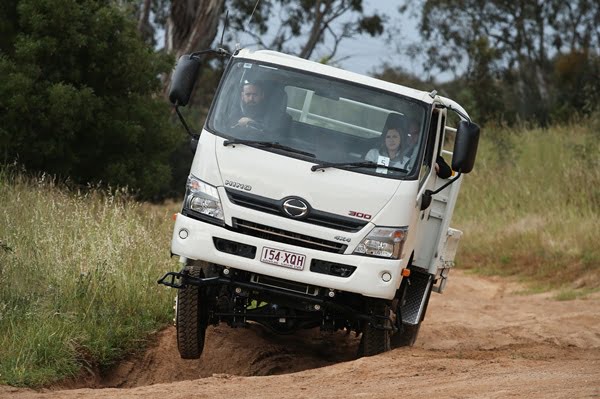 Let's look at the quick facts
Hino N04C 4 litre diesel engine
Euro 5 ADR 80/03 emission compliant
Hino Diesel Particulate active Reduction filter (DPR)
Delivers 165hp (121kW) at 2500rpm and
464Nm of torque at 1400rpm flat to about 2400rpm
6 Speed Manual Overdrive transmission
Dual range 4×4 transfer case
Manual freewheeling hubs – 50/50 drive split
Push button shift on the fly 4X4 (once hubs are locked)
Super low range crawl gear of 2.2:1
Ventilated Disc Brakes Front & Rear
High air intake filter
Magnetic suspension driver's seat with lumbar adjustment
3 contact point entry/exit everywhere
Cruise Control
Dual SRS Airbags
Tilt adjustable steering wheel
Vehicle Stability Control (VSC)
Anti-lock Brake System (ABS)
IPA69K submersible Reverse Camera (waterproof)
ECE R-29 Cab Strength Certified Available in 7 seat crew cab
Rear passenger air conditioning
840mm wide chassis with rivet-less top flange and grid hole design,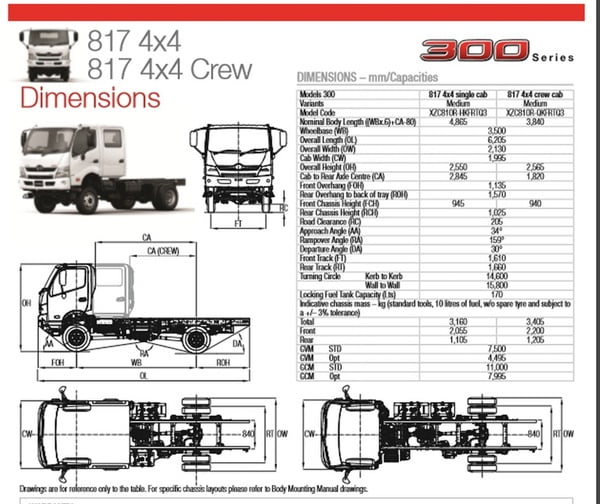 Well maybe that wasn't a quick look, but there is so many features that the Hino 300 Series 817 4X4 Light Duty Truck has as standard that it is hard to be brief.
The Hino 300 Series 817 4X4 Light Duty Truck is, as mentioned, is a beauty. It is exceptionally easy to drive, performs both on road and off road, in harsh conditions, faultlessly, is relatively economical (for a truck) and most importantly has been specifically designed and tested in Australia for our unique criteria.
The Hino has been in development for a few years now and has been tested in the harshest Australian conditions for over 3 years in Cape York and the outback north and east of Kalgoorlie in WA.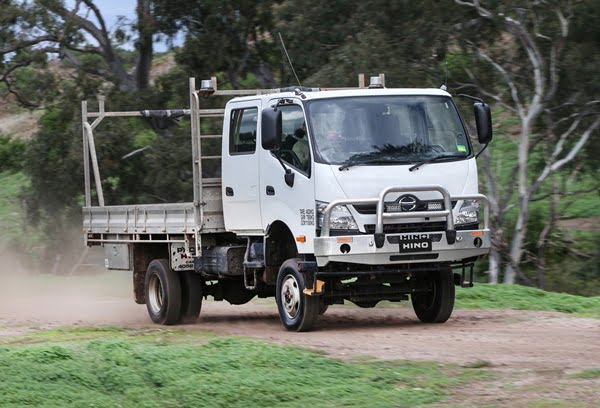 Prototypes of the Hino 300 Series 4×4 have been used in day-to-day operations with a number of customers across Australia with two customers taking part in long-term field testing: Cook Shire Council in Far North Queensland and Kennedy Drilling in remote Western Australia.
Hino test engineers have studied the vehicles in these operations, and those learnings combined with the testing carried at its durability facilities in Japan produced a model purpose-built for Australian applications.
"We have been testing prototypes of the 4×4 here for over three years, with real-world customers whose feedback has enabled us to refine the specification of a truck built specifically for the Australian market," Mr Daniel Petrovski, Hino Product Strategy Manager said.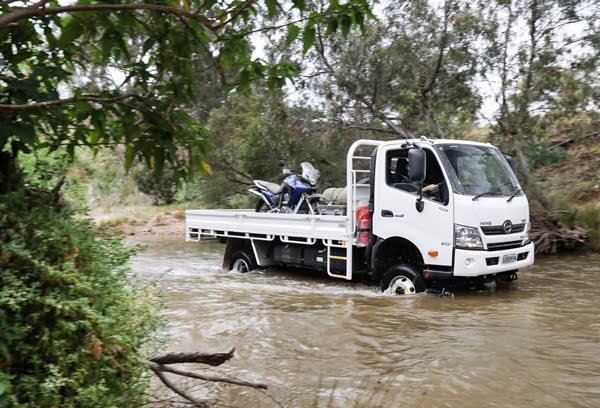 "The 300 Series 4×4 is a specialised vehicle and this sort of approach has genuinely benefitted what we can now offer our customers."
"There's testing – and then there's real world in-field testing, which is what we have done with this vehicle," said Mr Petrovski.
To give you an idea of the time and effort taken, this development started some eight years ago and became almost an obsession for their product manager Daniel Petrovski.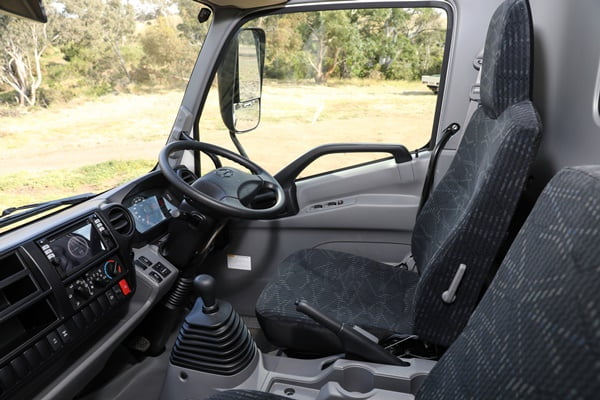 Daniel is I suspect a bit of a bushman at heart and has been in the trucking industry for over 20 years in various roles and knows a thing or two about his trucks. Seeing him release the Hino 300 Series 817 4X4 was as close as we can get to see a bloke deliver a baby.
Daniel and the whole team at Hino Australia, headed by Steve Lotter, and overseas engineers have an infectious passion for their trucks and when you get to have a close look and drive of the Hino 300 Series 817 4X4 you can understand just why they are so pleased with themselves.
Daniel took great delight in telling the story about when they took some of the overseas engineers up to Cape York for testing and they slept in swags. Needless to say those visitors have some amazing stories to tell for years.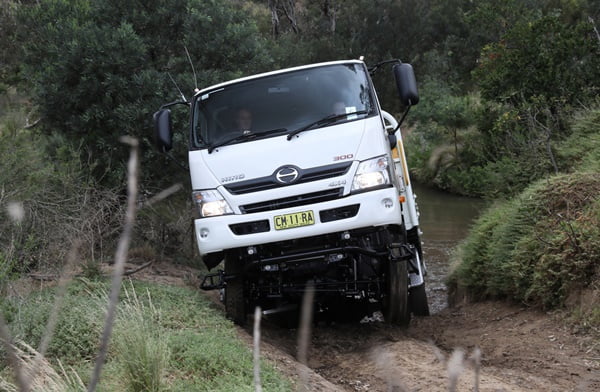 I have to reinforce that the Hino 300 Series 817 4X4 was specifically designed in Australia for Australian conditions. Hence the global launch here.
Here is a multinational trucking company, part of the Toyota group that spent the time, effort and money to develop a segment specific truck for Australian conditions.
You have to admire that.
We will have a longer test drive early next year so stay tuned and open your minds to the possibility that the Hino 300 Series 817 4X4 Ute just might be what you are looking for.