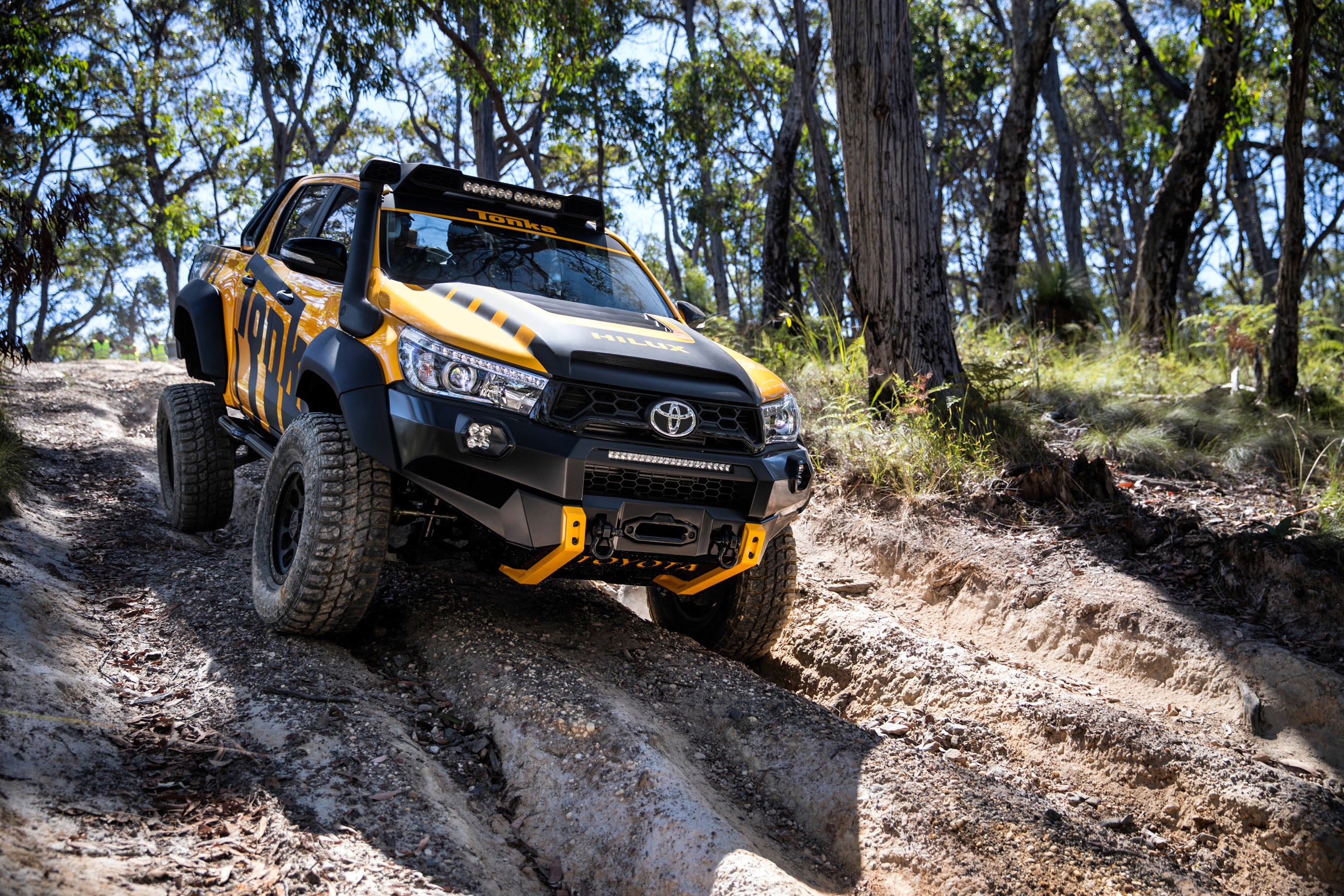 Super Utes – We all lust after the hyped up Ute. That's why the aftermarket accessory shops are so popular. The bigger tyres, the super lift, the absolute go anywhere ability. These are the things that excite true 4WD Ute enthusiasts. The manufacturers both delight and tease us with concepts and modified production vehicles. Here is but a few.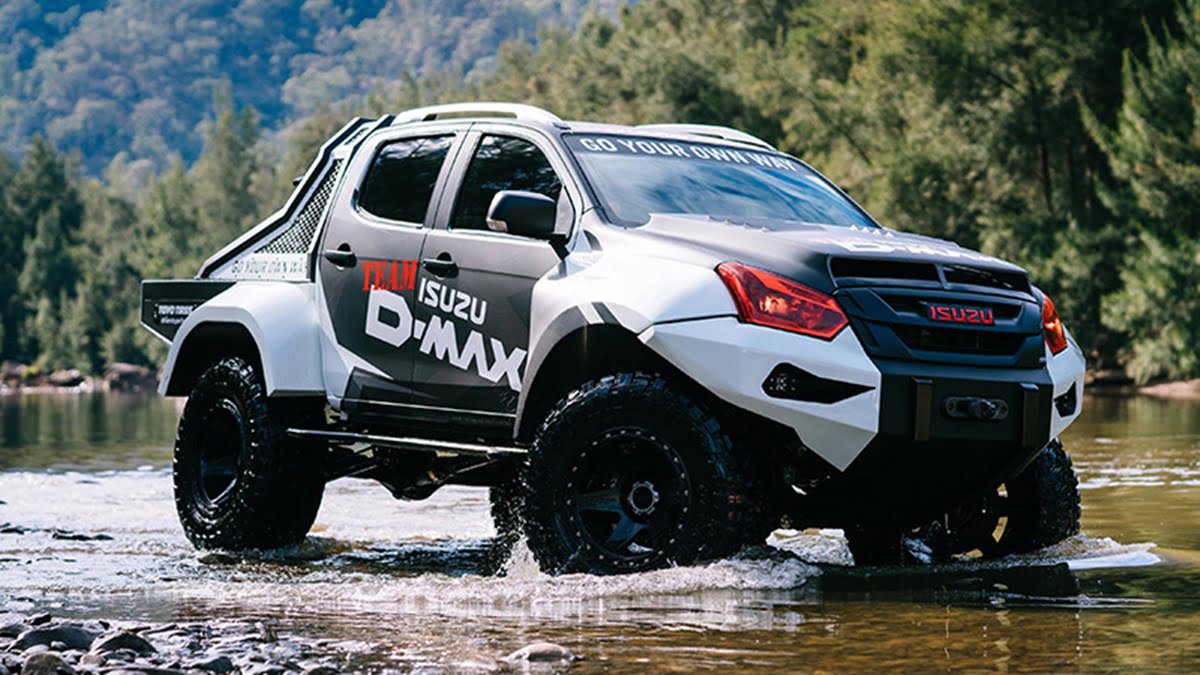 Concept X from Team D-Max
Team D Max has added the Concept X to the party.
Here is a monster of a Ute with huge tyres, lots of accessories and
What started out as an idea, quickly turned into a full blown exercise is concept building. Most of the modifications were done within the Team D Max workshops, along with some external accessories.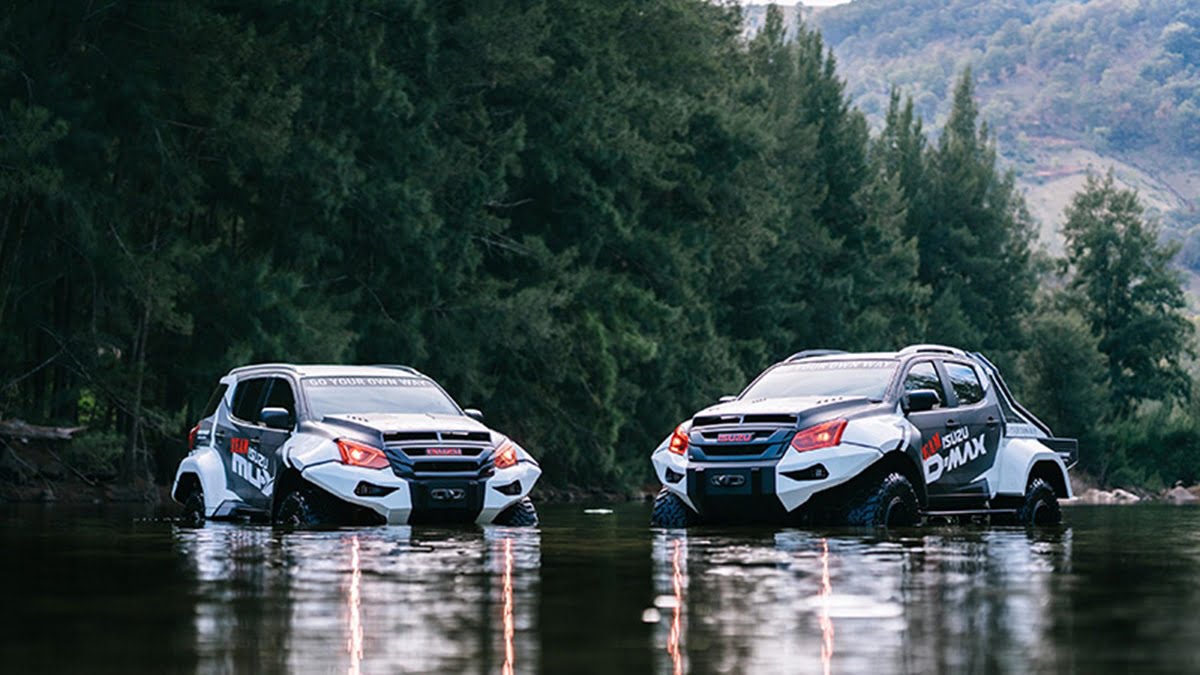 This is one big Ute.
The unfortunate thing is that while the Ute and M-UX will be part of the Team D Max show around the country, there is little or no chance of ever making it into production.
It may provide a look into the future though, with some modifications possibly ending up on special editions in the future.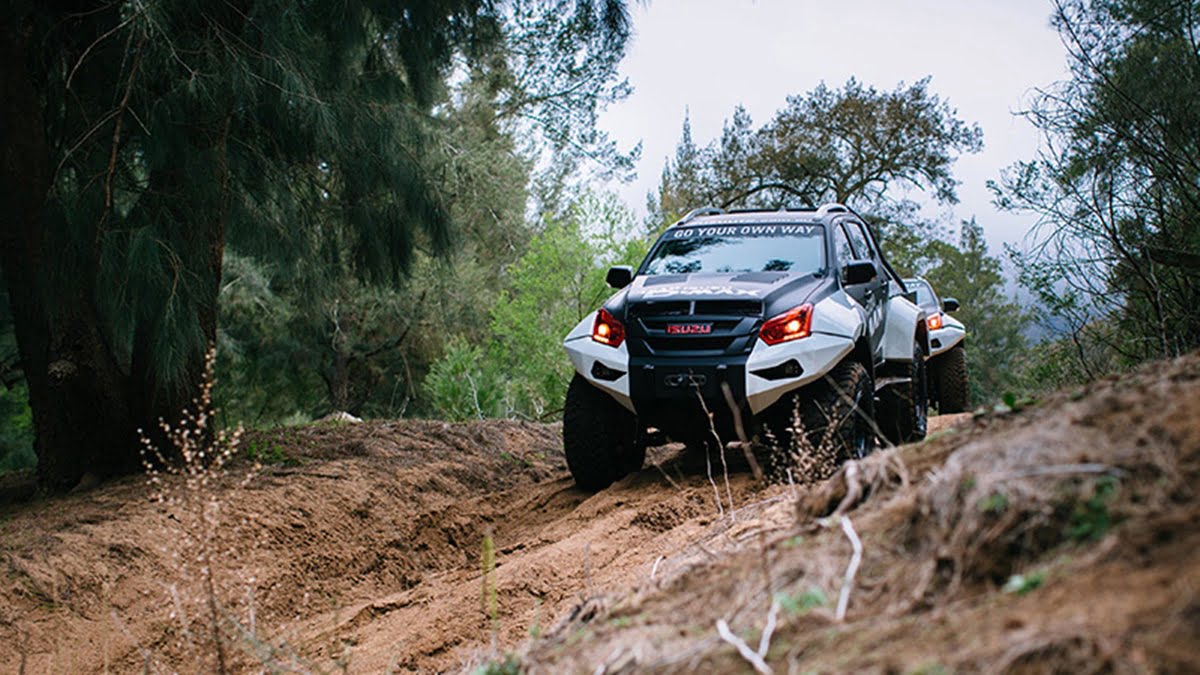 DIMENSIONS
Length (mm): 5,500
Width (mm): 2,150
Height (mm): 2,100
Ground Clearance (mm): 370
Approach Angle: 49.7°
Departure Angle: 38.5°
Read more about the Isuzu D Max Concept X Here
Jeep Gladiator Gravity
The rock-climber-themed Jeep Gladiator Gravity concept is elevated with a full complement of available-at-launch Jeep Performance Parts from Mopar to help equip those who have a desire to reach greater heights.
The Jeep Gladiator Rubicon, coloured in attention-grabbing Punk'N Metallic Orange, is a ready-to-order expression of how Jeep Performance Parts can help enhance the all-new pickup's capability and versatility. In the bed area, mounted Mopar cross rails work in concert with a cargo carrier basket to deliver storage space for rock-climbing gear, such as ropes, carabiners, helmets and shoes. A unique Mopar/Decked truck bed storage system offers additional lockable cargo space through dual sliding drawers, while still allowing for storage on top in the bed area.

The open-air potential of the Jeep Gladiator — unlike any other offered by a production midsize truck —  is realized through Jeep Performance Parts two-inch round steel tube doors, a mesh sunbonnet that provides cover while keeping the top-down feel, and tie-down straps that secure the windshield when lowered.
Read more about the Jeep Gladiator Gravity Here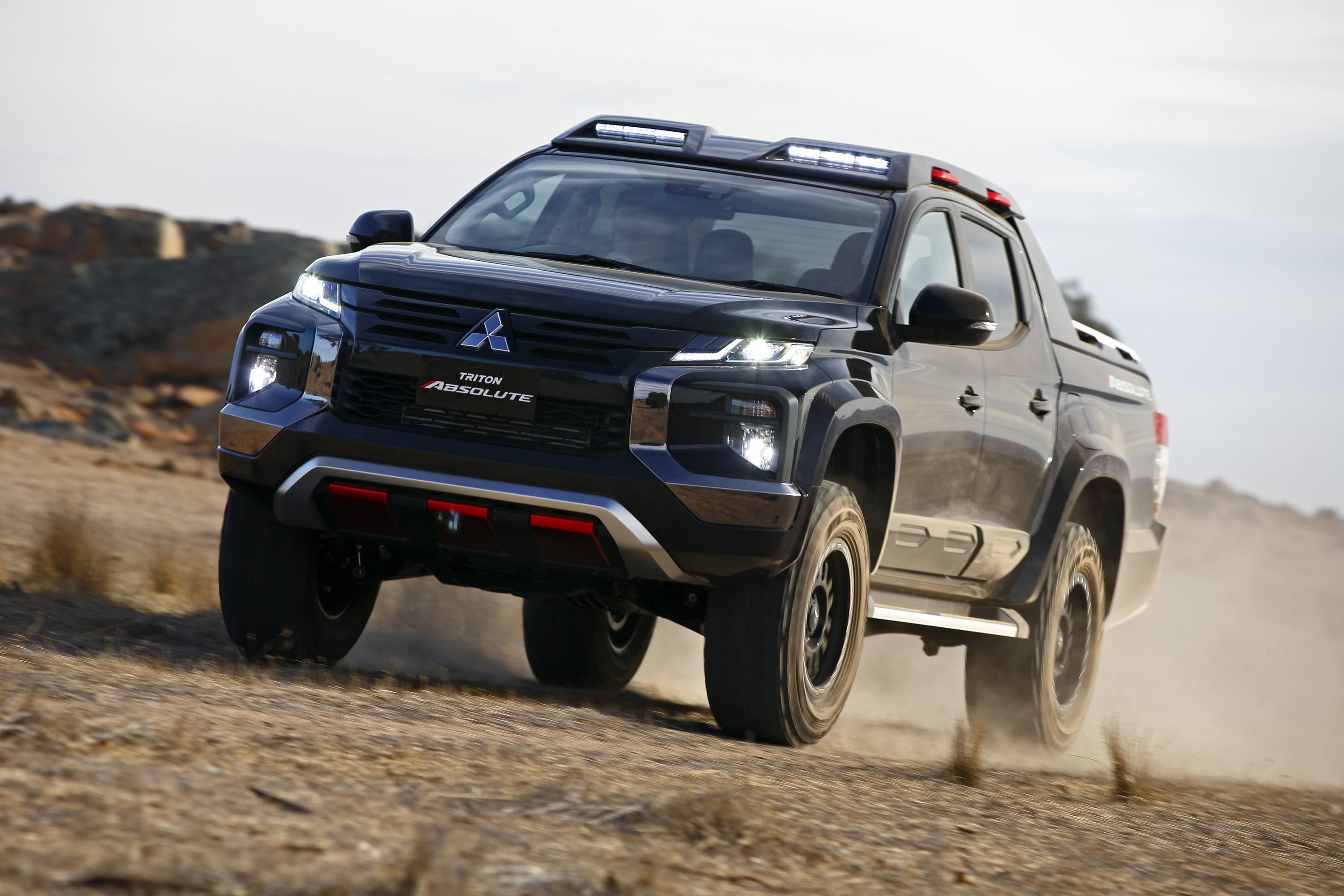 Mitsubishi Triton Absolute
Mitsubishi Motors Corporation (MMC) today unveiled the Triton Absolute, a concept model of the acclaimed Triton that embodies the rugged, solid, and uncompromising nature of MMC's flagship ute at the 40th Bangkok International Motor Show 2019*.
"The Triton Absolute concept is more robust, dynamic and powerful. It demonstrates our commitment to exploring a vision of the future Triton that will deliver on our 'engineered beyond tough' commitment to the Triton series – bold enough to be taken on even more adventurous treks to explore Australia's rugged outback, which is one of Mitsubishi's defining strengths." said Mitsubishi Motors Australia CEO, John Signoriello.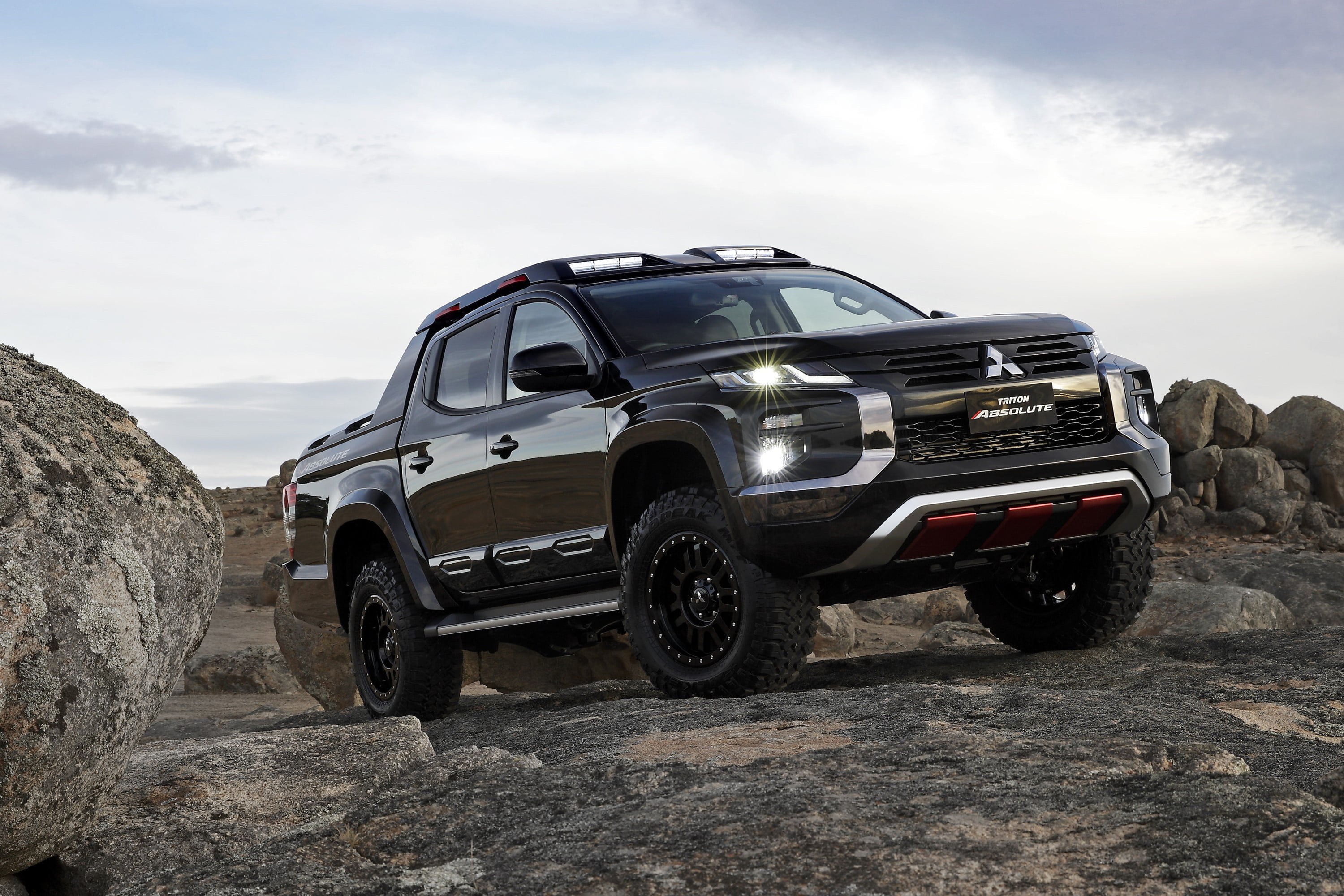 While only a concept at this stage, we will assess the feedback from customers in Australia and overseas towards a more aggressive Triton which will guide the brand's future product development."
The striking design of the Triton Absolute will showcase the robustness of the ute's frame, and convey the rugged and uncompromising presence of the Triton in every environment. This special model's protective body paneling, rugged style, and enhanced LED lighting take on the "ABSOLUTELY Beyond Tough" nature of the new Triton, which has evolved across generations of the outstanding, rugged ute series. Underpinning the Triton Absolute is a wider track to accommodate heavy duty off-road tires, while the upgraded suspension not only raises the body by 50mm for improved ground clearance, it provides more suspension travel and delivers superior ride and handling.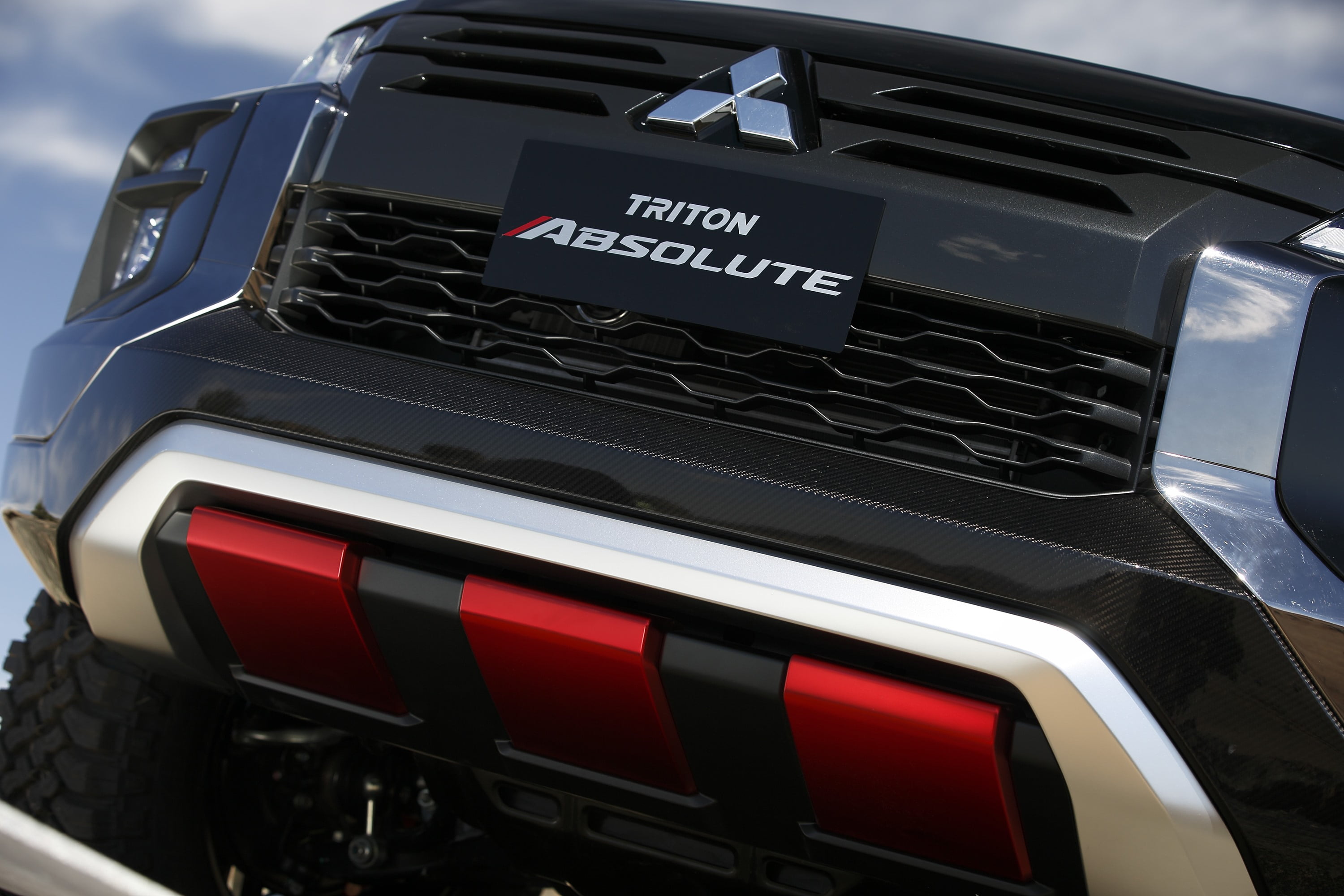 MMC expects the bold and ambitious model to resonate strongly with ute enthusiasts everywhere by embodying the proven mechanical durability and go-anywhere performance capabilities of the Triton, which were further advanced with the launch of the 2019 model in Thailand last year. The Triton Absolute will be showcased over the coming 12 months to gauge public interest and feedback. * Bangkok Motor Show is open to the general public from March 27th to April 7th
Read more about the Mitsubishi Triton Absolute Here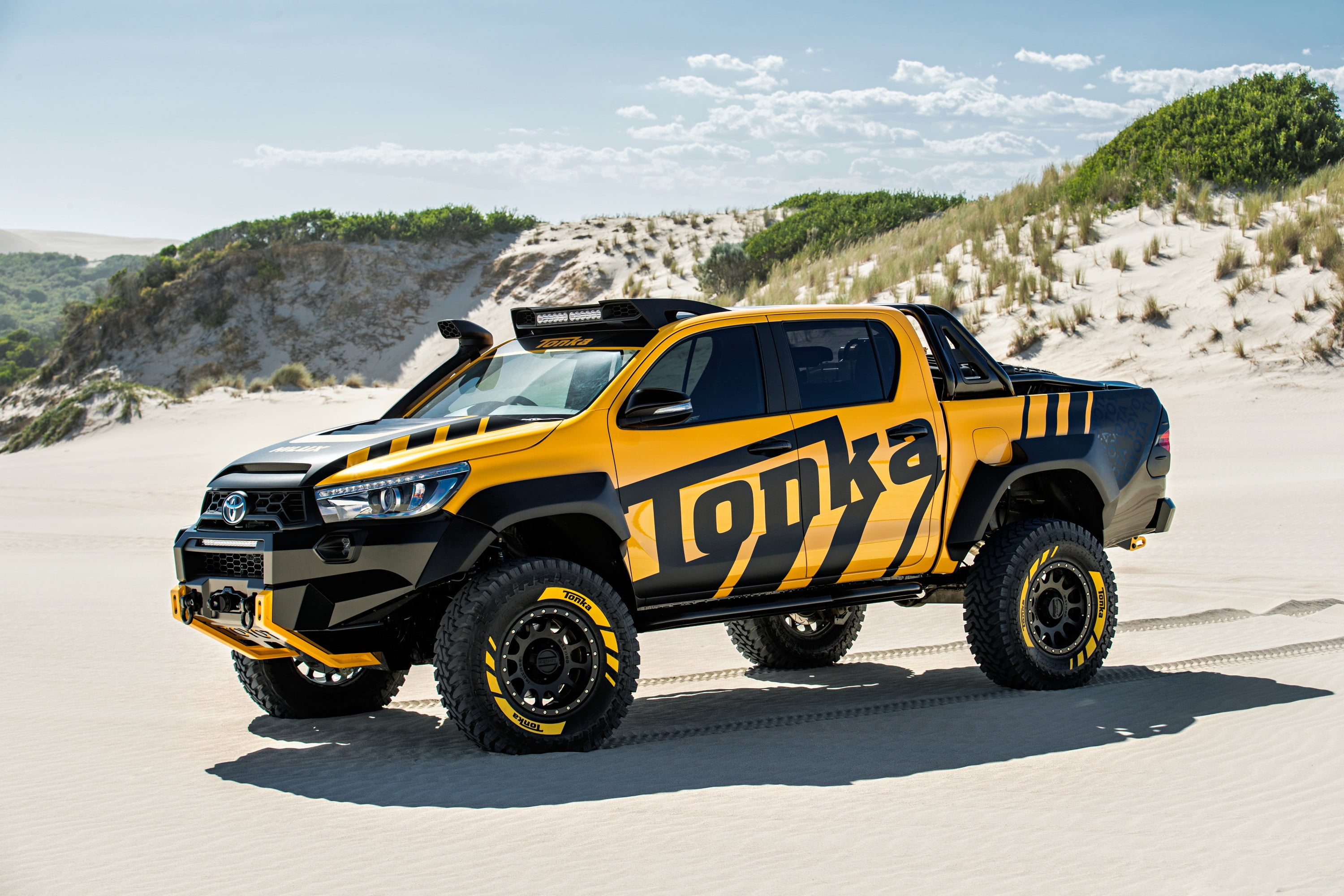 When I was a kid, like most children, I had a number of trucks, cars and tractors that I played with, but my favourite was the Tonka Trucks. They were big, bold, ran over everything and looked cool.
Well Toyota is rekindling childhood memories with the reveal of a stunning concept vehicle that brings together the iconic Tonka and "unbreakable" HiLux brands.
I had the opportunity to take a drive in the Toyota Tonka concept at the revitalised Eveleigh Technology Park, part of the 'gentrification' of Redfern and surrounds that has been happening over the last few years.
Unfortunately it won't be available for sale.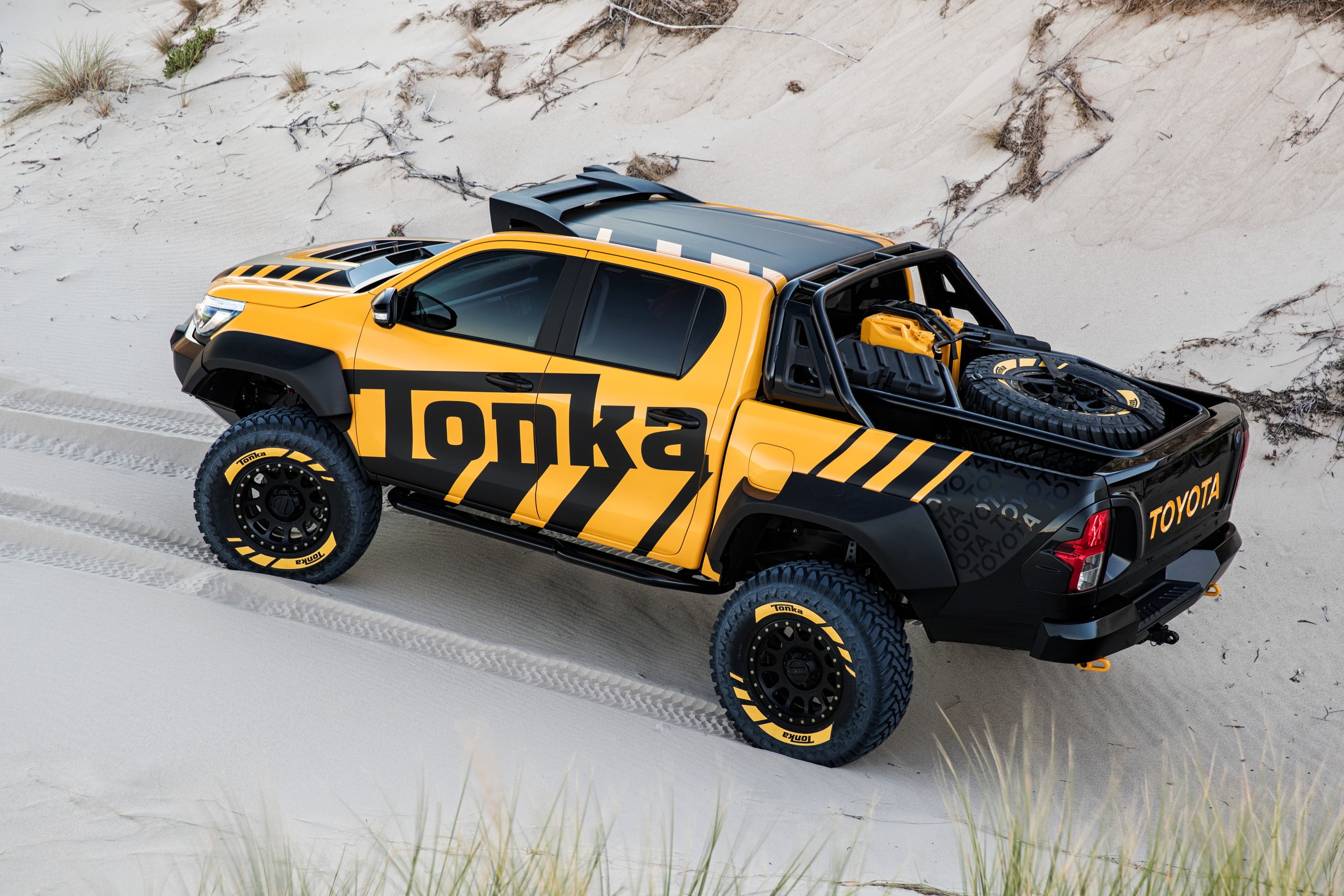 It was conceived, designed, assembled and tested by designers and engineers from Toyota Australia's 150-strong product planning and development division.Product design chief Nicolas Hogios said the extreme style and capability of the HiLux Tonka Concept would capture the imagination of kids and adults alike.
The HiLux Tonka Concept is highly modified, similar to many rock climbing vehicles, is awesome in design and implementation, looks really cool and would sell like hotcakes if Toyota ever decided to produce it.
The concept car is based on a Toyota HiLux 4×4 double-cab SR5 model with the top-specification 2.8-litre four-cylinder turbo-diesel engine.
Read more about the Toyota Tonka Truck Here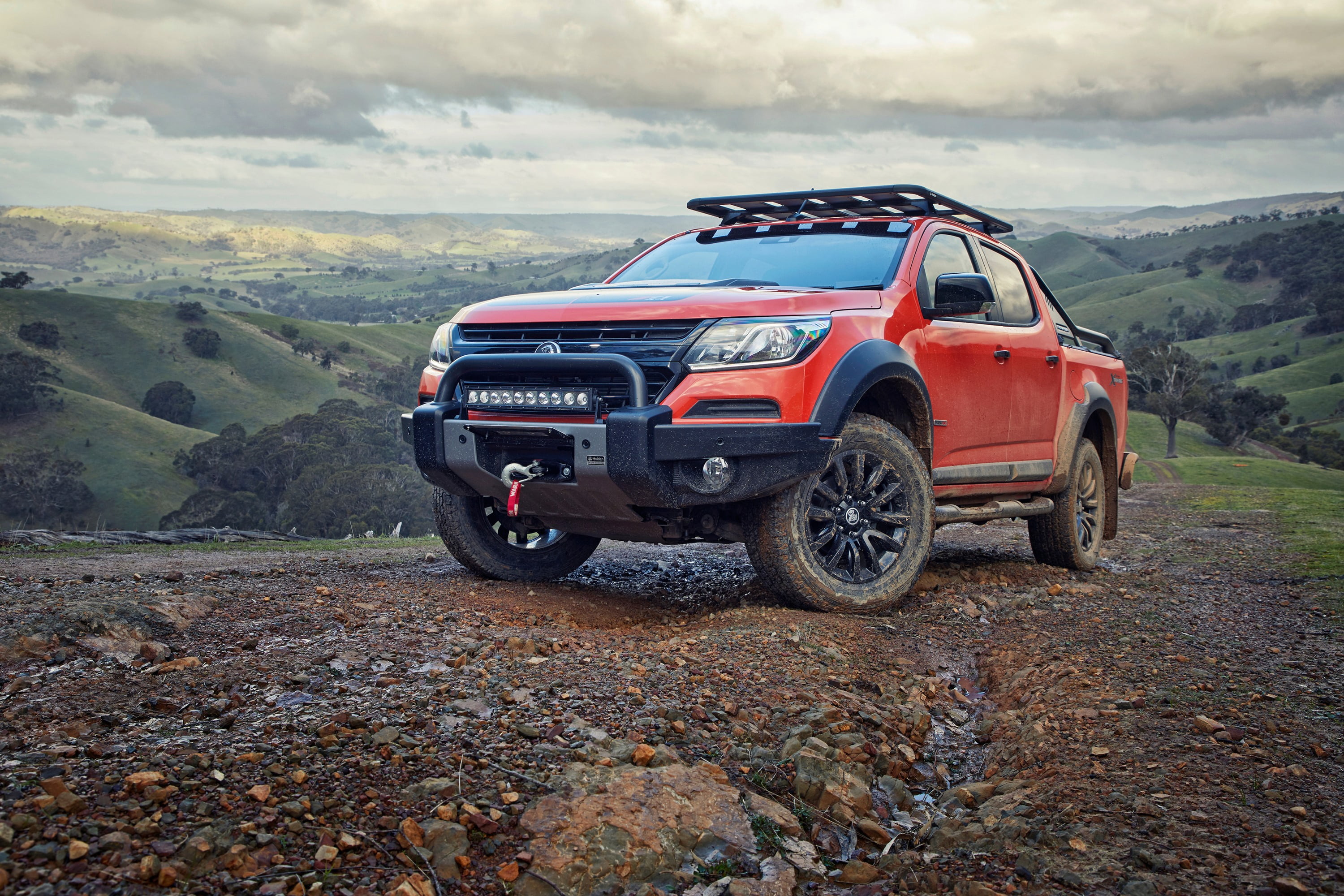 Holden Colorado Z71 Xtreme
Holden's dream Ute became a reality. Enter the Colorado Z71 Xtreme, Holden Colorado's newest edition, was available from October 1, based on the celebrated Colorado Xtreme concept vehicle, first unveiled at the Bangkok International Motor Show in 2016.
Designed and built by Holden's talented Port Melbourne-based design team, the Colorado Xtreme showcased a wide range of concept accessories that captured customers' imagination.
Holden's Colorado Z71 Xtreme's tough exterior loaded with accessories is matched by its off-road capability, ready to take on any terrain or driving conditions.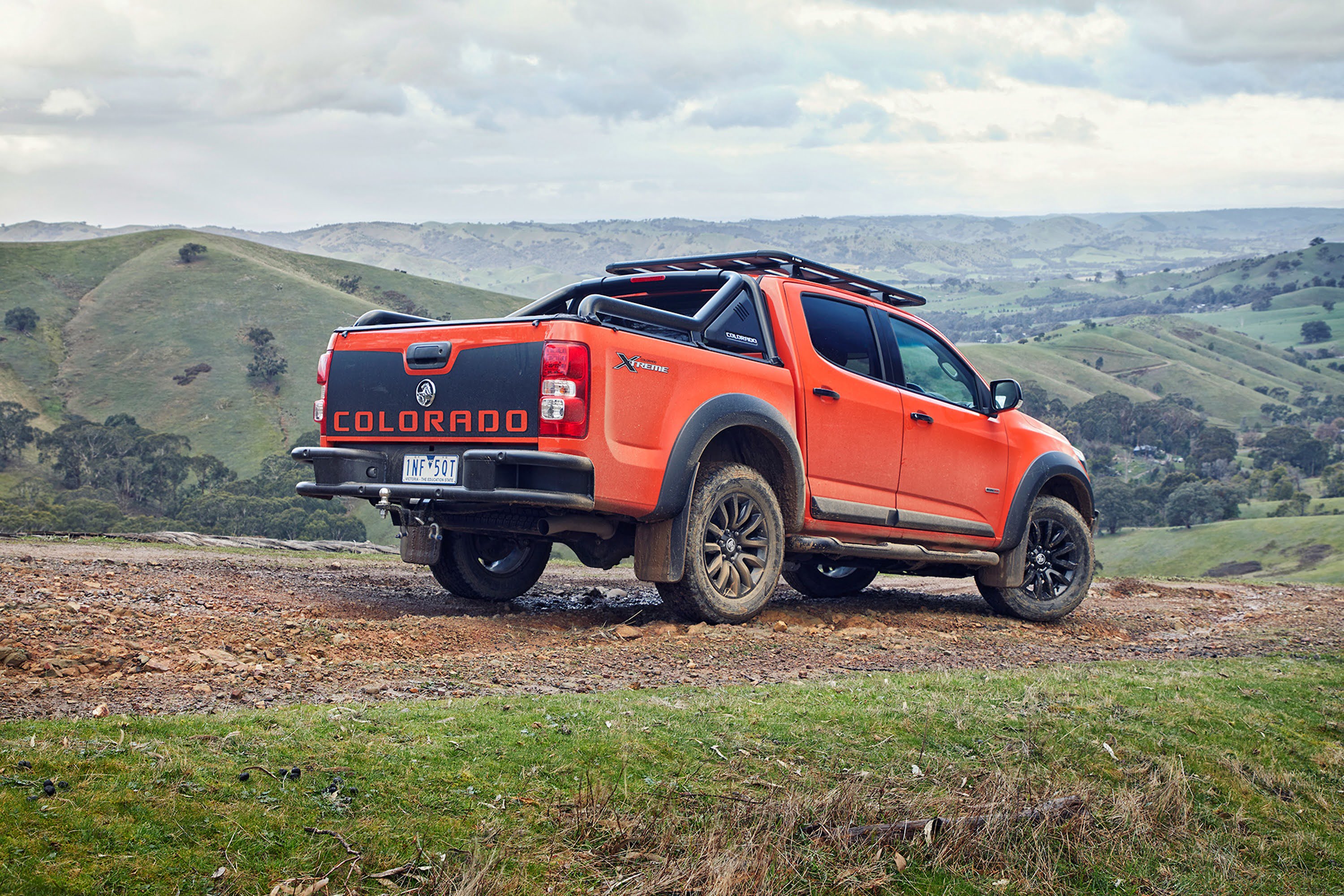 To help tackle all types of activity, the Colorado Z71 Xtreme, based on the top of the range Colorado Z71, adds a best-in-class winch system equipped with a heavy-duty bash plate, and as 10,000 lb load capacity and a 30m synthetic line.
Colorado Z71 Xtreme's high visibility LED light bar, combined with a winch bar, upgraded front suspension, all terrain tyres and vehicle recovery kit, add to its go anywhere capability, day or night.
Read more about Holden Colorado Z71 Extreme Here