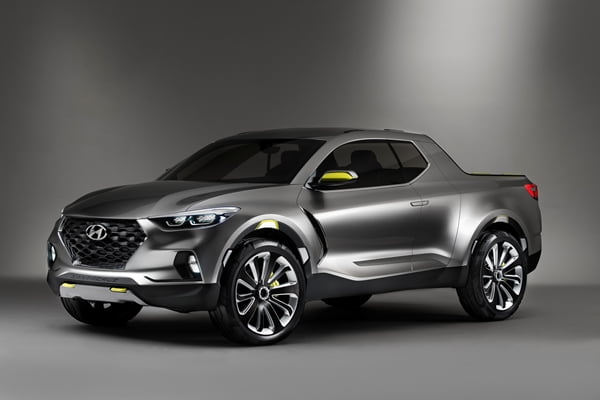 Hyundai revealed its innovative Santa Cruz Pickup Concept at the North American International Auto Show in Detroit. This fresh concept reflects a completely new interpretation of pickup utility for a new generation of buyers, especially Millennials, who represent the second-largest population of car buyers.
"The Santa Cruz Pickup concept meets the unspoken needs of a growing Millennial lifestyle we call 'Urban Adventurers'," said Mark Dipko, director, corporate planning, Hyundai Motor America. "This new crossover allows them all the expandable utility they need throughout their active week, from work-life professionalism, to social interests, to a whole variety of outdoor pursuits, without the typical compromises they have come to expect from the industry's current product offerings."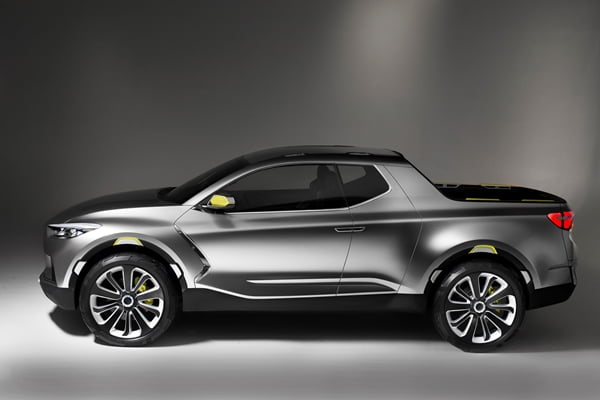 SANTA CRUZ CONCEPT
To meet the specific needs of these Urban Adventurers, Santa Cruz doesn't focus on all the same attributes as traditional pickups. It's designed to meet more of their desires for expression, efficiency and manoeuvrability. Hyundai designers created a bold design that conveys this lifestyle, with a wide, sure-footed stance and an aggressive side-profile rake. The front view features an upright, hexagonal grille with cascading lines framing the sides, dual lens-free, honeycombed headlamp projectors, and prominent LED fog lamps. The side profile is highlighted by oversized wheels, Michelin® tires with a special tread design, centre-locking hubs and yellow Brembo® brake callipers.
For ease of access to the rear seats, Santa Cruz features convenient, rear-hinged rear doors which integrate seamlessly with the front door design. The wheel arches, roof, and bed rails offer convenient tie-down cleats for securing cargo of all shapes and sizes. From the rear, the concept presents highly-contoured bed forms, and for extra utility, the expandable bed can be easily reconfigured for longer cargo, using a unique drawer-like sliding function.
Efficiency is a key attribute of its advanced powertrains, with an environmentally-friendly 2.0-litre turbo diesel powertrain delivering 142kW and 407Nm of torque. Santa Cruz also offers Hyundai's HTRAC® All-wheel drive system, so there's no anxiety about getting those snowboarding "fresh tracks" right after a storm moves through.
The concept is purposefully compact, and although it has four doors and seating for five, its overall footprint is similar to a small Crossover Utility Vehicle (CUV). These dimensions make it ideal for navigating the urban jungle or a tight parking spot that most pickup drivers often have to pass by. It offers typical CUV driving character, but with a versatile cargo bed that provides separated storage for all they want to bring along, whether it's a trip to the recycling centre, a surf or paddleboard session, or a couple of mountain bikes for the trails. Whatever the day's activity might bring — all that dirty, sweaty, wet, sandy, bulky gear remains in the back of the pickup, cleanly separated from the passenger compartment.
During the work week, gear for that early morning hike or after-work hockey game stays securely locked in the back, under an integrated, rigid tonneau cover that conveniently retracts when not needed. It not only keeps items safe and out of sight, it also keeps the interior clean and fresh. Santa Cruz is the perfect vehicle for those that want the attributes of a CUV, but still have dirty stuff that belongs "in the back."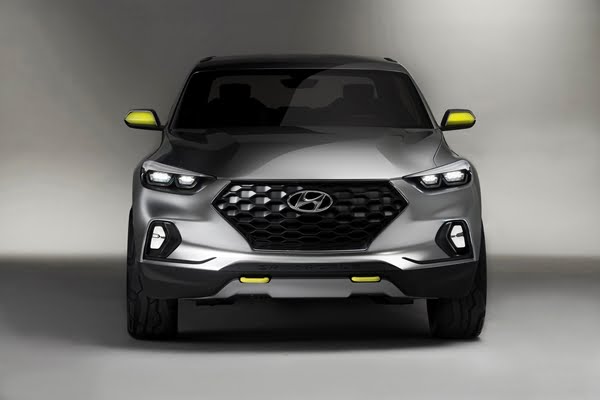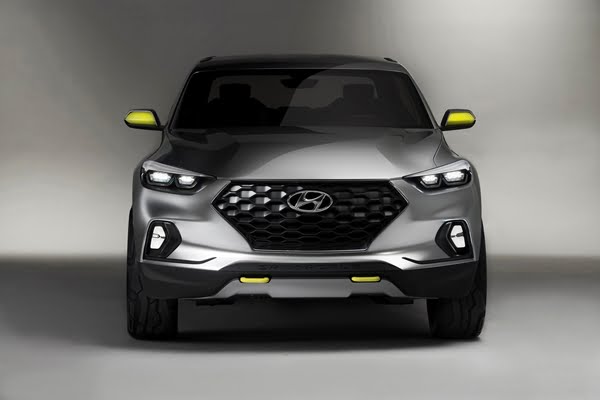 INNOVATIVE TAILGATE EXTENSION
Sometimes, there are those needs that call for even more cargo room; that's why Santa Cruz offers an innovative tailgate extension that allows the bed length to be expanded whenever those "just in case" moments arise. The extension is perfect for everything from an epic mountain bike trip to bringing home an antique chest or classic motorcycle that's ripe for restoration. When fully extended, Santa Cruz's bed length is similar to a mid-size pickup, providing the ability to carry much more than its compact footprint would suggest, yet only when needed. Santa Cruz was designed to accommodate whatever the Urban Adventurer's lifestyle calls for, whether expected or unexpected.
Some of the industry's past attempts to blend pickup-bed flexibility with passenger-car attributes were limited because they didn't deliver the practical benefits the customer expected. Most tried to straddle the line by attracting traditional pickup buyers with compromised products at a similar price point, failing to deliver any differentiating benefits. Santa Cruz, by design, isn't an alternative to a pickup, so towing, payload and ground clearance were not primary goals. Rather, Santa Cruz is intended to attract CUV and sedan buyers who are seeking greater utility, without the compromises that traditional pickups often require.
URBAN ADVENTURERS
Modern urbanisation is impacting the market in a broad way, and this trend is especially strong with young adults, who face tighter parking on streets and parking garages, and increasing congestion overall. These trends are not confined to one specific region of the U.S.; they're happening in urban hubs everywhere. These "Urban Adventurers" have a different mindset, being very active both socially, and in their communities, bringing a pioneering spirit to make their neighbourhoods a better place to live and work.
So whether it's loading up friends and firewood for a bonfire at the beach, coaching the youth soccer team, volunteering for a community restoration project, or a quick drop-off at the local recycling centre, they need a vehicle versatile enough to accommodate both passengers and gear, while being efficient enough to fit into their unique urban lifestyle.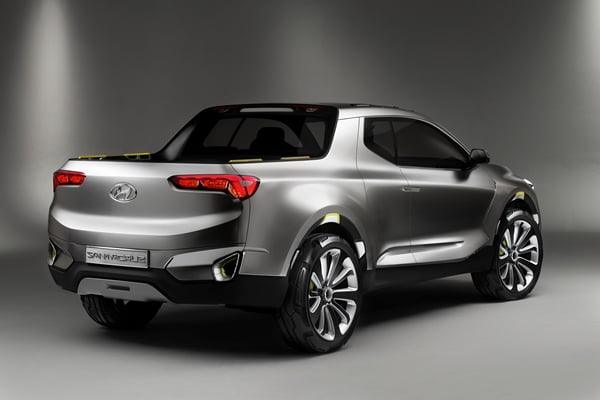 MORPHING LIFESTYLE DEMANDS
Hyundai research revealed that not everyone who wants an open-bed vehicle is willing to accept the tradeoffs that come with it. As evidence of this, the U.S. industry pickup truck share is down over five percent in the last 10 years, with the biggest shift among young adults, reflecting a need for something that more closely matches these morphing lifestyles. In the past, small pickups accounted for half of U.S. pickup sales, and they were particularly popular with younger buyers. Today, that same young pickup market is almost non-existent, and millennials under 30 represent just seven percent of all pickup purchases. Women, who buy more than half of all CUVs sold in the U.S., now account for only 10 percent of pickup sales. Santa Cruz is intended to meet the customer needs that the current pickup product offering is simply not fulfilling.
Santa Cruz is for the growing population who sees and pursues the world differently, those who want all the traditional attributes of a small CUV, but need the day-to-day versatility of an open bed. It's the crossover pickup that meets the unspoken needs of Urban Adventurers.
AUSTALIAN MARKET
The Santa Cruz remains at this stage a pure concept only – no plans have yet been announced for its design and production. However, the market opportunities for a Hyundai utility vehicle globally are very real, not least in Australia.
Hyundai Motor Company Australia is very interested in selling a utility vehicle to Australians and believes the brand's reputation for toughness and reliability will stand it in good stead if and when such a vehicle is brought to market.
"We have no doubt a tough, good-looking Hyundai ute will be popular with Australians," said Hyundai Motor Company Australia Chief Operating Officer, John Elsworth. "But this is a concept vehicle and we do not make decisions about which cars to bring to market – those decisions are in the hands of our parent company in Korea. However we've made our enthusiasm for a ute very clear – it surely has enormous potential – and we look forward to seeing how things progress in the near future."