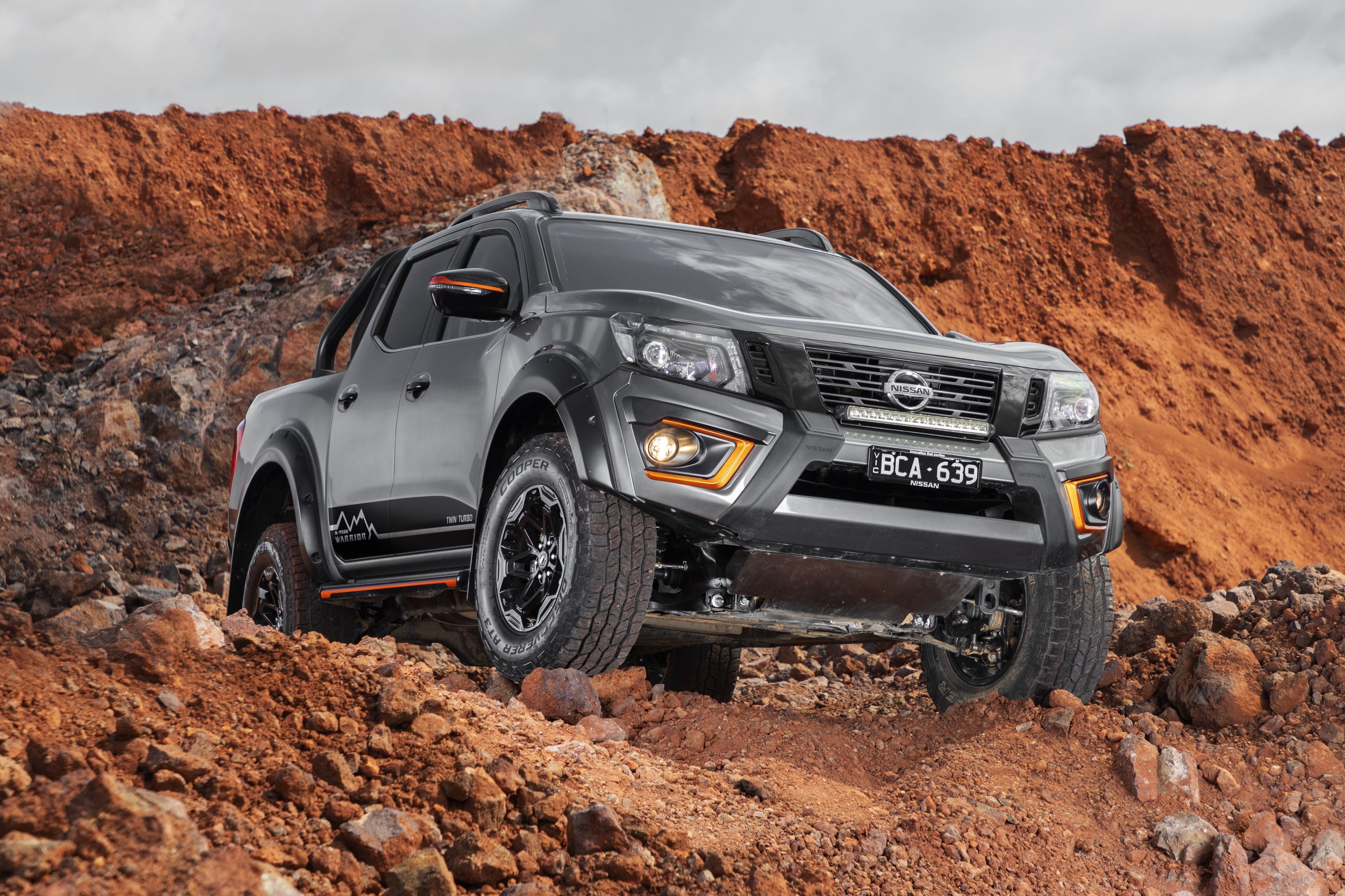 Nissan Navara N-TREK Warrior is driving straight into the booming premium dual-cab 4×4 Ute market. This new top-end segment seeks higher specification, higher capability and higher visibility and is expected to show significant growth in 2020 and beyond.
"The Nissan Navara N-TREK Warrior has been designed, re-engineered and tested in Australia for Australian conditions and Australian drivers," says Stephen Lester, managing director of Nissan Australia.
It sits alongside the likes of the Toyota HiLux Rugged X, VW Amarok 580 Ultimate, Ford Ranger Raptor, and HSV Colorado Sport Cat.
The Navara N-TREK Warrior goes on sale in Australia on 13 December 2019 and is priced from $62,990 drive-away for the manual transmission, and $65,490 drive-away. It is available in three colour schemes:  Cosmic Black, White Diamond and Slate Grey, and will become a permanent member of the Navara line-up.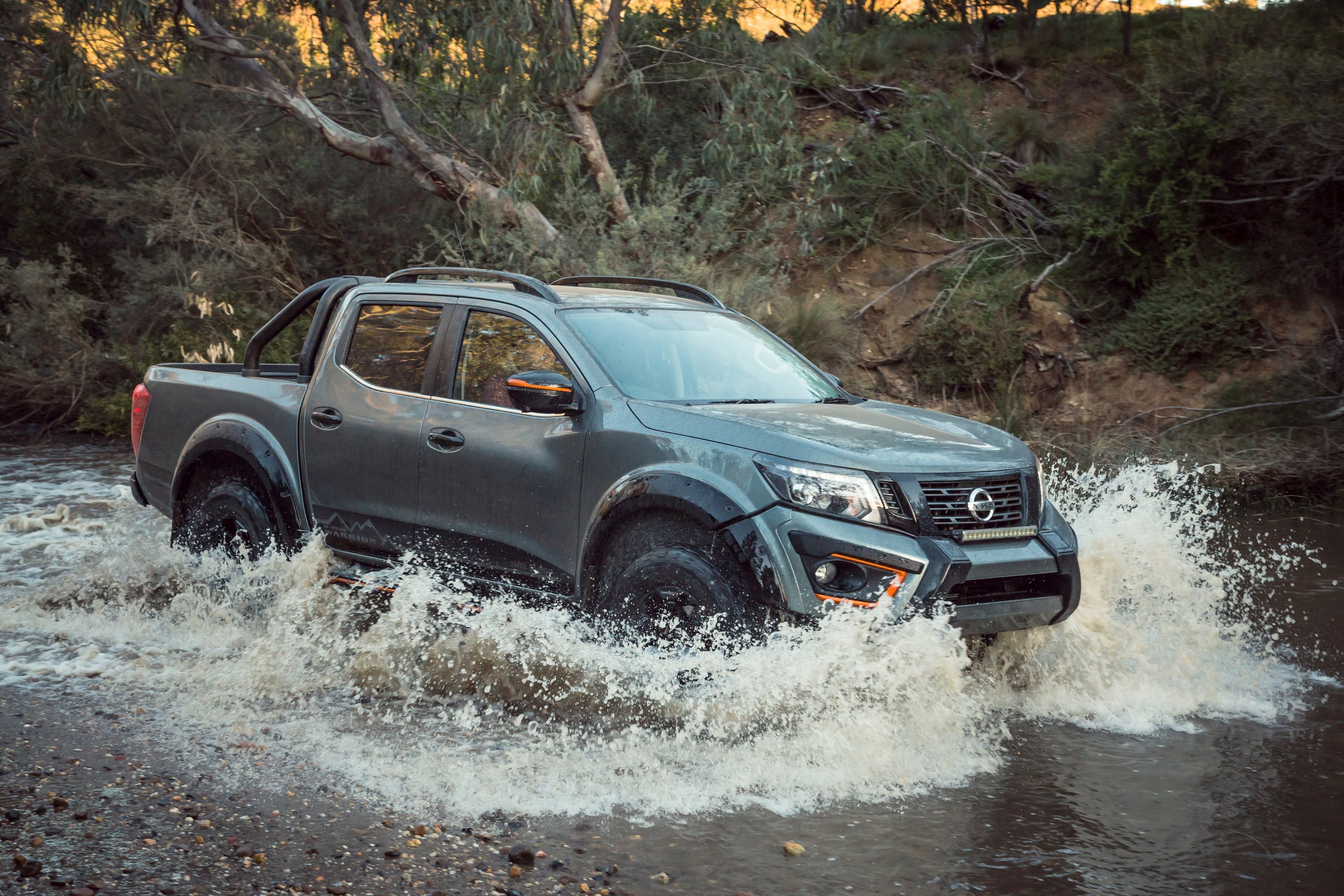 What is the Navara N-TREK Warrior exterior like?
This is one good looking Ute. The redesign has resulted in a slick stylish appearance that fitting aftermarket accessories could never hope to match.
This is exemplified in the hoopless integrated steel bumper bar that has all the extra benefits of an externally fitted bull bar but looks like it's just a standard bumper bar. I had to go and tap it to make sure.
The N-TREK Warrior starts out as a Navara N-TREK and carries over external features such as Black fender flares, Black alloy sports bar, Black LED headlamp bezels, Black side steps w/ dark orange accent, Black rear vision mirror caps w/ dark orange accent, Black rear bumper, Black front grille, Black door handles and Black roof rails.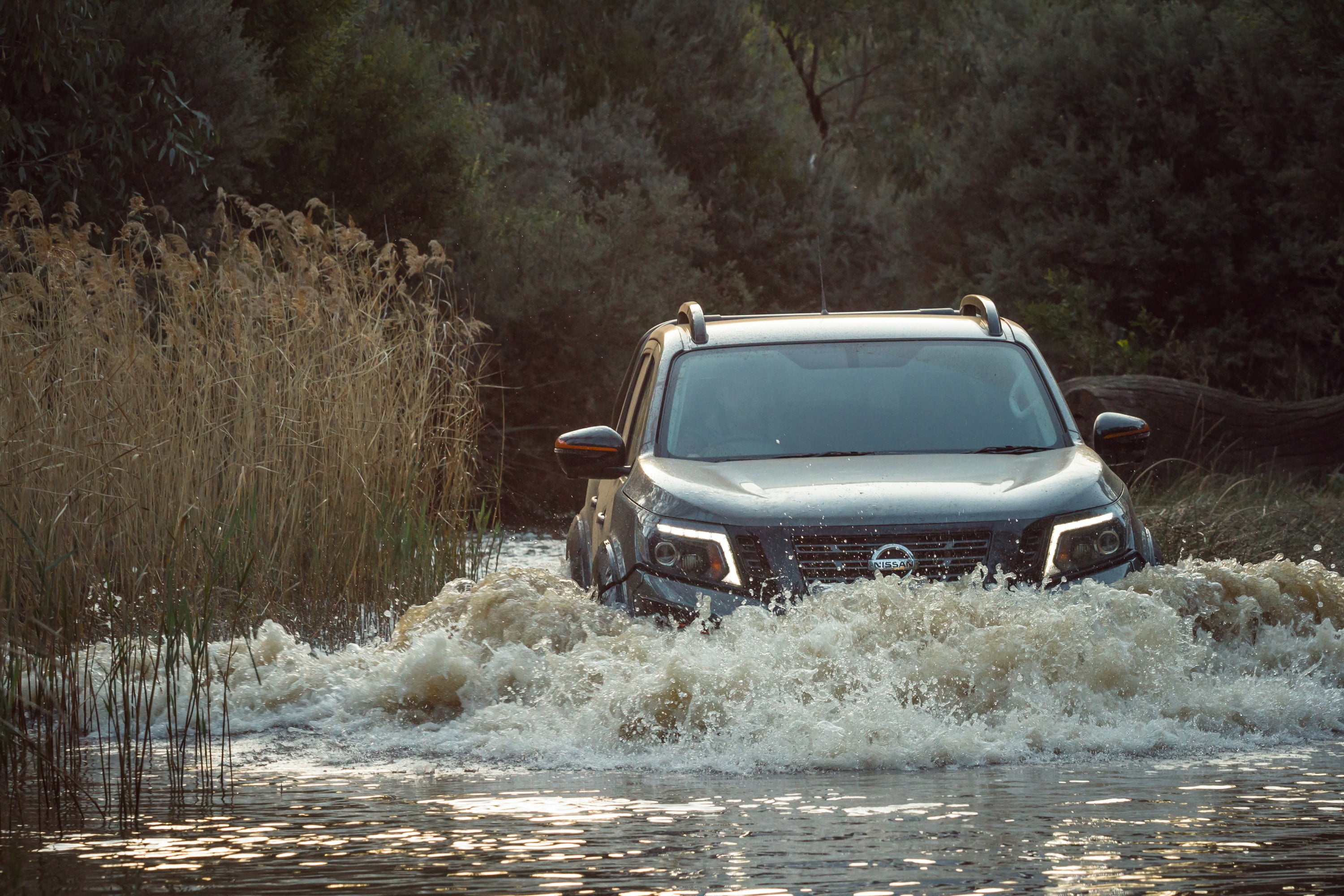 To these the Warrior adds:
Hoopless, body-coloured steel bullbar
3mm Stainless Steel Front Underbody Protection
Total 40mm increase in ride height thanks to off-road capable springs and dampers (delivering 15mm increase) coupled with Cooper Discoverer AT3 All-Terrain tyres (increased by a further 25mm)
Integrated 470mm LED light bar
Unique 17-inch black alloy wheels (downsized from N-TREK 18-inch alloy wheels to accommodate larger, off-road tyres)
Unique Towbar cross member (The towbar has been re-engineered to fit the full-size spare wheel and accommodate increased ride height)
Matching full size spare wheel and tyre (with underbody accommodations to aid spare wheel fitment)
Dark orange accented fog lamp bezel with integrated "bark buster"
"Navara" tailgate decal
N-TREK Warrior decal package
The lined tub has a handy 2 channel Utili-Track™ system, as well as four well located tie down points and a 12V plug for accessories.
The overall appeal is that it looks totally integrated, especially the front bulbar and cooper tyres.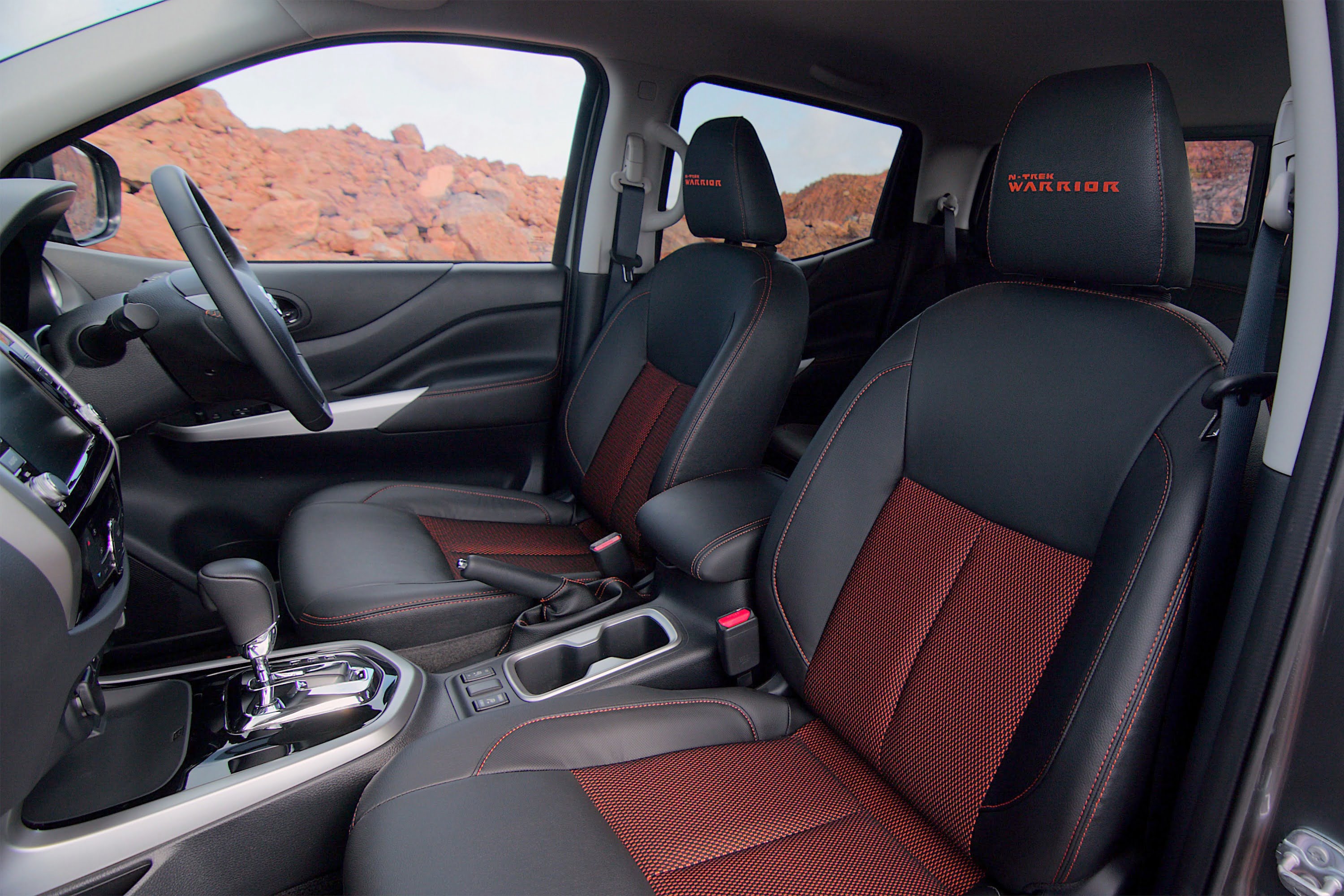 What is the Navara N-TREK Warrior interior like?
The interior of the Warrior is a mix of standard ST-X features with upgrades for the N-TREK and the Warrior.
The N-TREK base adds over the Navara ST-X Partial leather accented seats with dark orange fabric seat inserts, heated front seats as well as Dark orange accent stitching throughout seats, centre console, front door armrests and steering wheel.
The additional Warrior features include: N-TREK Warrior embroidered front headrest, Dark orange accented floor mats and unique plastic components specific to N-TREK Warrior
Otherwise the layout is typical Navara. The seats are comfortable, electrically adjustable with lumbar support for the driver. For smaller drivers though they tend to sit on them rather than in them. Larger drivers fill the space.
The dash layout is two larger outer dials with a MFD between. Steering is height adjustable only and the steering wheel is a little thin in the hands. It's important to note that the speedo is recalibrated to account for the larger rolling diameter of the Cooper AT tyres.

Centre console bin is smallish, with two cup holders in front then the transmission selector, seat heaters etc. The Warrior has a dual slide out cup holder in front of the outer air vents. An excellent idea, but when your off road in bouncy conditions, you tend to hit your knee on them.
The centre stack houses the 7 inch display for SatNav and other features. It is a little smaller than others but the graphics are good to read day or night and the screen is sensitive to touch.
Over bonnet visibility is great, with the ridges assisting your wheel placement. This is the one area where a bullbar may be beneficial. The 'A' pillars are intrusive though as are the 'B' pillars, but the external rear view mirrors are large and practical. The surround camera also adds a level of visibility and safety that most other Utes don't have.
The overall ergonomics are well designed, with soft touch points for elbows on the door trims and central console bin. Many don't like the colour scheme, but I do, its adds pizazz to the interior.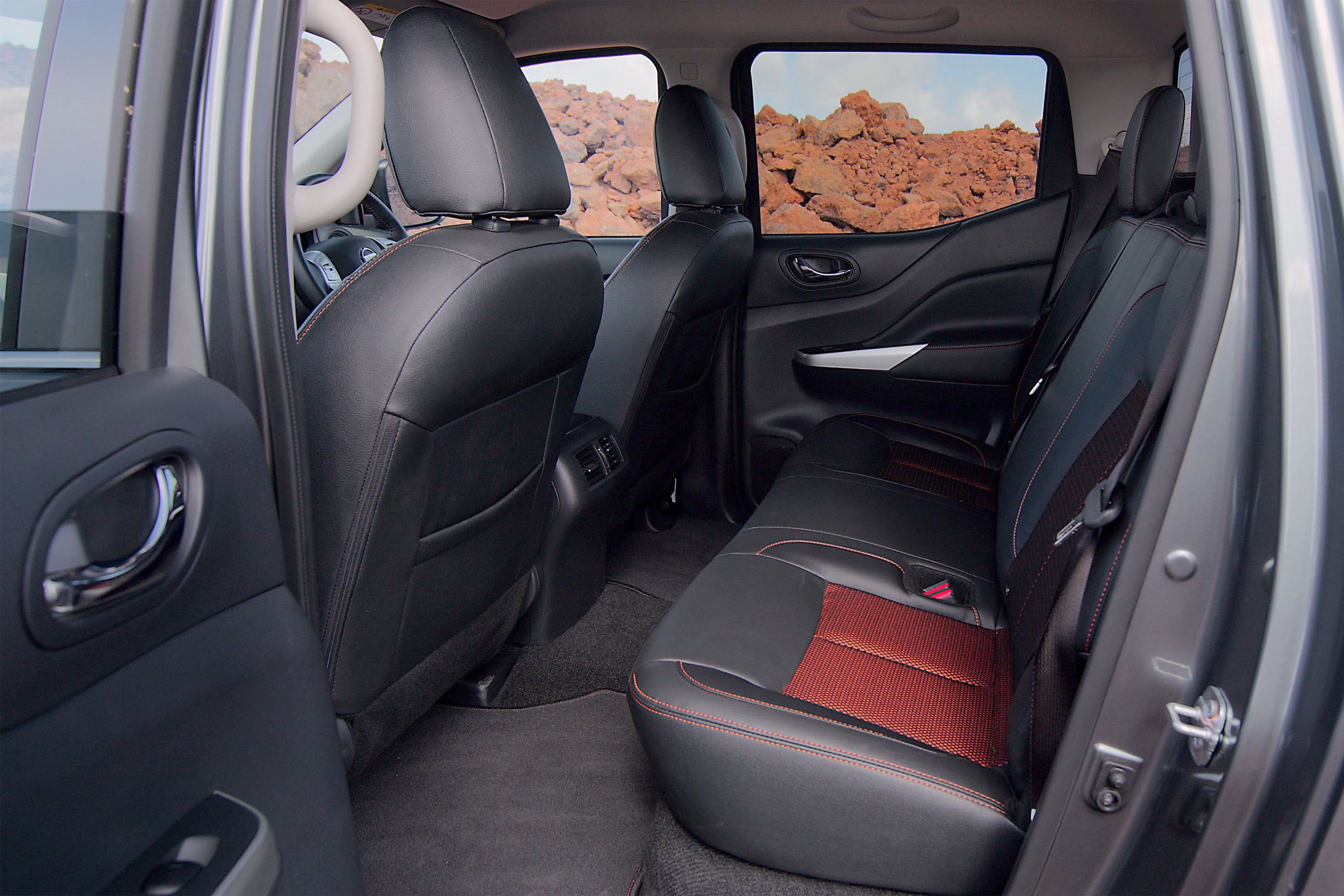 There is good room for rear occupants, which comes at the slight expense of restricted seat travel for taller drivers. There are rear air vents but no USB ports back there. In fact while there are a couple of 12V outlets there is only one USB port in the vehicle which is inconvenient these days.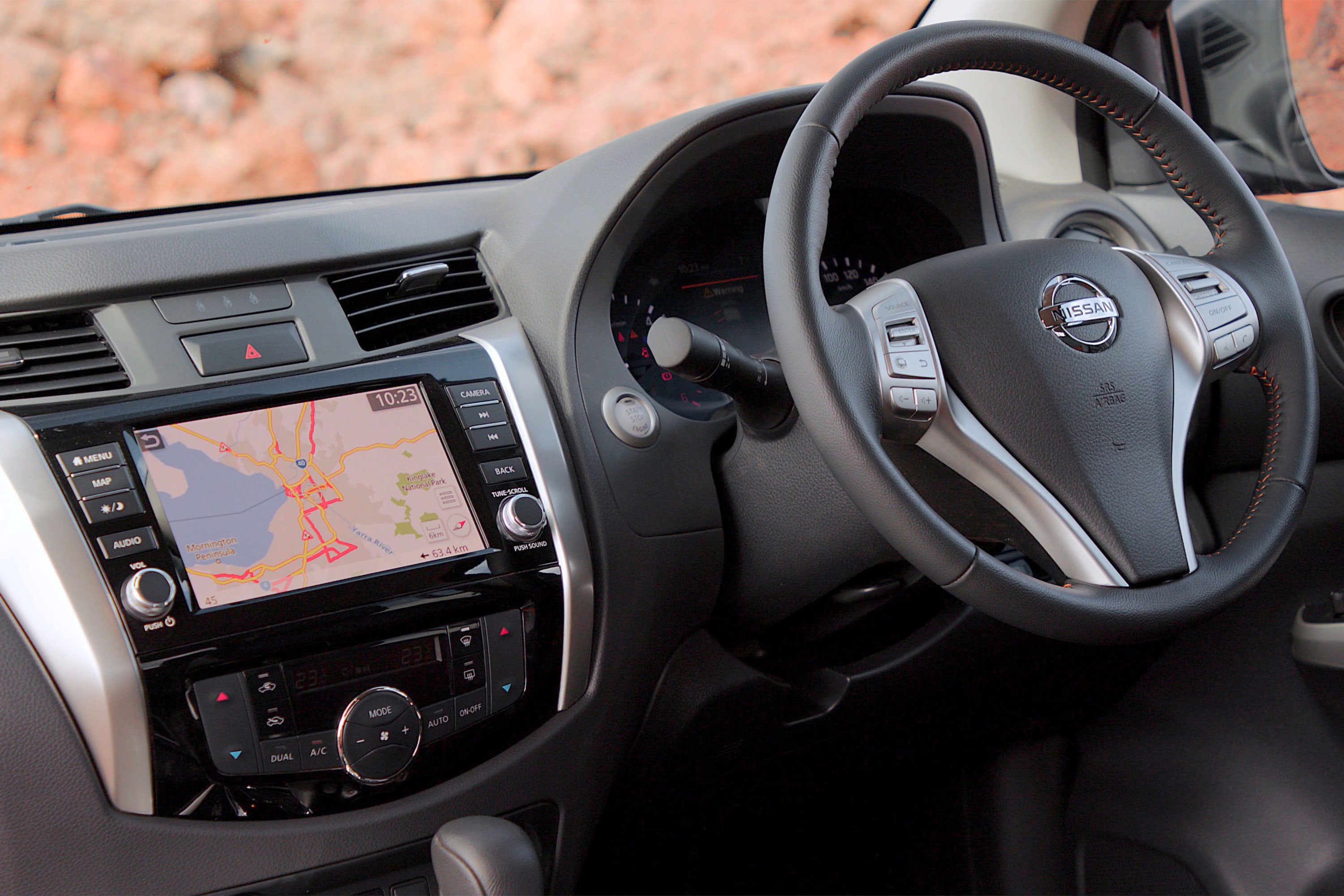 What technology and features does Navara N-TREK Warrior have?
The Navara ST-X is the donor vehicle. tandard features include:-
Satellite Navigation with 3D Mapping and
7″ integrated colour display with touch screen
Bluetooth, audio streaming, Apple Car Play and Android Auto
Air-conditioning with dual zone climate control
Rear air vents in centre console
Intelligent KeyTM with remote keyless entry
Day/night rear view mirror with electric anti-dazzle & compass
automatic on/off headlights,
LED projector headlights and Front fog lights
Rear power sliding mirror
Rear Diff lock

What engine and drivetrain does the Navara N-TREK Warrior have?
Navara N-TREK Warrior is powered by the same 2.3L 4 Cyl Twin Turbo Diesel engine that produces power of 140kW @ 3,700rpm and Torque of 450Nm @ 1,500 – 2,500rpm. This is matched to a 7 speed sport automatic transmission.
The twin-turbo diesel engine comes with one low pressure and one high-pressure turbo charger. Set in a series, they work together to give you seamless power and torque delivery, offering the maximum 450Nm of torque from as low as 1500-2500rpm.
So when you are climbing a particularly gravelly rocky section of track, or stopped at traffic lights or towing a heavy load, on acceleration you can really feel that torque early in the rev range.
The Navara has a true dual range 4×4 transfer case with an electronic 4WD selection and electronic rear diff lock.
Let's spend a little time talking about the suspension reengineering. This is after all one of the key features of the Warrior.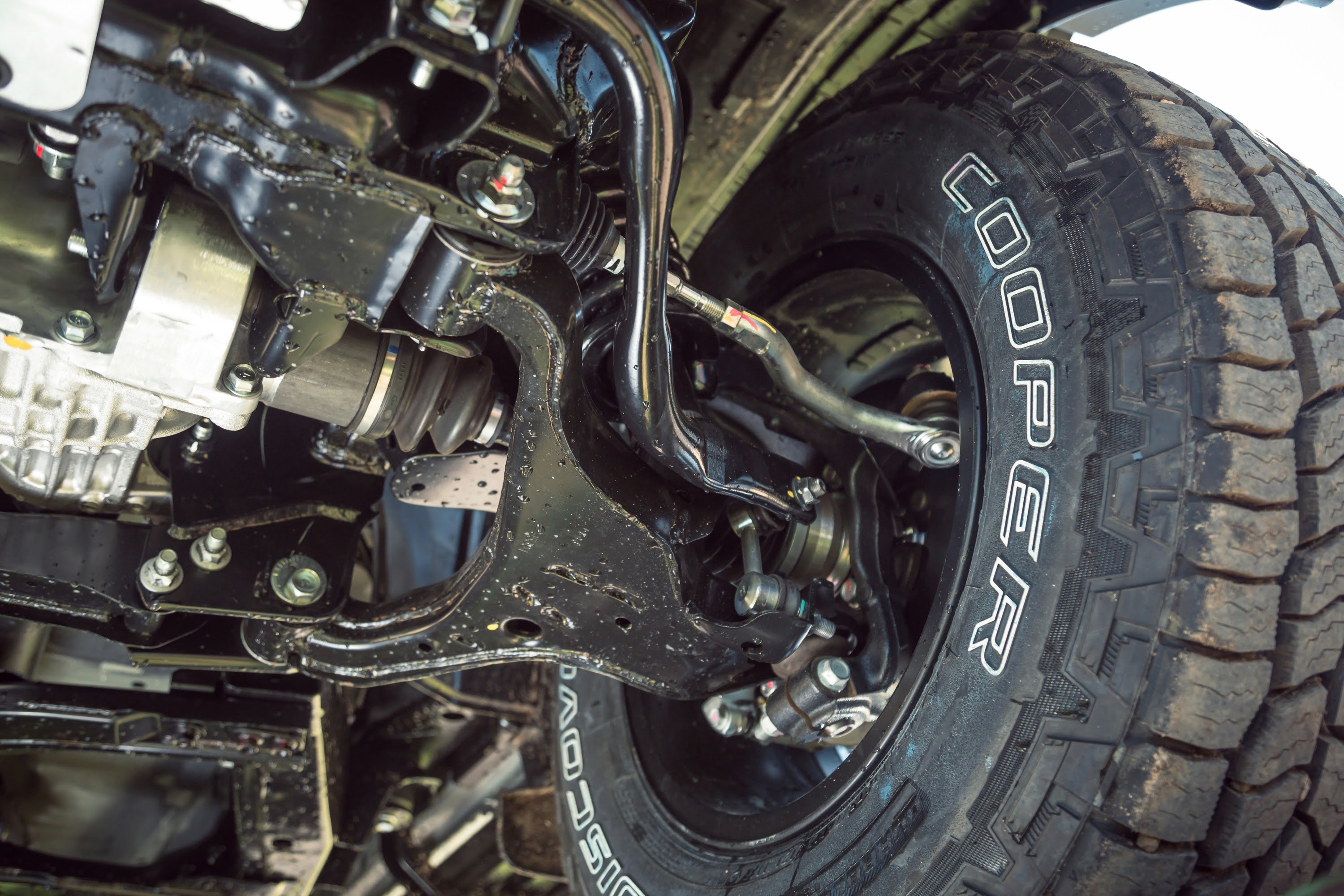 What is different about the N-TREK Warrior suspension?
The Warrior sits 40mm higher than the N-TREK on which it is based.
Many readers will about now be thinking – HA I've got a straight 50mm lift. Well the difference here is that this is fully integrated with the manufacturer's tolerances and enhances durability as well as ride and handling.
A lot of owners drive their Utes and 4WDs into aftermarket accessory places and opt for a straight 50mm lift then add higher profile tyres. There are a couple of traps for the newbie.
Firstly a larger rolling diameter results in an incorrect speedo reading. The Warrior, as mentioned, has had the speedo recalibrated so that isn't a problem.
Secondly the combination of 50mm lift and higher profile off road tyres means that technically their vehicle, depending on which state, is now illegal, or requires an engineering certificate. It also changes ride and handling dynamics amongst other factors
Thirdly the reason that the Warrior restricted its lift to 40mm is that it places less strain on driveshaft and CV joints etc.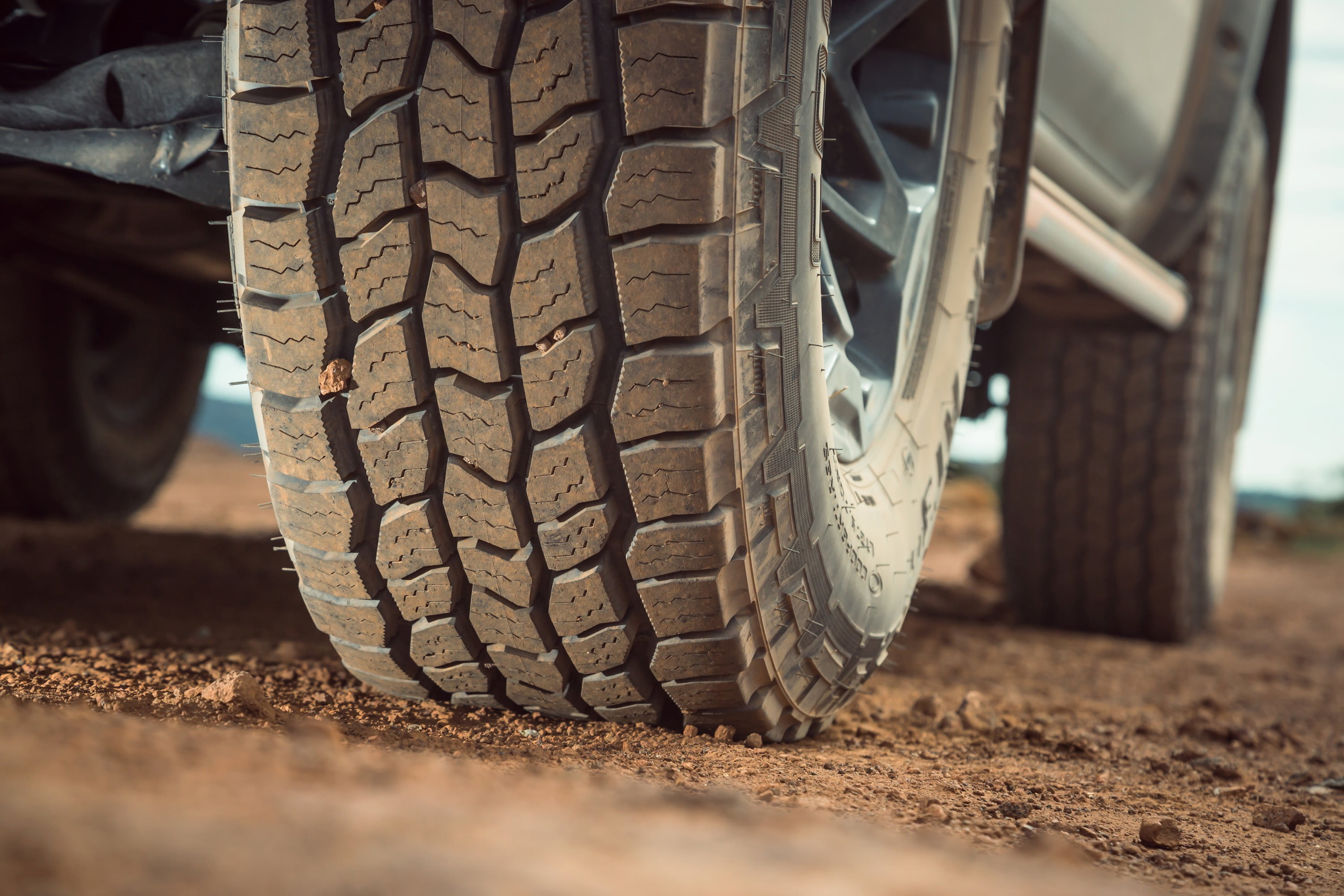 In the words of Premcar "The 40mm suspension lift was derived to maintain the Navara N-Trek articulation angles of driveline and suspension components (such as driveshaft and CV joint angles), while lifting the vehicle, and not impacting OEM engineering standards. Premcar's analysis and testing have confirmed that the 40mm suspension lift has achieved the Warrior's required ground clearance requirements without compromising its overall performance, off-road capability, durability and the 5-year warranty requirement. A 50mm lift would have exceeded the articulation angles of driveline and suspension components as defined by the OEM."
The 40mm comes from a combination of off-road capable springs and dampers that deliver a 15mm ride height lift, while the 32.2-inch Cooper Discoverer AT3 All-Terrain tyres increase ride height by a further 25mm – for a total 40mm lift.
The wheel tyre combination is 275/70/17 inch tyres on 17 inch black alloys. This is a much better choice for tyre availability. Note the suspension was tuned specifically for these tyres.
Ground-clearance is an impressive 268mm, with an improved approach angle of 35-degrees and a widened track of 1600mm.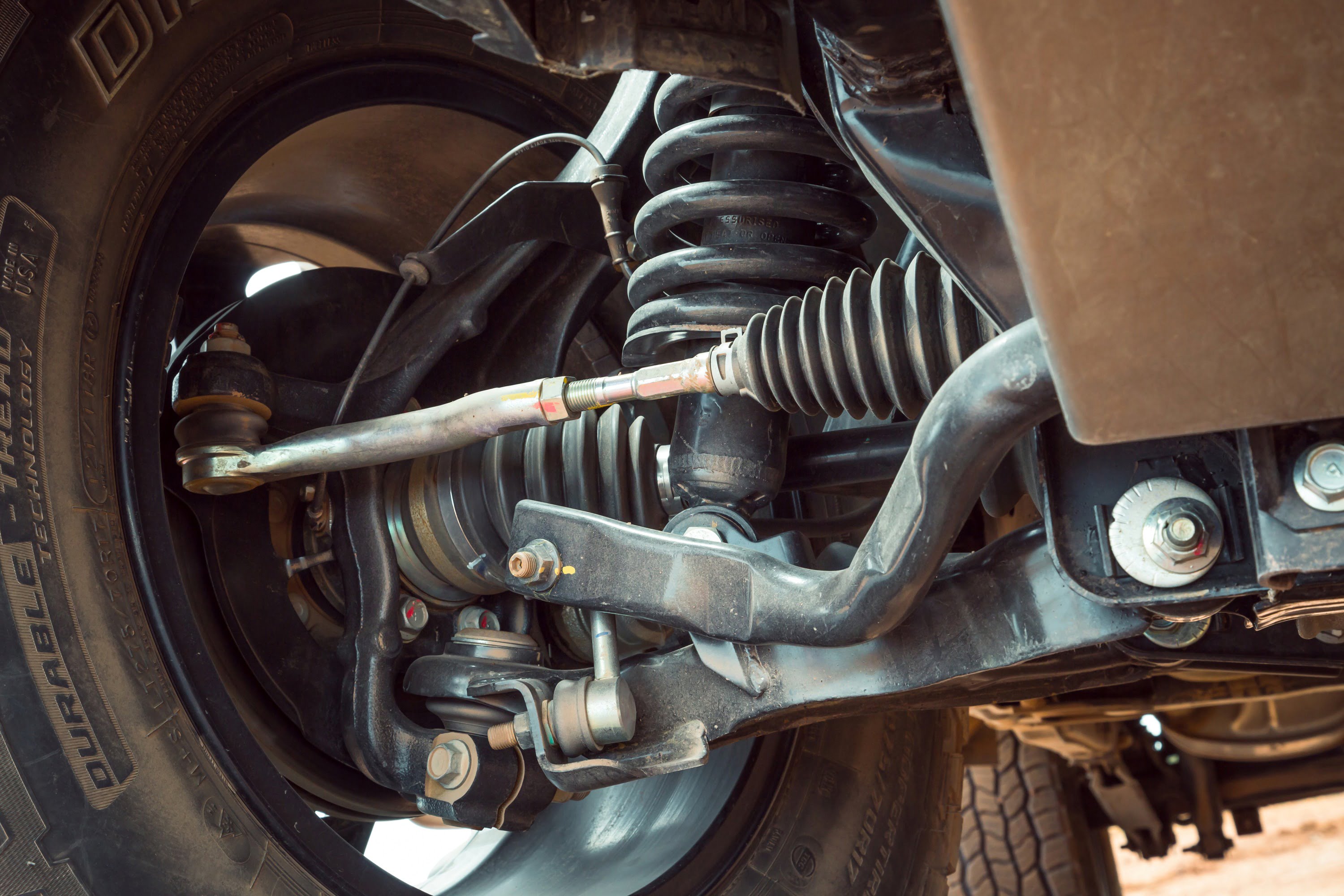 How did they change the suspension?
For the technically minded the following bit will have you salivating. The non-technical minded readers will simply gloss over it.
Nissan has opted for a softer primary spring for ride comfort and off-road articulation (6 percent softer front, 8 percent softer rear), with a 10 percent higher but more progressive secondary spring rate at the rear to maintain composure and performance – both in cornering, heavy duty off-roading, when laden and when towing.
In addition, the increased spring length takes the larger wheel and tyre further away from the body, providing ample clearance for the larger all terrain 275 /70 (32.2-inch) Cooper tyres. To accommodate these, the inner front guards were modified in combination with the body-colour hoopless steel bullbar to provide the appropriate clearance.
A comprehensive damper tuning program was carried out to improve performance across ride, handling, steering response, cornering balance and body control, particularly in off-road and rough road conditions.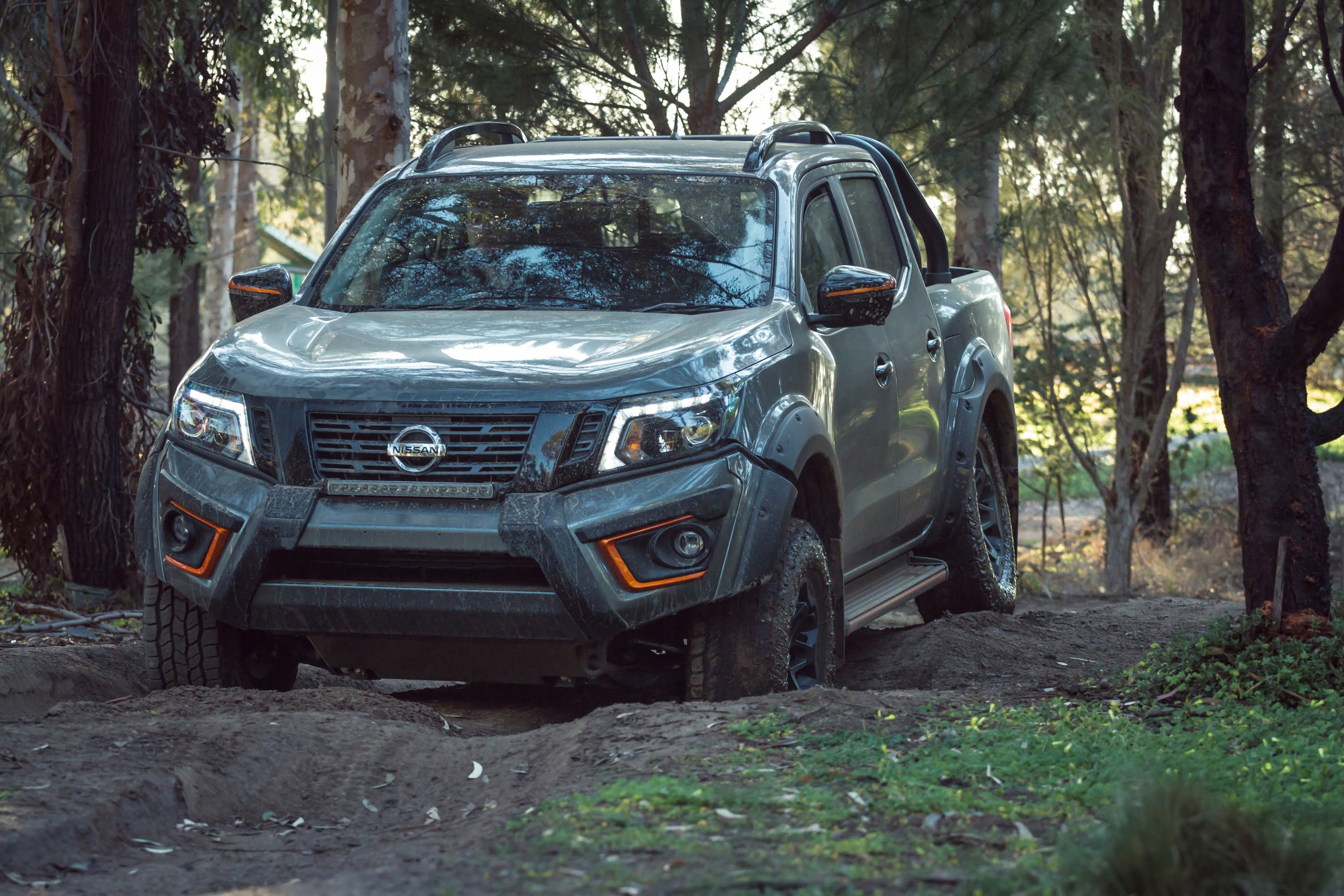 The dampers were upgraded to provide added compression damping on top of the piston for quicker response. The outer tube diameter is larger with greater oil volume to improve cooling and rough road capability. The piston rod diameter has been increased to improve strength.
New front jounce bumpers are larger, taller and engage the chassis rail earlier in the suspension travel, but at a more progressive rate. This controls wheel movement at maximum suspension travel and achieves a more compliant and softer transfer of energy, significantly reducing the harshness and noise transfer over rough road conditions.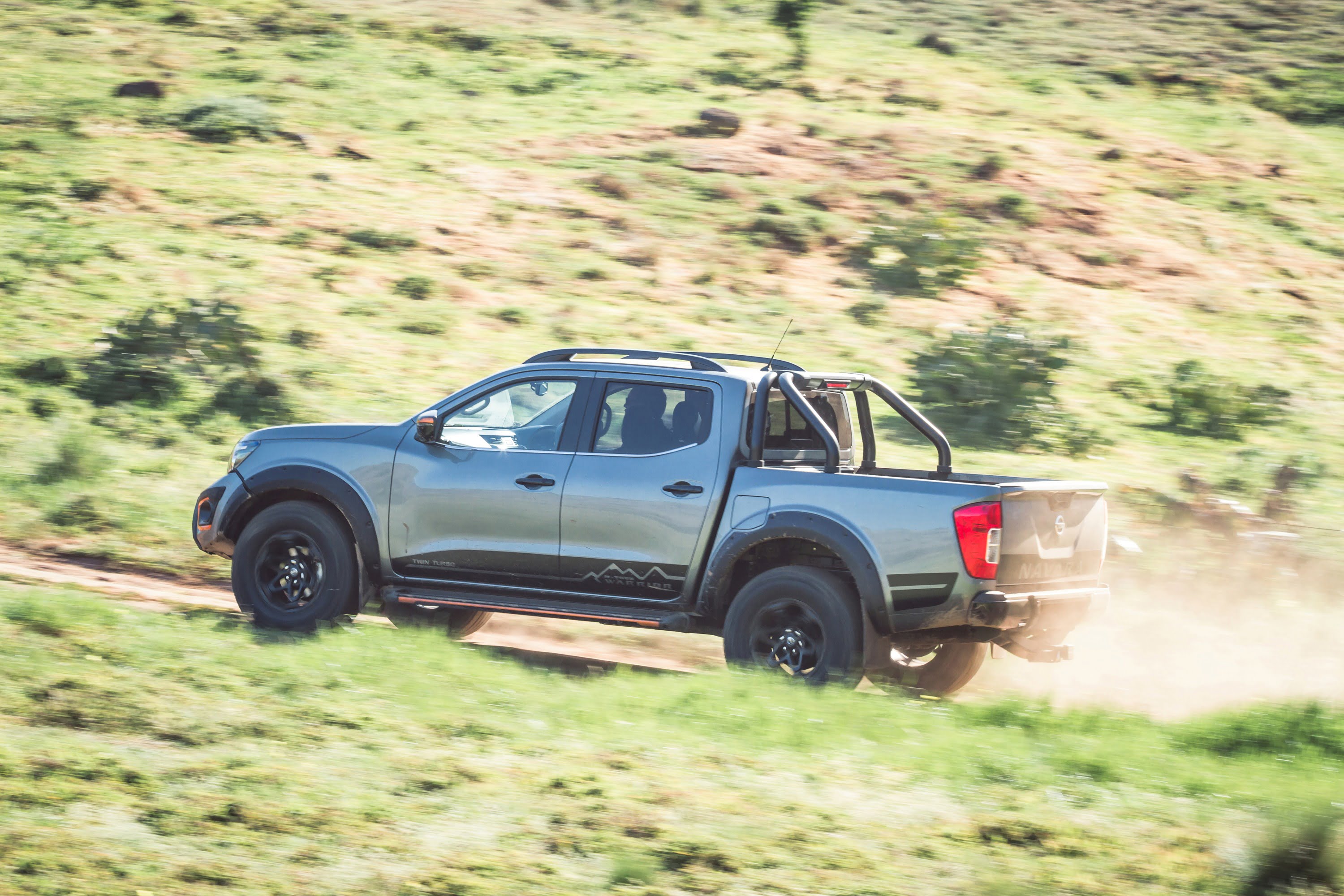 What is the Navara N-TREK Warrior like to drive?
Outstanding! That'll do!
For those that want more detail-
The key to understanding how good the Warrior is, is to understand the purpose of the re-engineering. Even amongst Utes there are sometimes subtle and sometime glaring differences.
Often when an owner or manufacturer modifies or makes additions to the vehicle they simply shift the parameters of what the vehicle is all about. Modifications are sometimes aimed at better 4WD performance while compromising on road ride and handling, or provide a softer bitumen ride, but at the expense of off road robustness. A Ute that is modified to drive fast over dirt roads might not have the supple articulation needed for difficult terrain.
The Nissan Navara N-TREK Warrior has aimed to widen the spectrum of applicable parameters rather than simply shifting them. The design integration means that every aspect that has been added not only performs the required task, but doesn't detract from a number of others. It's an overall net gain for the vehicle
It's primarily aimed at providing greatly improved all terrain performance while also enhancing on road ride and handling. Normally those two things are almost mutually exclusive.
The other key factor is that the development and testing is all done here in Australia. Modifications designed specifically for our unique conditions.
The results are outstanding. The suspension retune has resulted in a more compliant ride on the blacktop, yet the handling has improved as well. The standard Navara on road ride and handling is pretty good. The N-TREK Warrior is simply much better.
The response to driver inputs from steering and acceleration are more direct with quicker feedback. It's noticeable, for example, when you have a sharp left turn in. Often a suspension set up will slightly collapse on the front right wheel and make the turn.
With the N-TREK Warrior, the front right hand side sits flatter and you can actually feel the back right hand suspension holding up and pushing the vehicle through the turn. It remains flatter and hence a quicker response to inputs.
They are able to achieve this by moving the yaw or pivot point further back. The way they do that is well beyond my expertise, but you can feel the results.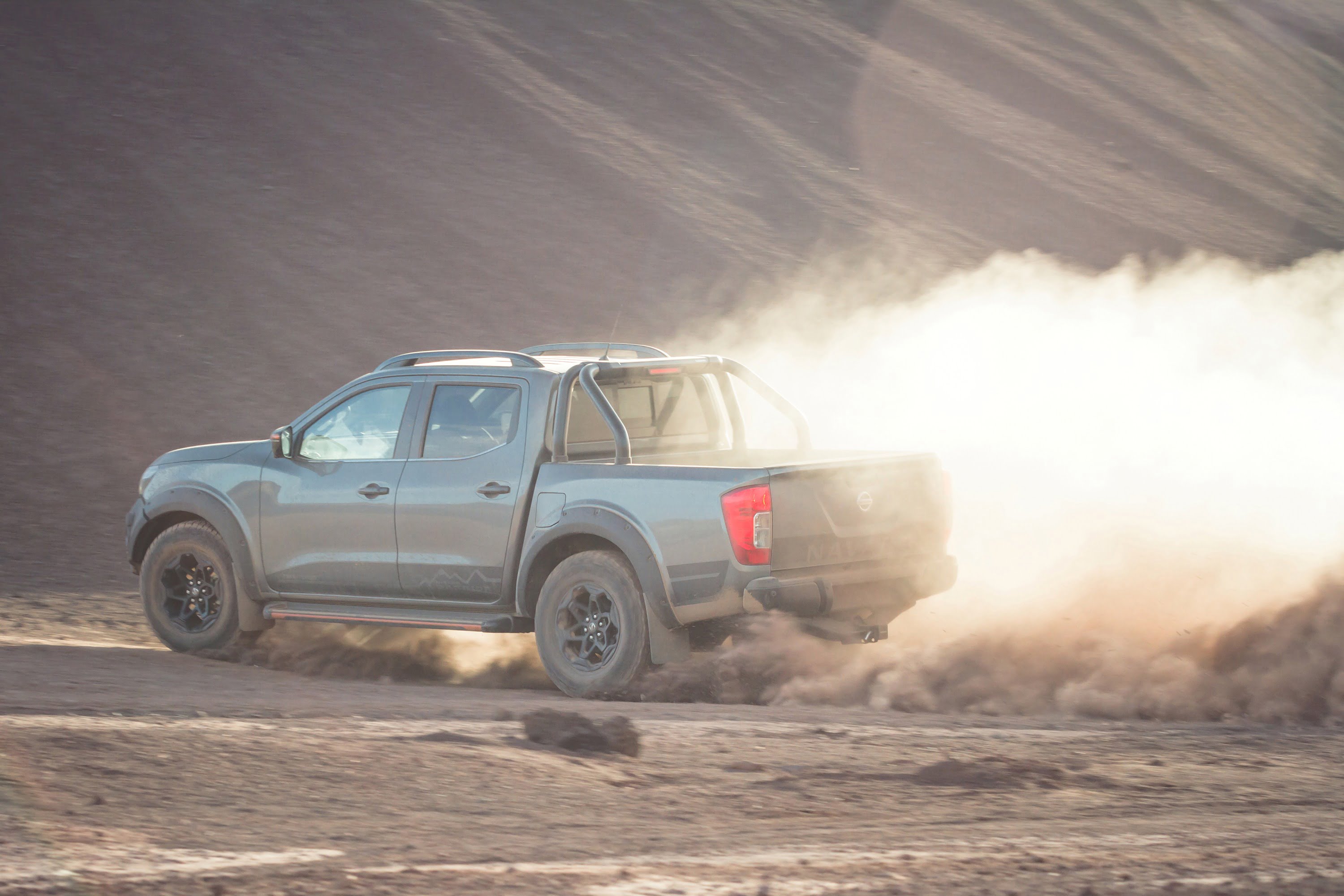 Heading off road
Head off road and the story continues to improve. On dirt roads, corrugated tracks and gravel roads the Warrior simply handles them with ease. It almost rivals the Ford Ranger Raptor that has been designed specifically to drive fast on dirt roads. I would love to drive them back to back to see just how close they are. Remember that by the time you out them on road there is some $17,000 difference as well.
The other really noticeable thing was how quiet the Warrior was inside while it was pounding over these "roads".  Also of note was just how good the assisted braking was in high range 4WD.
The damping smooths out the bumps and corrugations, and despite a few heavy hits I never felt the bump stops at all. There was also noticeably less jarring through the steering and driver's seat. You felt relaxed and in control at all times.
When the track deteriorates the Warrior seems to smile.
We took the Warrior on some tracks in the Victorian High Country, around Dinner Plain and up the Blue Rag Track.
Now these are well known 4WD destinations with some interesting and occasionally challenging places. The surface ranged from dirt, loose gravel, loose shale, corrugated, rutted, washed away and some deep tyre busting holes.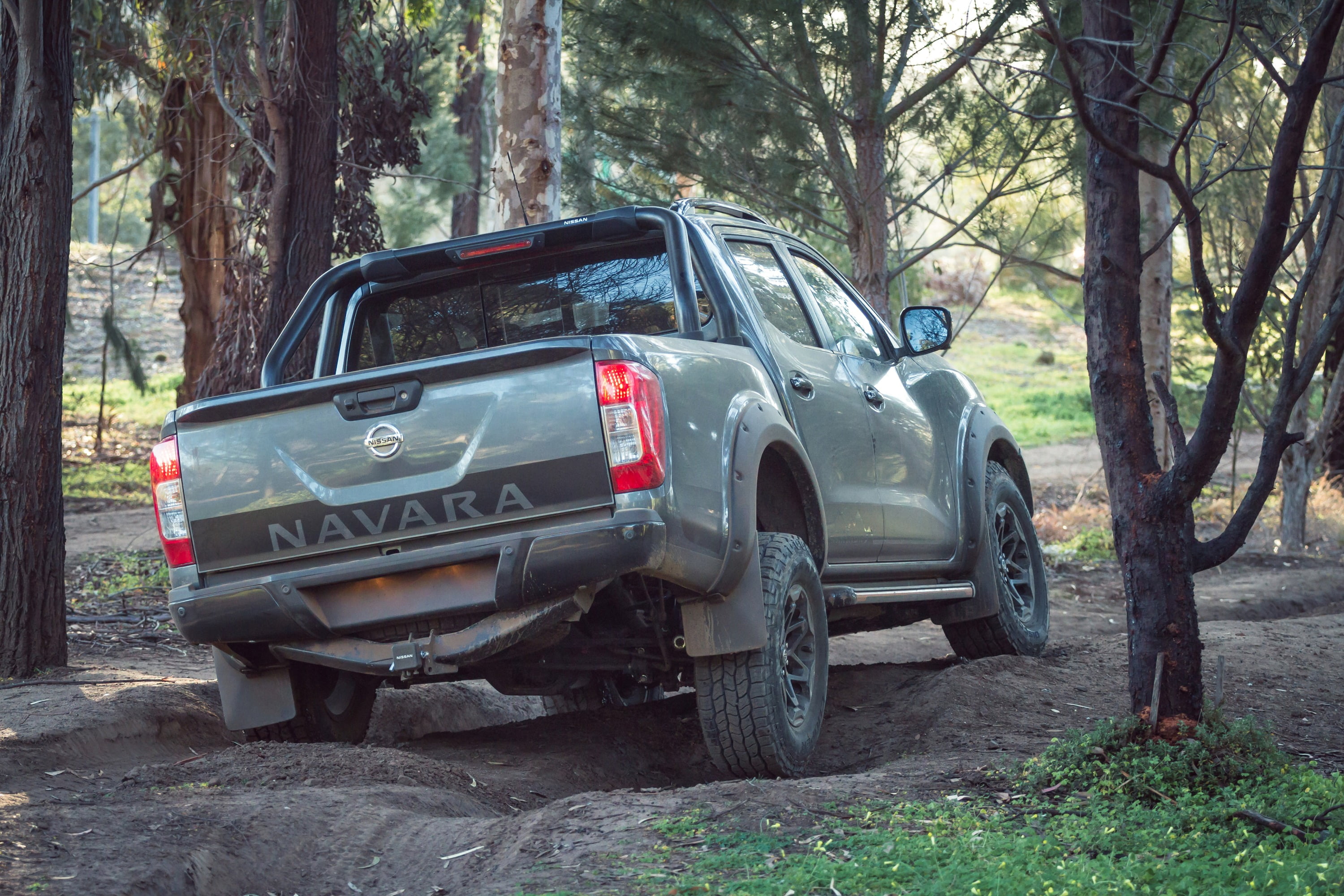 When we got to the top of the Blue Rag Track at the trig point I reflected on the Warrior. It wasn't so much the fact that we were able to complete the track, many 4WDs can do that. It was more the degree of ease and comfort with which it did it.
At all times the N-TREK Warrior remained perfectly composed.
Here the retuned suspension proved it was worth every cent of development cost.
The wheel articulation, meant that for the most part, we always had four wheels in contact. The damping and two stage softer coils meant that we were cocooned from the bounce back and lurching usually associated with modified 4WDs.
There was no thumping when you hit the bump stops, in fact I couldn't detect if we hit them at all. We must have but the progressive nature of them meant that the familiar jolt didn't eventuate.
Despite some steep water humps in the road and many drop offs we never once scraped underneath and on many occasions I was waiting for the tow bar to scrape, but the unique 'V' design seems to avoid that.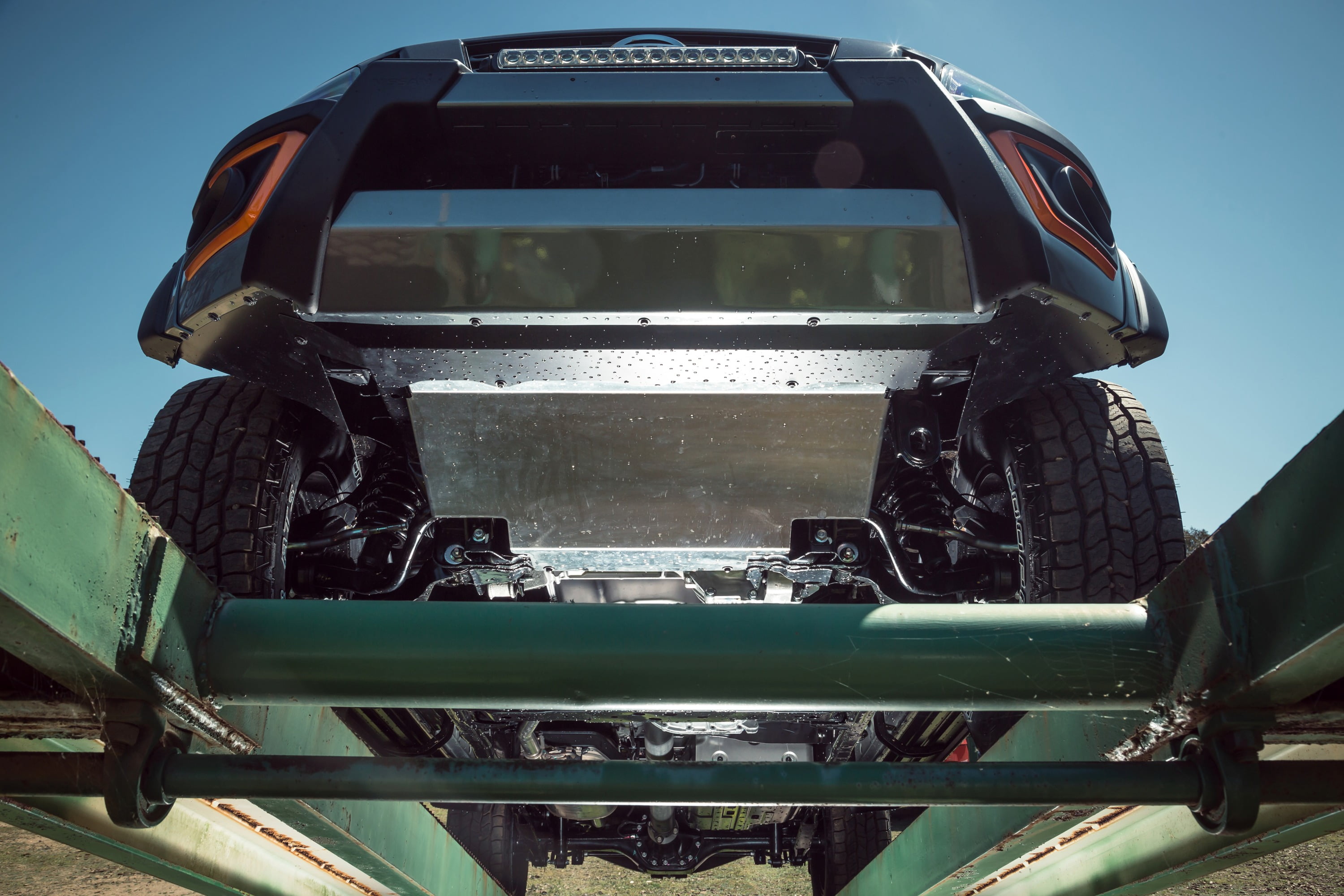 There was a particular section of road that was about a 30 metre climb that had deep holes filled with loose dust, perfectly placed to test even the best wheel articulation and the surface was loose gravel. Normally a recipe for more momentum and unfortunately more bashing and crashing your way through, bouncing everywhere and possible damaging the vehicle in the process.
We set ourselves, locked the rear diff and drove off with reasonable momentum. The Warrior had a little wheel slip, a little rocking and a little heavy throttle, but climbed without any real fuss. That sealed it for me. I immediately thought, 'this is a good piece of gear'.
As a side issue the Around View® Monitor, which is standard on ST-X grades and above, is a support technology that assists drivers to gain a better understanding the vehicle's surroundings through a virtual bird's-eye view from above the vehicle. Very handy in some situations.
One key factor was that at about two thirds of the way through the day, my driving companion and I came to the same conclusion. If we were driving a standard 4WD Ute or even one of the many modified 4WD Utes, we would have been over it. However in the Warrior we were still feeling fresh and comfortable.
What is the towing capacity of the Navara N-TREK Warrior?
Towing capability is the same as the ST-X Navara at 3500kg with a 350 kg tow rating. The Warrior has a redesigned tow bar that allows a full size spare to be underslung.
It looks as though it would scrape easily but in the fairly arduous conditions we tested the Warrior in, it never scraped once, due to the unique 'V' shape design. The 'V' shape design also allows for easier fitting of trailers in the level position.
I didn't get a chance to tow with the N-TREK Warrior, so I can't comment about how the re engineered suspension would handle a load, but the standard Navara is a handy tow vehicle and my gut feel is that the Warrior will be better.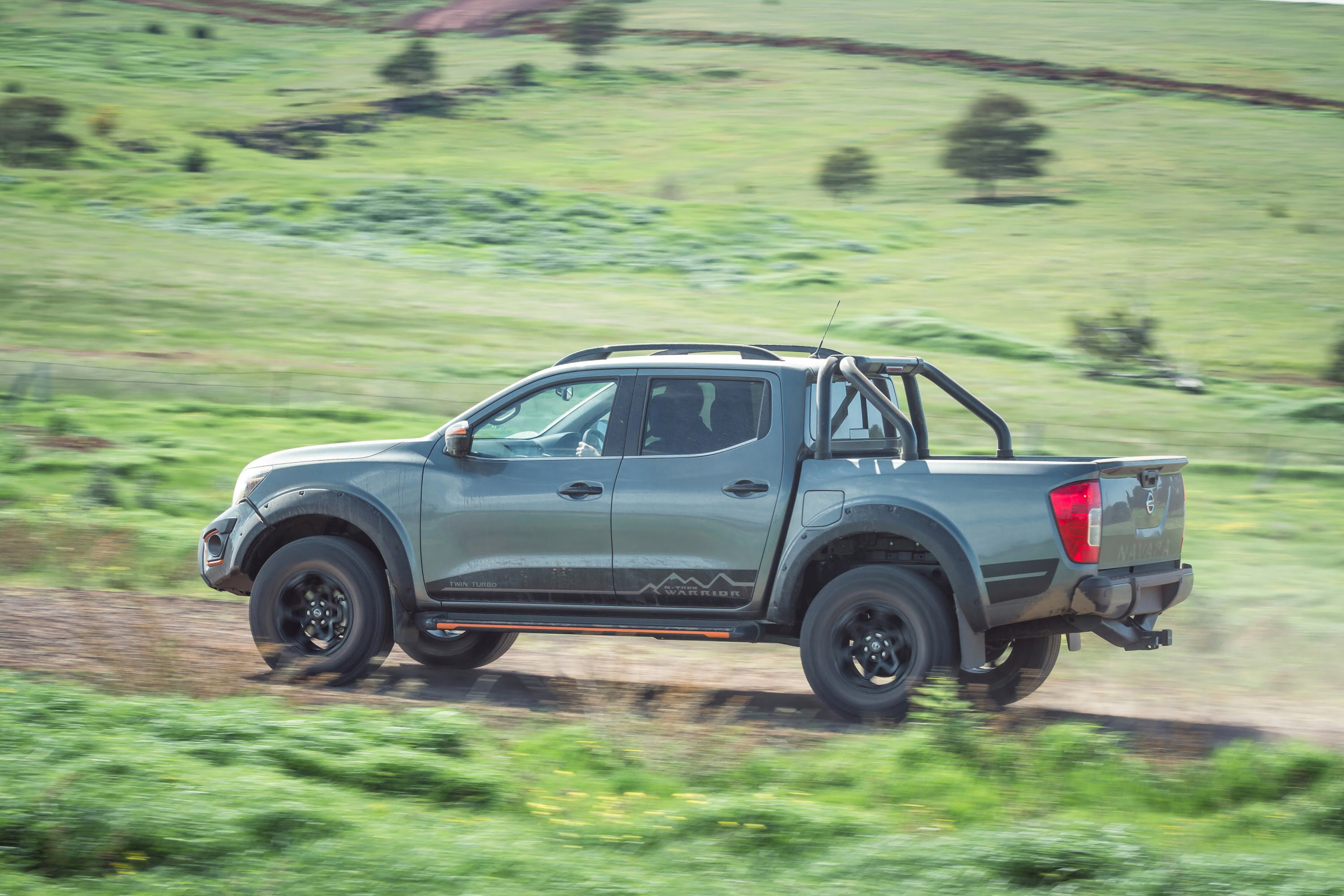 What are the Navara N-TREK Warrior dimensions and capacity?
The Navara N-TREK Warrior has an
Overall length of 5385mm,
Wheelbase of 3150mm,
Width of 1920mm and
Height of 1895mm.
Unladen ground clearance is 268mm
Approach angle is 35 degrees, rampover is 27.5degrees and departure angle is 19 degrees. (Departure angle is greatly reduced from standard with the tow bar fitted, but the same without.)
Wading depth is 600 mm
Turning circle is 12.7m,
Kerb mass of 2186kg and Payload of 724kg. (3500 payload is 1713kg)
GVM of 2910kg, GCM of 5910kg,
Fuel tank is 80L
Towing capacity is 3500kg and tow ball rating is up to 350kg.

What about safety features for the Navara N-TREK Warrior?
Like most Utes these days the Nissan Navara ST-X comes with a 5 Star ANCAP safety rating. (from 2015). However the levels of safety have moved on since then and it's missing a few key safety features that are becoming standard now. Such as AEB, Blind Spot Monitor and Rear Cross Traffic Alert
Key safety features include:-
Reversing camera – in audio display
Around View® Monitor and Reversing sensors
Anti-lock Braking System (ABS) and Electronic Brakeforce Distribution (EBD)
Traction Control System (TCS)
Vehicle Dynamic Control (VDC) with Brake Limited Slip Differential (BLSD)
Active Brake Limited Slip (ABLS)
Brake Assist (BA)
Hill Start Assist (HSA)
Hill Descent Control (HDC)
Electronic rear differential lock
Driver & front passenger front-impact SRS airbags, Driver & front passenger side-impact SRS airbags, Driver knee airbag, Front to rear SRS curtain airbags
Second row child anchorage points (3), ISOFIX (second row RH/LH)
Daytime running lights, LED signature daytime running lights, Automatic on/off headlights – twilight detection,
LED high mounted stop light.

About Premcar and Navara N-TREK Warrior
Premcar is a highly skilled product development and engineering consultancy with a proven track record of product delivery and performance. Premcar is also a highly regarded low volume vehicle manufacturer that meets or exceeds the toughest OEM standards. In Australia, think the Ford relationship FPV.
Established by Prodrive UK in 1996, the current owners took over in 2012 changing the company name to Premcar. The owners have been with the company through all of its history of engineering excellence.
Premcar was chosen by Nissan as it was able to develop a unique vehicle package that was specific to Australian market usage profile and had the experience to undertake local re-engineering, testing and tuning program suited to Australian conditions.
Such is the magnitude of the Nissan Navara N-TREK Warrior program, Premcar has expanded its operations and opened a 6,300 square metre production facility in Epping – Melbourne's northern suburbs – with a production line dedicated to the manufacture of the N-TREK Warrior.
This will be supported by 40 new staff who have been employed to work exclusively on the N-TREK Warrior program. The new staff have extensive manufacturer experience and, in some cases, have re-entered the automotive industry following the closure of widespread local automotive manufacturing several years ago.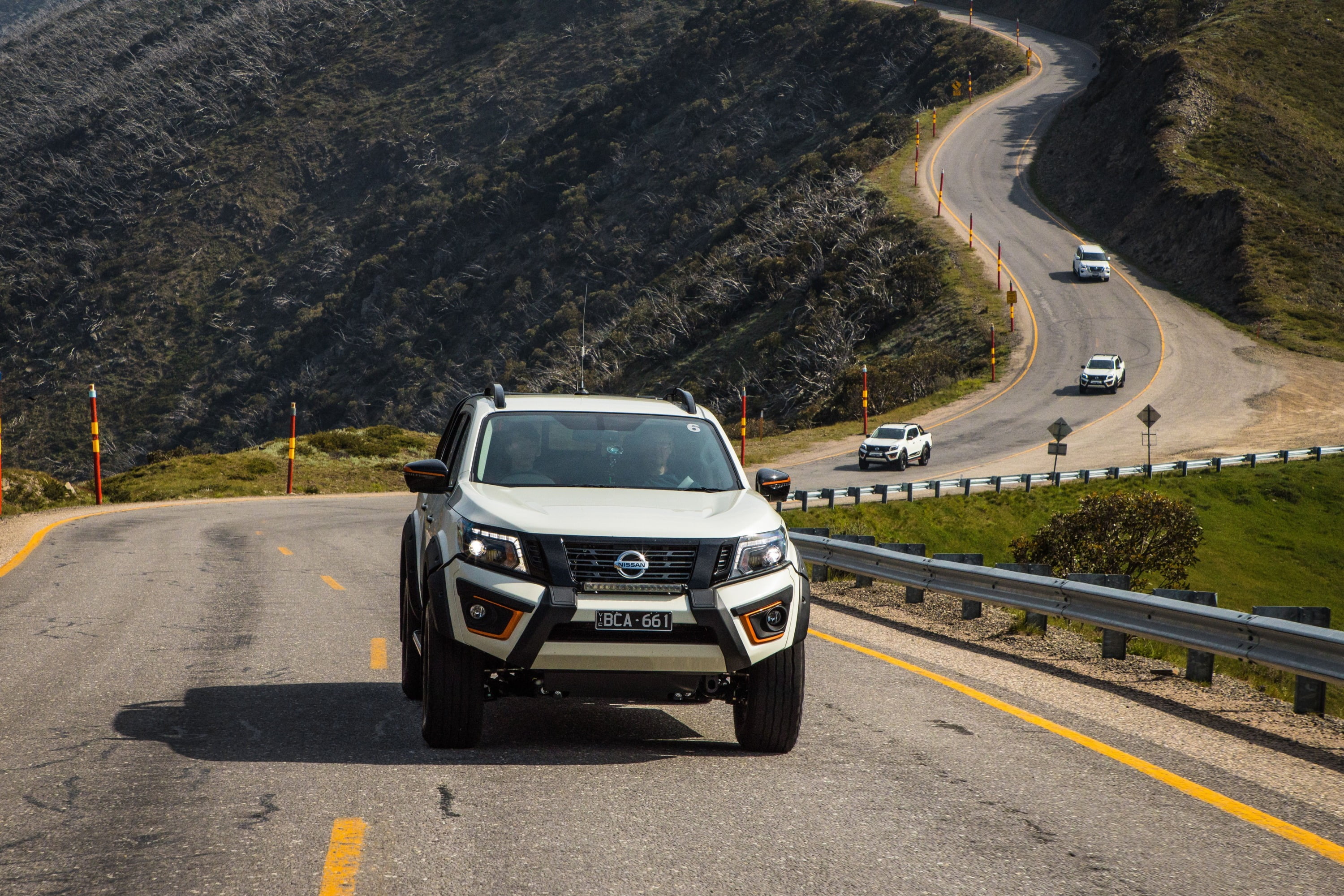 N-TREK Warrior Development process.
A critical part of the Nissan Navara N-TREK Warrior development was local testing to validate the changes made to the vehicle in ensuring it meets the needs, and the intended usage, of the Australian buyer profile, and maintains the warranty requirements.
Durability testing at both the vehicle and the component level were conducted, as was thermal performance validation, Noise Vibration Harshness testing, homologation, towing, laden condition, and ESC and braking vehicle safety testing.
This included testing in Australia over several months on the varied road surfaces at the Australian Automotive Research Centre (AARC) for handling, on-road, off-road and rough-road development. Outback testing at Big Desert was conducted on the sandy desert tracks, gravel and rough terrain between Ouyen, in Victoria, and Pinnaroo, on the Victorian/South Australian border. It also undertook thermal testing at Melbourne University's Advanced Centre for Automotive Research and Testing (ACART) facility.
This extensive validation program gave Nissan the confidence to maintain the factory 5-year warranty on the Navara N-TREK Warrior.
The project also utilises a number of Australian suppliers included in the mix such as: Dampers (Tenneco), Springs (Monroe), Frontal protection (EGR), Tyres (Cooper), Light Bar (Hella), Bullbar painting (Bellmont), plastic components (RP Group), Decals (3M) and Wheels (Rosta)
While the N-TREK Warrior is a great development over the ST-X, there are still a few things I would like to see added as it continues along the path. Things such as a set of substantial rock slider under the side steps. Larger front rotors and rear disc brakes. Standard recovery points, perhaps jacking points. snorkel, and a reach adjustable slightly thicker steering wheel. Updated safety features, more USB ports, standard Hayman Reece electric brakes and if I am going through the wish list then more power and torque would also be good.
Navara N-TREK Warrior Summary
The Navara ST-X 4WD Dual Cab Ute is one of our favourites as it manages to find a good balance between the competing needs of on road and off road driving. It's a good steady robust performer.
The Navara N-TREK Warrior is better in every aspect, and not by a touch, its stunningly better.
The key here is integration of all aspects with each other. The Warrior isn't simply another Ute that has had extras added, it is a fully integrated off road 'Warrior'.
At the surprisingly good price of $65,490 RDAP it represents outstanding value, especially when you compare ot to what else is available. I don't think ive driven a Ute that is so well balanced and capable.
Would I buy one… I'm actually considering it.
Also Look At
What's good?
Balance of form and function
All terrain capability
Internal Comfort
What's not so good?
Lacking some safety features
Lacking multiple USB ports
No standard recovery hooks
Model:  Nissan N-TREK Warrior
Model Price $62,990 RDAP MT, and $65,490 RDAP AT
Engine 2.3L 4 Cyl Twin Turbo Diesel
Drivetrain 7 Sp Sport Automatic 4WD
Power 140kW @ 3,700rpm
Torque 450Nm @ 1,500 – 2,500rpm
Safety 5 Star ANCAP (2015)
CO2 186g/km
Economy ADR 7.0 L/100 km
Servicing Fixed Price 12mths/20,000km
Tow Rating 3,500 kg
Tow Ball Rating 350 kg
Warranty 5 Yrs. / Unlimited km with Roadside Assist
Overall Rating    91/100
Behind the Wheel 8
Comfort 9
Equipment 8
Performance 8
Ride & Handling 9
Practicality 9
Fit for Purpose 10
Towing Ability   10
Off Road Ability 10
Value for Money 10
Nissan Navara N-TREK Warrior
Summary
The Navara ST-X 4WD Dual Cab Ute is one of our favourites as it manages to find a good balance between the competing needs of on road and off road driving. It's a good steady robust performer.
The Navara N-TREK Warrior is better in every aspect, and not by a touch, its stunningly better.
The key here is integration of all aspects with each other. The Warrior isn't simply another Ute that has had extras added, it is a fully integrated off road 'Warrior'.