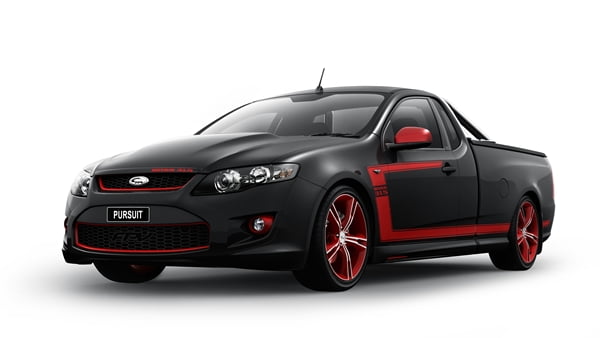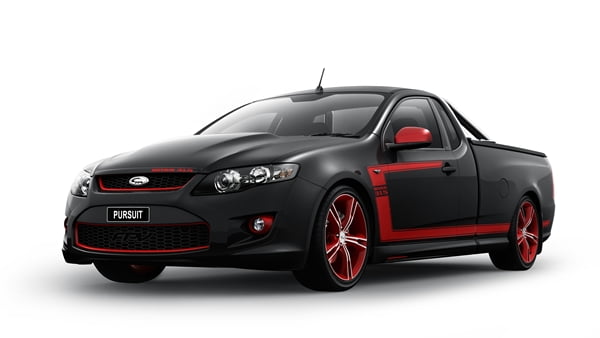 Ford Performance Vehicles (FPV) has today launched a new look limited edition Ute.
The Pursuit Ute will feature a GT colour-coded front bumper, GT RSPEC alloy wheels, and a striking accent and C-stripe decal.
Only available in Silhouette with Vixen stripes and accents, the Pursuit Ute will be limited to just 75 units, the smallest number of Utes offered as a limited edition ever produced by FPV.
The Pursuit will continue to carry the standard features of the current GS Ute range with a number of additional extras, creating exceptional value for money.
Over and above the standard features of a GS Ute, the Pursuit Ute will now include
Pursuit badge – positioned across rear tailgate
8" rear wheel with 5-spoke premium alloy wheel design with Vixen accents
GT colour-coded bumper in Silhouette
Vixen Upper and lower grille surrounds
Vixen Fog lamp bezels
Vixen Mirror Scalps
All New Vixen decal pack – 'C' stripe
Black painted Exhaust Tips
Piano Black interior finish around ICC unit, tissue box and door spears
Manual gear lever with new badge design
Premium Sound with dual zone temperature control
Shadow leather sports seats
The limited edition Pursuit Ute will continue to be powered by the impressive all-aluminium 315kW 5.0ltr supercharged V8 engine producing 545Nm of torque @ 2000-5500rpm.
All other options will continue to be available on the Pursuit Ute and will include ZF 6 speed automatic transmission with sequential sports shift (NCO), tow bar and satellite navigation with SUNA Traffic Channel.
The recommended Manufacturer's List Price* for the Pursuit Ute is $57,990 at participating FPV Dealers only.