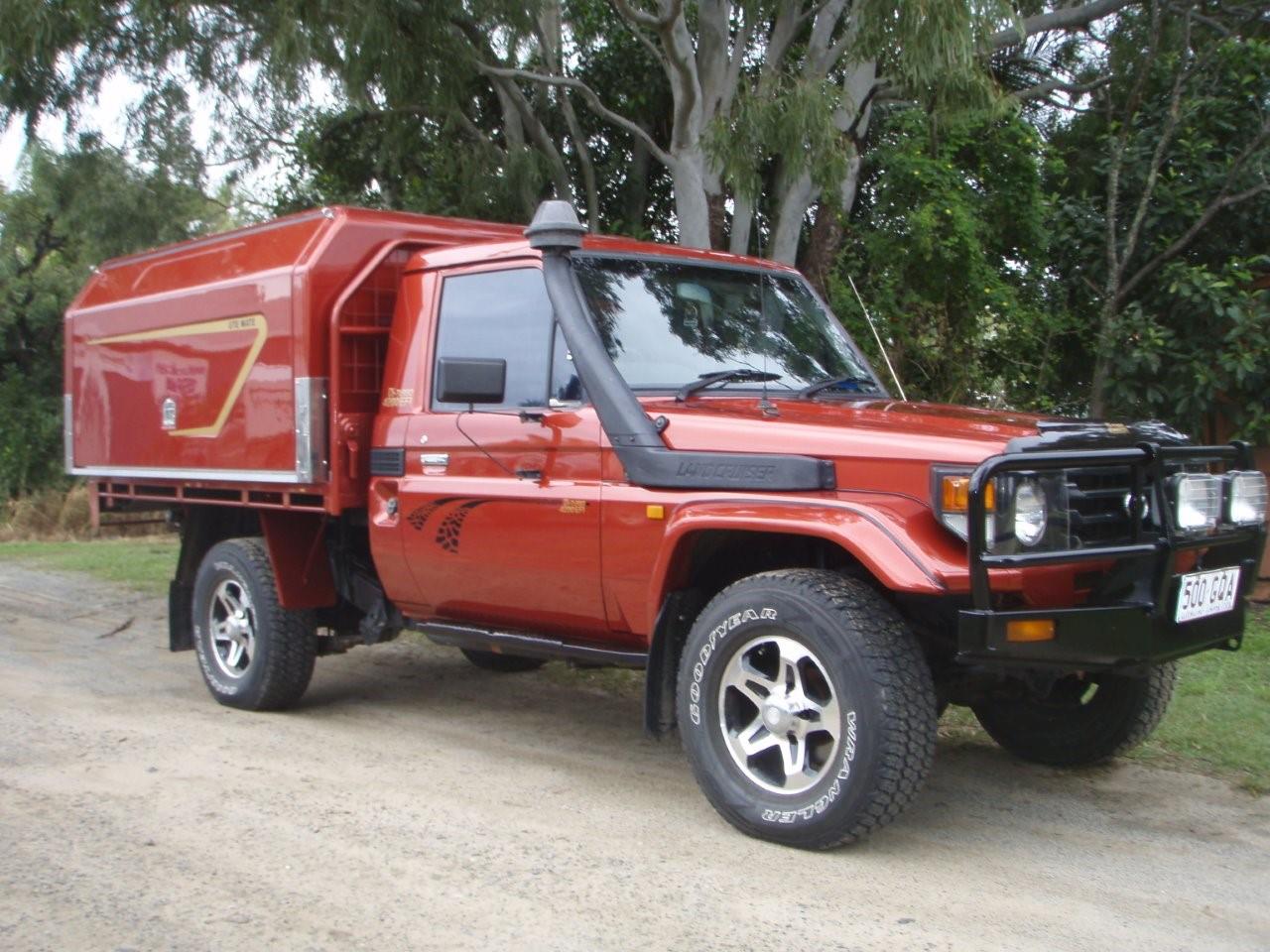 Manufactured in Mackay North Queensland the UteMate Slide on Camper is much more than a simple canopy. Not only is it a stylish camper but it is full of practical modular standard features and an option list that can enhance your camping experience.
The core design is a fibreglass capsule with 2 internal walls that creates 3 separate airtight storage areas. Attention to details shows in the fact that the second internal wall is designed to suit addition of fridge, water tank and 30 sec OZtent.
For safety there are three lockable wing–like doors with gas struts.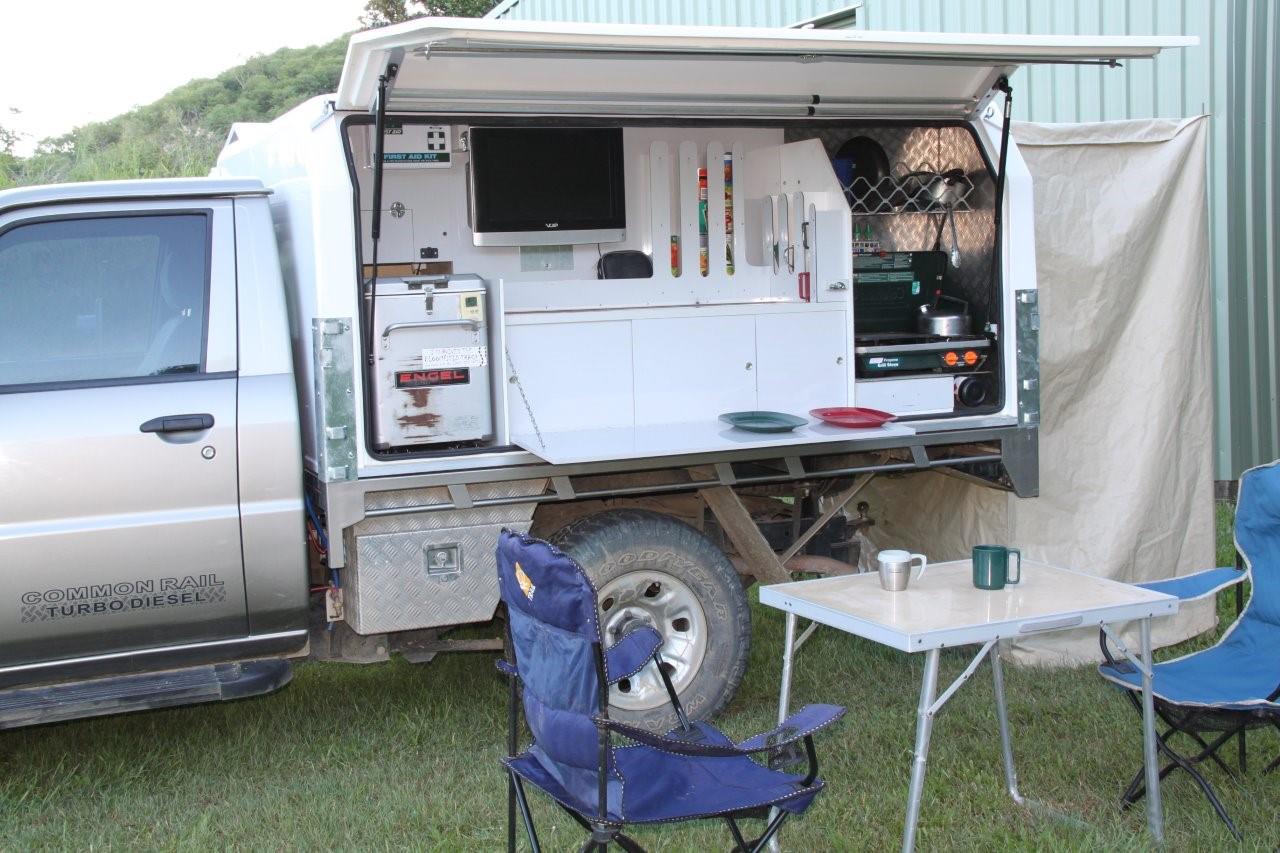 For those who favour the culinary delights on the road there is a deluxe kitchen that comprises  1.2 metres of kitchen with 3 sliding doors and 1 fold down work surface, 2 pantry & 1 wash- up container, aluminium lined stove recess, backboard with tin food storage system. In addition there is a side board with cup storage system and a drawer with 4 person setting of rockery & cutlery, drink bottles storage system and a folding leg aluminium table.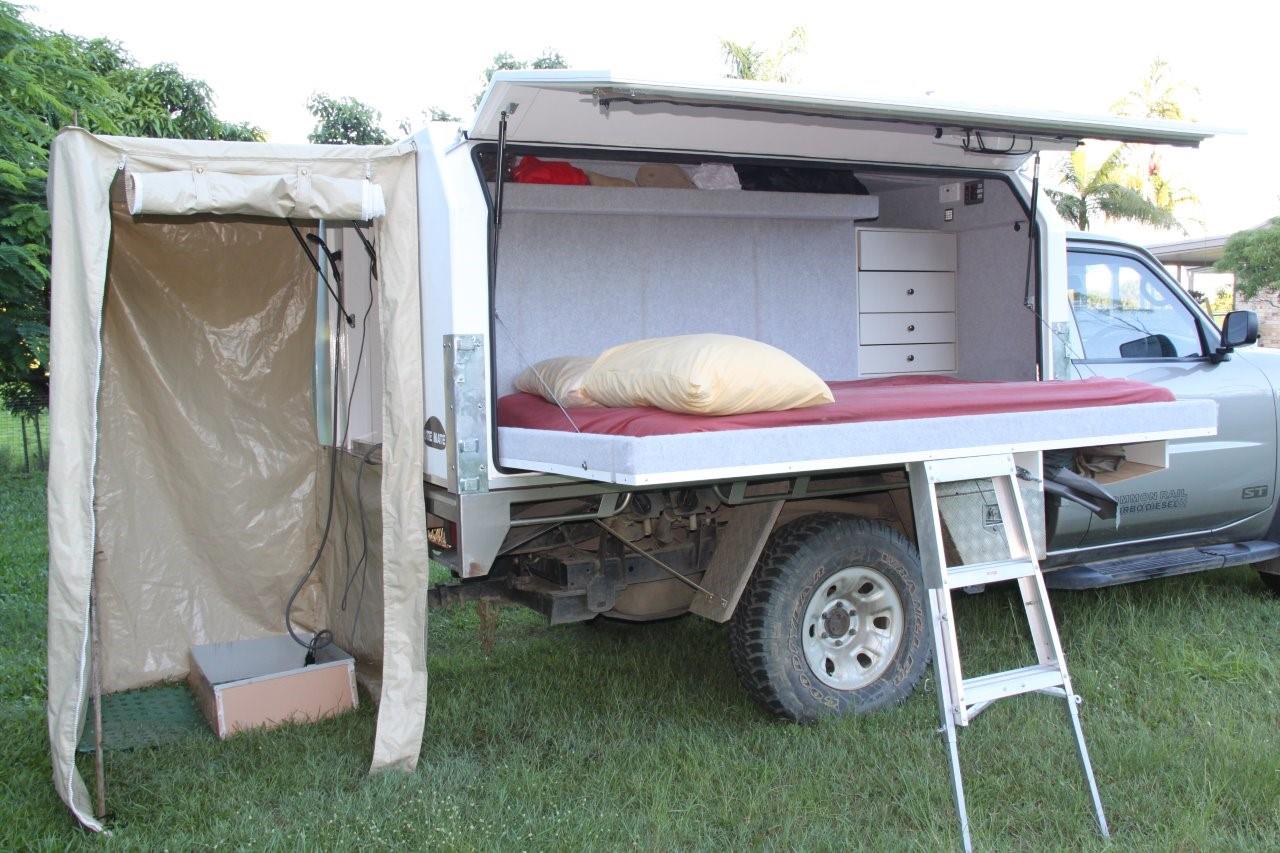 Sleeping arrangements include a varnished ply double bed base and a 125mm High density foam mattress. As always if you are travelling up north or for extended periods I would opt for a innerspring mattress.
To get up into bed at night there is an attached aluminium ladder with adjustable legs; Two lamipanel ends;
 Canvas and flyscreen surround; 1 high storage shelf 2.3 mtrs long.
Camper Trailers  Wardrobe: 4 Drawers or 2 Shelves and a Door.
Fibreglass Ute Canopies Electrics Kit: 100 amp Deep Cycle sealed Battery; 12 amp Battery Charger; Engel Battery Monitor;
5 LED Lights; Switchboard; 3 x 12 volt sockets; External power connection; Safety switch.
Trade Ute Canopies Water Kit: 45 ltr freshwater tank; 12 volt pump and tap.
Removing the slide on camper is easy with robust corner brackets that to suit heavy duty mechanical legs
Trailer Canopies 12 volt Fan for bedroom.
Camping Kitchens Carpet on walls in bedroom area.
Campers Shower Kit: Shower tray; Purpose built vinyl shower room;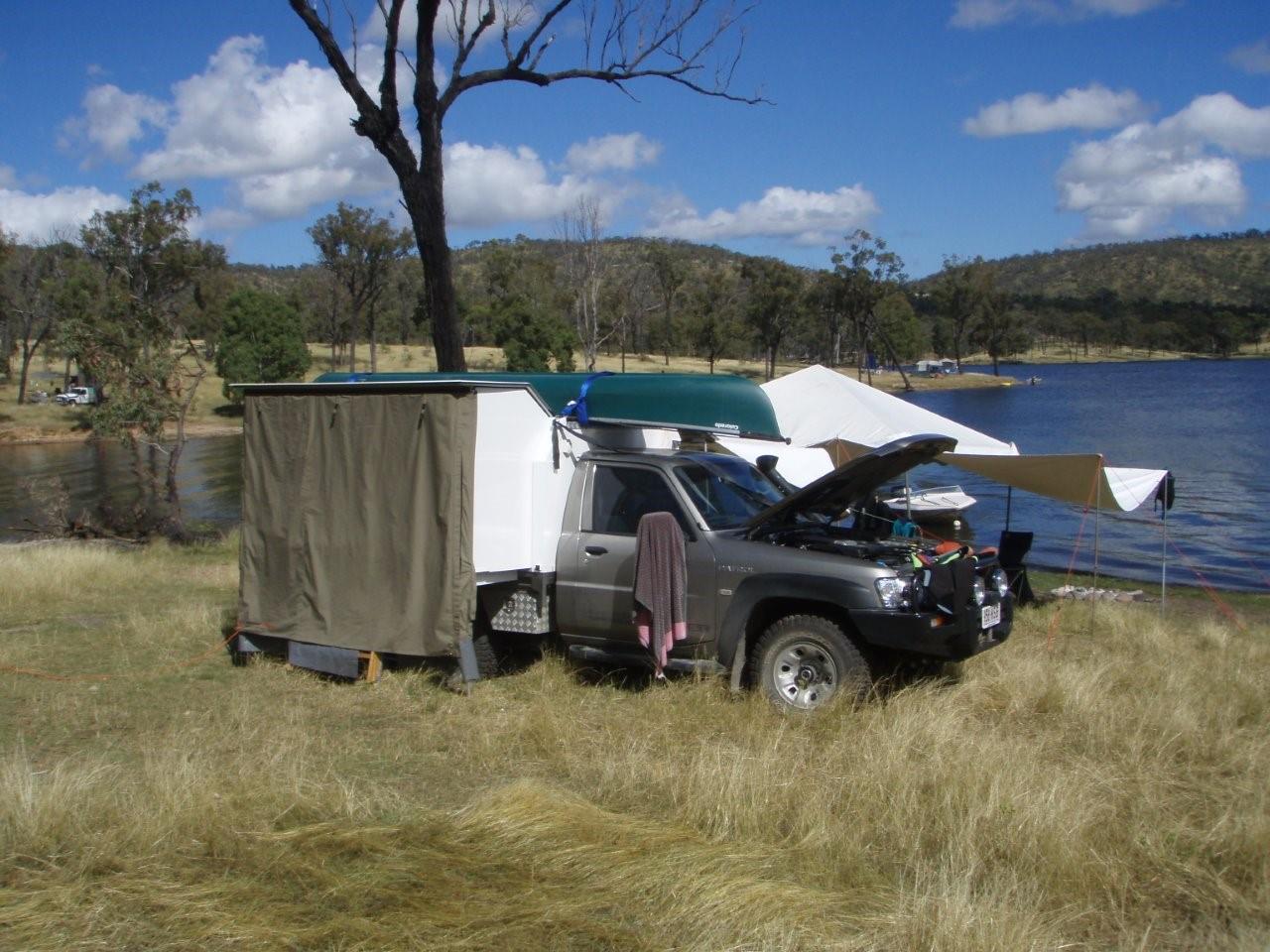 12 volt shower pump; Shower Rose.
Off Road Camping Trail Set of 4 Heavy Duty Mechanical Legs
Trailer Campers Rhino Bars
Custom Canopies Fridge Kit: 32 ltr Engel; 40 ltr Engel; 30 ltr Waco; 40 ltr Waco
Instant Canopies Stove Kit: Choice of 4 particular stoves that comply with Gas requirements;
Gas Certificate; 1.25 kg Gas Bottle and regulator; Fire Extinguisher.
Canvas Canopies First Aide Kit
Utility Canopies Tent Kit: 30 Sec OZ tent Model & Standard Side walls;
900mm high x 2.4 mtr vinyl skirt for below kitchen.